Talon to explore Upper Peninsula for nickel
The move extends the company's reach beyond its existing goal of opening an underground mine in Aitkin County.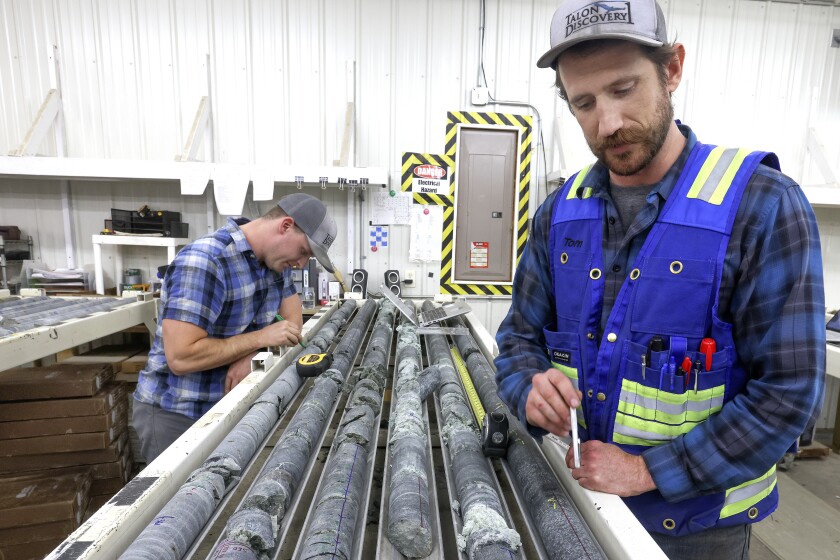 We are part of The Trust Project.
TAMARACK, Minn. — A mining company looking to develop a nickel mine in Aitkin County now has the exploration rights for a 400,000-acre area in the Upper Peninsula of Michigan.
Talon Metals Corp., which has been studying the possibility of an underground mine near Tamarack and expects to begin the environmental review process soon , announced Wednesday it entered into an agreement with UPX Minerals Inc. to acquire an 80% ownership interest in the mineral rights on land. The land package had first been put together by Henry Ford and was held by the Ford Motor Co. for 70 years.
"Henry Ford had the foresight to assemble this package of land as part of his integrated supply chain strategy as he helped the USA transition to motorized transportation," Talon's president, Sean Werger, said in a news release. "Now, Talon will explore that same land package for the battery minerals that are needed in the United States battery supply chain as the nation again fundamentally changes our transportation to electric vehicles."
The land is within 2 miles of the Eagle Nickel Mine and within a half-mile of the Humboldt Mill, which processes nickel ore from the Eagle mine. The land sits between Marquette to and the Keweenaw Peninsula.
The Eagle Mine is the only nickel mine operating in the U.S. and its mine life is expected to end in 2026. The Humboldt Mill was first built by Cleveland-Cliffs in the 1950s to process iron ore but later converted to mill gold and, most recently, extract nickel and copper. The mill's life could be extended if there are minerals to feed it.
Under the agreement, Talon has five years to spend up to $5 million exploring the area or drilling 7,500 meters. It will then earn a 51% interest in the land when it completes 25,000 meters of drilling.
It can earn up to 80% ownership if it develops a mine feasibility study for the area, but it's ownership stake can revert to 49% if a study is not completed within eight years.
In an interview with Proactive Investors , Brian Golder, Talon's chief exploration officer, said the focus would remain on its project in Minnesota but that some of its exploration resources will go toward Michigan.
Historic drill cores have revealed "multiple high-grade nickel intercepts up to 7.4%," which is similar to what's been found at the Tamarack site in Minnesota.
The crews are expected to be there for up to two weeks after Hurricane Ian makes landfall.