Yellowstone dazzles in winter with white, wildlife and warmth
ALONG THE FIREHOLE RIVER -- The big bull bison, off on his own from the herd, was thrashing his head to clear a spot in the deep snow, trying to dig his way down to something edible along the shoreline.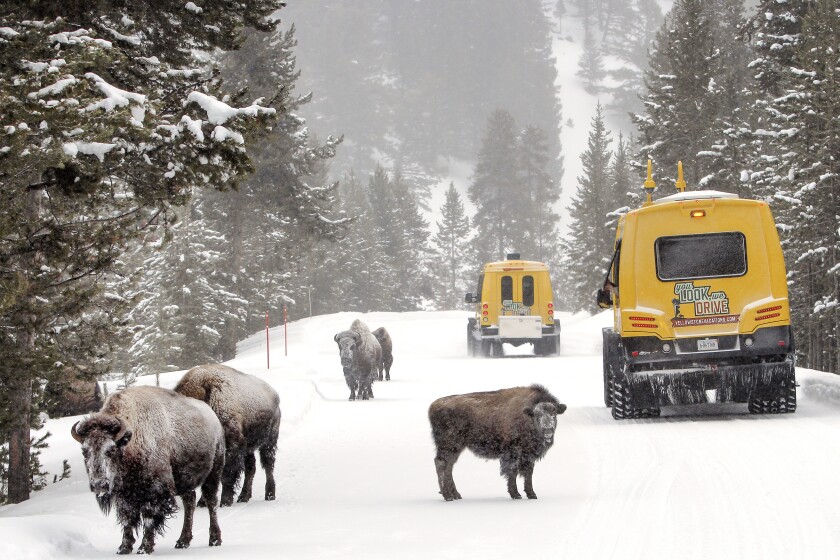 ALONG THE FIREHOLE RIVER - The big bull bison, off on his own from the herd, was thrashing his head to clear a spot in the deep snow, trying to dig his way down to something edible along the shoreline.
A flock of mallards on the river were dabbling for food as swans just downstream strained their necks underwater to find vegetation. A red fox was perched on a fallen tree that stretched out over the river.
The open water of the Firehole, warmed by a constant flow from nearby hot springs, poured down a valley on the way to merging with the Gibbon River where the two become the Madison, one of the most storied trout streams in the nation.
"This is one of my favorite spots in the park,'' said Zach Hoy, a certified snow tour guide in winter and a trout fishing guide in summer, as we watched the wildlife.
Hoy was our driver, historian and naturalist on an eight-hour snowcoach tour of Yellowstone National Park. The world's first national park offers a dazzling display of white and warmth in winter - snow, hot springs, geysers and mud-pots - sprinkled with wildlife and with very few other tourists in the way.
The snowcoach is climate-controlled, all-terrain and an easy way to see the park in winter - suitable for senior citizens or people with disabilities as well as young children and anyone else who doesn't know how or feel like operating a snow machine on their own. The only other way to get into most of the park is on a snowmobile tour with a certified guide from a licensed operator.
"Most of my trips are on snowmobile, so this is kind of nice for a change. I didn't need so many layers,'' Hoy said as he drove the giant converted van fitted with tank-track like devices where each wheel would go.
The park, since 2003, has been for the most part closed to general unrestricted snowmobiling after problems with air emissions and noise from older sleds, incursions into wilderness areas and general overcrowding at popular spots.
The snowcoaches and guided snowmobile tours were offered as an alternative to keep winter visitors on trails and under control, while eliminating problems with emissions caused by older two-cycle snow machines.
If speed is your thrill, don't come here: Snowcoaches are limited to 25 mph in the park, snowmobiles to 35 mph.
There are 2.2 million acres of mostly wild country in the park, some 3,500-square miles of mountains, rivers, lakes and thermal basins - a veritable geological wonderland that inspires awe no matter how often one returns. And wildlife. Lots of wildlife. Bison, elk, moose, fox, wolves, otters, bobcat, coyotes, eagles, swans, ducks, geese, ravens and more are out and about in winter. The grizzly bears are mostly sleeping.
Winter is a great time for a Yellowstone photo safari because many of the animals have been driven down, off the mountains (some peaks in the park reach 10,000-feet) and into the valleys, which is also where the snow machine trails are. Critters also are easier to spot against the white backdrop.
We had it easy on our Yellowstone visit. The wildlife here do not. Winter in Yellowstone is a life-and-death struggle for many of the animals dealing with diminished food sources, extreme snowfall and cold and, often, avoiding being eaten by some other critter. Only the strongest survive.
It's not uncommon for bison to congregate and travel on the park's highways that in winter are converted to groomed snowmobile trails closed to cars and trucks. The unplowed but packed roads make for much easier walking for the hulking animals compared to trudging through 3 feet of snow in the woods.
Bison have the official right-of way and can sometimes linger on the trails. But they usually, eventually, get out of the way to allow snowmobiles and snowcoaches to pass. The 1,000-pound animals - more than 2,000 pounds for a big bull - can be intimidating to snowmobilers as the animals pass just a few feet away. Less so when you are inside a big snowcoach.
"It's the calves that are the rowdiest around people. They are the ones that can get the herd riled up sometimes,'' said Hoy, a Midwesterner who moved to West Yellowstone 13 years ago and stayed.
Other animals can be easily seen against the white backdrop of snow-covered meadows, geyser basins and forests. Our crew spotted coyotes sleeping and eagles perched hundreds of yards off against the backdrop of white.
"We don't have as many elk at this (western) end of the park now, not in the last 10 years or so,'' said Hoy, who noted the reintroduction of wolves in the park in the 1990s has trimmed elk numbers and also made them more cautious and wary. That bore out in our experience, too, with our group of seven passengers seeing only two elk on a trip in late February along a similar route where I saw dozens of elk during a snowmobile trip in 2001.
Most of Yellowstone's backcountry is true wilderness, accessible only on foot or ski. But Winter on Yellowstone's groomed trails is not necessarily a wilderness experience. There can be small crowds of snowmobiles and snow coaches in popular spots like Old Faithful and the Grand Canyon of the Yellowstone River. But, compared to summer, winter in the park is almost devoid of people thanks to restrictions on winter visitors compared to unlimited summer visitation.
Since 2013 snowmobile and snowcoach trips have been limited each day for commercial tours (a few roads at the north end of the park are open to allow access to the community of Cook City, Mont., and are not limited.) All told, only 33,000 people entered the park in January this year. That compares to more than 30,000 people on a busy summer day, with nearly 1 million people entering the park in July alone.
"Last year was the third-busiest on record for the park, with 2016 at the top and 2017 second. Visitation just keeps trending up, both in summer and in what used to be the shoulder seasons'' of spring and fall, said Linda Veress of the park's public affairs office. More than 4 million people have visited the park each year over the past three years.
The park is being loved to death in summer when vehicle congestion and accidents, campground crowding and lack of lodging are ongoing issues. Since 2008, annual visitation to Yellowstone has increased by more than 40 percent, the Park Service notes, causing "overflowing parking lots, a rise in traffic jams, roadside soil erosion and vegetation trampling and unsanitary conditions around busy bathrooms."
"But in winter, the visitation is more stable. And it's spread out. It really is a great time to visit,'' Veress said.
Veress said the winter travel restrictions put in place 16 years ago appear to have worked to protect the park during a vulnerable time for wildlife. She said there are no plans currently in the works to further restrict winter travel even as the park begins forming a new visitor use plan later this year in an effort to deal with the summer onslaught.
Most stores, restaurants, campgrounds, and lodges are closed during winter. The Old Faithful Snow Lodge is open, as are a few visitor centers and gas stations with pay-at-the-pump. The Park Service also maintains a series of warming huts throughout the park with bathrooms and a place to have a snack. Ranger-led programs are offered at Old Faithful and Mammoth Hot Springs during the winter season.
"It's my favorite time of year in the park,'' Hoy said as he steered our snowcoach very slowly through a bison herd. "The scenery just pops out. And it's easier to spot wildlife. And I have to admit it's nice not having so many cars on the road. Or any cars. The only traffic jams in winter are caused by the bison."
IF YOU GO:
Yellowstone in winter
• Yellowstone is open in winter from about Dec. 15 to March 15.
• Most roads in the park are closed to cars and trucks in the winter when they turn into groomed snowmobile/snowcoach trail within Yellowstone, mainly on park roads that are not plowed in winter. There are hundreds of miles of groomed trails just outside the park, mostly in neighboring national forests that also allow cross-country mountain snowmobiling.
• Snowmobilers in the park generally must book through a commercial concessionaire with a certified guide using a Park Service-approved low-emission machine. The Park Service allows a very limited number of outside group leaders to serve as tour guides for small private groups, but you must be approved in advance.
• A $15 daily park pass, or a senior lifetime pass, is required for each adult in winter.
• You can fly to Bozeman, Mont., grab a two-hour shuttle to the Yellowstone area, and then take a guided snowmobile tour or a seat on a snowcoach. If you drive, it's about 17 hours from Duluth to West Yellowstone, Mont., a little quicker to Gardiner, Mont.
• Snowmobile rental and guided tours are available at several businesses in West Yellowstone, Mont. Jackson, Wyo. and Cody, Wyo. Snow coach tours run from about $120 to $150 per day, per person. Snowmobile rentals - including the certified guide, snow machine, gas and clothing - will run about $300 per day.
• You can take a snowcoach into the park and then cross-country ski on groomed trails. The Old Faithful area is a hub for Yellowstone cross-country skiing. Trails fan out from the geyser area to circle the Upper Geyser Basin and lead to many nearby sights and points of interest. Snowshoeing also is popular in the park.
• You can stay inside the park and reach your accommodations by snowmobile or snowcoach. Inside the park, the Old Faithful Snow Lodge and cabins are open, as is the Hot Springs Hotel. Call (307) 344-7311 for reservations or more information.
• For more information on Yellowstone National Park, call the park at (307) 344-7381 or go to www.nps.gov/yell .
• Just outside the park, West Yellowstone offers multiple options for lodging, meals, shopping and other services. The local chamber of commerce offers information on lodging, snowmobiling, guided snowmobile tours, snowcoach tours and snowmobile rental. Call (406) 646-7701 or go to destinationyellowstone.com.
1
/
6:
National Park Service Ranger Phil Officer talks about the geology of Old Faithful and Yellowstone's other geysers and thermal features on a late February afternoon. John Myers / jmyers@duluthnews.com
2
/
6:
Snowmobilers stop to watch a herd of bison graze in Yellowstone National park. Only a limited number of guided tours by commercial operators are allowed into the park in winter. John Myers / jmyers@duluthnews.com
3
/
6:
Said Medina, a snowmobile tour guide for Back Country Adventures, explains the natural origins of a thermal pool in Yellowstone National park. John Myers / jmyers@duluthnews.com
4
/
6:
A large bull bison uses his big head to move snow out of the way to find something to eat along the Firehole River in Yellowstone National Park. John Myers / jmyers@duluthnews.com
5
/
6:
A group of Yellowstone National Park visitors on a guided snowmobile tour stop to look at a thermal pool in the park's Lower Geyser Basin. John Myers / jmyers@duluthnews.com
6
/
6:
Snowcoaches, like this one operated by Back Country Adventures, are one of two ways to enter Yellowstone National Park in winter. The other is on guided snowmobile tours. John Myers / jmyers@duluthnews.com