State prep soccer preview: Cloquet-Carlton faces uphill climb against No. 2 Holy Angels
Class A quarterfinal Thursday in Lindstrom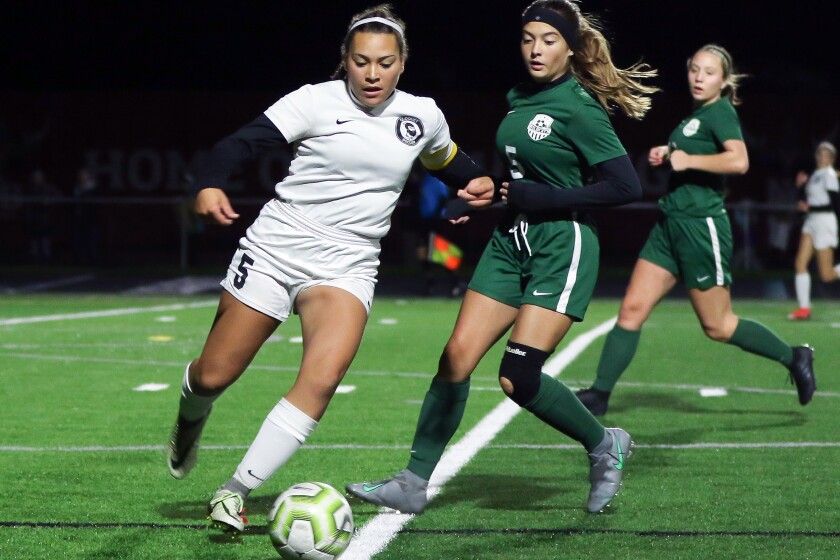 In the previous two seasons, Cloquet-Carlton fell short of expectations by failing to qualify for the high school girls soccer state tournament.
So in this year's Section 7A final, when the Lumberjacks faced unbeaten Chisago Lakes — a team that had defeated Cloquet-Carlton 3-0 during the regular season — all the pressure of being favored was removed.
The Lumberjacks responded by scoring in the final minute of regulation and then again in double overtime to upset the Wildcats 3-2 and qualify for the Class A state tournament.
"Having that expectation for a couple years, it was kind of nice not having that pressure and sneaking through," Lumberjacks coach Dustin Randall said. "I knew we had a team that could be in the top four (in the section), and I knew that that No. 1 team doesn't always go through. I knew that weird stuff happens sometimes in those section games."
Unseeded Cloquet-Carlton (18-2) now faces another uphill climb by squaring off against second-seeded Holy Angels Academy (16-2-1) in a Class A quarterfinal at 7:30 p.m. Thursday at Chisago Lakes High School in Lindstrom.
"It's going to be a tough game," Randall said. "We're expected to be the underdog again but I think we can play with them. If we come in with the right attitude and get a couple breaks, we can compete."
The Lumberjacks got those breaks in the section final. After allowing a go-ahead goal in the final 90 seconds of regulation, Cloquet-Carlton knotted the score on a last-minute penalty kick and then put in substitute Olivia Jameson in overtime. Typically a defender, the sophomore came in to play midfield and netted the game-winner.
"By that point, we had some girls who were absolutely gassed and had nothing left," Randall said. "We have girls that we trust and used throughout the year, and (Olivia) was ready to go and went out there and did her job. For a young player to come in and make a play like that is amazing."
That allowed the Lumberjacks to reach state for the eighth time overall, but first since 2012.
"It's something we've worked for for a long time," senior defender Kate Owens said. "We've always made it far, but we could never quite finish off the final game and make it through."
The Lumberjacks generally have relied on senior Kiana Bender and sophomore Katie Turner to score their goals this season. Each forward enters the state tournament with 20 strikes, including four apiece in the playoffs.
After relying so much on Kendra Kelley — the state's leading goal-scorer each of the previous two seasons — having another proven threat up top has made the Lumberjacks even more dangerous.
"With just one scorer, good teams are going to be able to shut that down right away. Everyone is going to know how to defend that," Turner said. "But our team can score from all over and that's messed up so many teams in the head."
Turner admits she was uncertain of what to expect heading into the season.
"I was a little nervous to follow up what (Kiana) and Kendra had done," she said. "Throughout the season she's been a big helping hand in what I've been able to accomplish."
This week Bender was named to the Class A All-State first team by the Minnesota State High School Coaches Association. Turner made the second team.
"(Opponents) still give Kiana an awful lot of attention, but Katie has been able to step in and take advantage of that," Randall said. "Her play has really improved. We knew she had a pretty high ceiling and a lot of potential, so it's nice to see that develop early. And it's been from all over. She can shoot, she can get in close, she has a lot of assists. Those two have assisted each other more often than not.
"Teams can't just focus on Kiana and take away our offense, which is what happened a little bit last year with Kendra."