Prep track and field: Stocke surges to 1,600 state title
Rock Ridge standout sets PR while Hibbing's Gherardi clears 13 feet in the pole vault.
We are part of The Trust Project.
ST. MICHAEL, Minn. — Most runners might turn on their kick with 100 meters to go, maybe 200, but not Cameron Stocke.
He's of a different breed.
The Rock Ridge junior passed race leader Salvador Wirth of Annandale at the end of the third lap and then cruised to victory in the boys 1,600 meters at the Class AA track and field championships Saturday, June 11, at St. Michael-Albertville High School.
"I knew he was a really good two-miler, so I knew he's good at keeping a solid pace, so I just stayed behind him and buckled down until the final lap came," Stocke said. "But with 600 to go we were coming around the bend for the second to last time, I was getting closer, way up on his heels, so I thought it was probably better to take the lead now than wait, so I passed him."
And he was gone, covering the final 400 meters in a ridiculous 59.208 seconds.
"That was insane," Red Rock distance coach Chris Ismil said.
Stocke finished in a personal record 4 minutes, 11.53 seconds, with Belle Plaine's Emmett Gerres (4:15.40), Blake's Shef West (4:16.00) and Wirth (4:17.56) all breaking 4:18 in a ridiculously fast field.
Stocke hadn't run that fast since the last year of Minnesota's two-class system in 2021 as he won in 4:12.94, missing the Class A state meet record by less than a second.
"It feels so good to PR. It hasn't happened in awhile," he said. "After that first 200, I was like, 'Oh, I feel good.' It was the first time I felt like that all season so I knew it would be a good race."
Stocke — pronounced "stocky" — was called "Stock" over the PA system during the race before boys assistant coach Ryan Malich corrected the announcer so it was right by the time Stocke took his rightful place atop the podium.
"Get some respect on the champ's name," Malich said.
Stocke exhausted so much energy on that race he didn't have much left for the 800 less than an hour later and wound up third. The forecast called for light rain during the meet but it never happened. The rain that fell early in the morning helped create humid conditions later in the afternoon as the temperature climbed to near 80.
"Cameron just ran out of gas," Ismil said. "Cameron is like a son to me, and I just don't want him to walk away disappointed. I'm just so proud of him. He's the most humble human being I know; he's a better person than I am. He's just all love."
No, there's no disappointment in going four times around the track in 4:11. That's good enough to qualify Stocke for a national meet starting next week in Eugene, Oregon, that he is considering.
"Kicking that early is not easy," Stocke said. "That last 200 was not fun, the last 100, especially. That's the first time this season where I could feel this tightening all the way up my legs, but that's good though. That means I gave 100 percent."
Gherardi soars to new heights
Hibbing senior Julia Gherardi won the Class AA girls pole vault last year and had a PR of 12-7, but she got off to a slow start this season as the Bluejackets' track is being redone and the team had to practice at nearby Chisholm.
And while she hadn't cleared 12-3 before this weekend, she was confident she could clear 13 feet Saturday, and she did just that in clearing the mark on her first attempt. She won by a foot and a half with a performance that would have tied her for fifth among Class AA boys.
"I was nervous right before I started jumping, but once I got warmed up and started clearing some bars I felt more confident," Gherardi said.
Gherardi plans to pole vault and run at North Dakota State. She is also an accomplished sprinter, having won the Section 7AA 100 title and anchoring the Bluejackets' state-qualifying sprint relays.
"It was really fun getting to do more events this year and helping get three more girls to state," she said.
Longtime Hibbing vaulting coach Doug Moberg, who Gherardi said is like a grandfather to her, said it will be interesting to see Gherardi take off when she has more time to devote to vaulting at the next level.
"She's more than something else," said Moberg, who has coached at Hibbing for more than 30 years. "I've never seen anyone like that — not in my lifetime. She could be a world-class athlete, she could be. I've coached her since seventh grade, and I thought she was going to be good. Her mother came to me and said, 'You got her. She's yours.' And that meant she was going to work out, so she worked out."
Duluth Denfeld senior Blake Eaton won the boys 200 and 800 wheelchair races but had to settle for second in the 100 wheelchair by a whisker to Fairmont's Nelson Remington.
"I lost by two-hundredths — good race, though," said a smiling Eaton.
Eaton also bettered a couple of his times from sections. Normally in the wheelchair events up north, Eaton is racing the clock but at the state meet there's some competition and that's what Eaton loves doing, competing. That's what this is all about.
"I was told there should be guys down here and I said, 'Sweet,'" Eaton said. "It's alright trying to better your time but it's not as good as actually having somebody to push you."
Eaton plans on attending Minnesota Duluth for a year but then would like to transfer out west. He's big into skiing and has the ultimate goal of making the 2026 Winter Paralympics. He also plays sled hockey. He's a strong kid.
"These guys are eighth and ninth grade — it's good to see them out there — but I've got about 30 pounds on 'em," Eaton said, drawing a laugh. "I might have a little more strength pushing through that 800 and 200."
Eaton has done as high as a 10K and wouldn't rule out doing a Grandma's Marathon event but like anything else, it takes time to train.
Eaton was born with spina bifida, a birth defect that took away his ability to walk, but he makes the most with what he has.
Eaton leaves high school having captured six state titles and collecting two seconds. Not a bad haul.
"When I first started doing track, the reason I was doing it was just to stay in shape for other sports," Eaton said. "But then when I started doing it, I didn't fall in love, but I really enjoyed it, just being here with everyone. It's one of those sports that's like a big family. It has kind of the same feel as disabled sports. We are a big community but are tight knit because we all want to help each other. You kind of forget about your disability and have that fun moment of just being with people and just being like everyone else."
Rock Ridge junior Sydney Fitzgerald finished second in the Class AA girls shot put and Proctor senior Kolbin Carter was second in the Class AA boys high jump.
Fitzgerald was the top seed coming in and led going into their last throws when Winona senior Mandy Duellman nailed one, with a monster put of 39 feet, 3.75 inches. That easily topped Fitzgerald's 37-11.75 but gives her something to shoot for next year.
"Good job (to her), that's right," Fitzgerald said with the proverbial tip of the cap to Duellman.
Fitzgerald was competing in her first state meet. She went out for track in eighth grade but golfed in-between before coming back out.
"I had a feeling I would probably finish anywhere from first to third, and was hoping for top five, so I'm really happy with second," she said.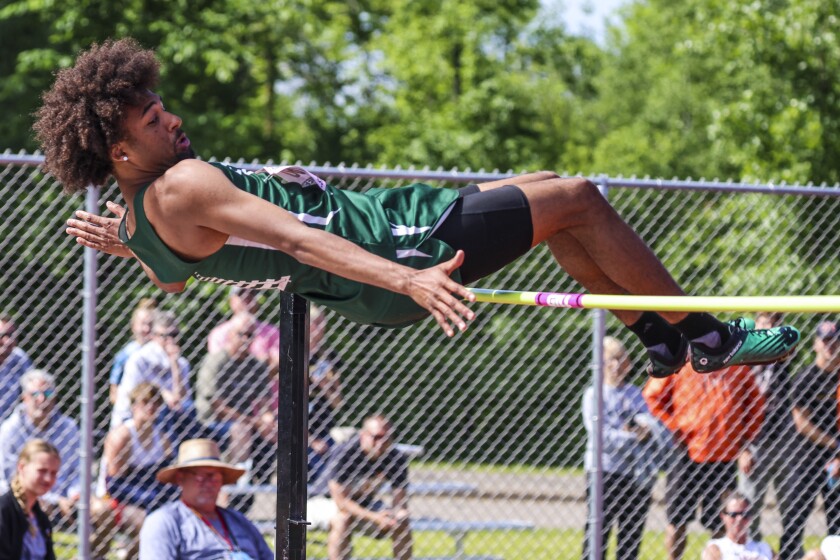 Carter agreed.
He had a good duel going with Stewartville's Carter Anderson until Anderson cleared 6-6 and Carter couldn't quite match it; 6-6 would have tied his PR.
This was Carter's first year out for track since middle school and he certainly didn't regret it.
"After coming here to state, there's some college interest," he said," Carter said. "There's no shame (in second)."
1972 girls track athletes honored
Rock Ridge girls co-head coach Deanna Kerzie was one of about 60 people honored for being part of the first Minnesota state girls track and field meet held in 1972 at St. Cloud Apollo High School. Kerzie was a sophomore hurdler. "I got my butt whipped," Kerzie said, clearly enjoying the moment. I was just a little girl from Gilbert. My dad got me to three-step. We practiced on the cinder track in the back of Gilbert."
And her father, the late great Steve Kerzie, was her coach, not to mention athletic director, official, janitor, handyman and just about whatever else was required for athletics in those days.
This month is the also the 50th anniversary of Title IX, the groundbreaking legislation that opened the way for girls sports by prohibiting sex-based discrimination in any school or program receiving federal funding.
"This year we would like to honor all of the trailblazing athletes, coaches and officials from the 1970s who have paved the way for the opportunities girls track and field athletes have today," the announcer said, garnering a really warm response from the crowd.
Minnesota State Track and Field Championships
At St. Michael-Albertville High School
Saturday's Finals Results
(Winners and Northland Finishers)
1. St. Peter, 44; 2. Spectrum, 40; 3. Jordan, 39; 4. (tie) DeLaSalle, Delano, Worthington and Faribault, 30; 8. (tie) Annandale and Willmar, 29; 10. Providence Academy, 28; 18. (tie) Grand Rapids, 21; 21. (tie) Rock Ridge, 20; 32. (tie) Proctor, 11; 45. (tie) Hermantown, 5; 50. (tie) Duluth Denfeld, 3.5.
100 meters — 1. Max Reis, Spectrum, 10.83; 100 wheelchair — 1. Nelson Remington, Fairmont, 18.75; 2. Blake Eaton, Duluth Denfeld, 18.77; 200 — 1. Reis, Spectrum, 22.09; 200 wheelchair — 1. Eaton, Duluth Denfeld, 36.18; 400 — 1. Gus Langford, DeLaSalle, 48.64; 2. Mitchell Piehl, Hutchinson, 48.98; 5. Austin Hanson, Grand Rapids, 49.70; 800 — 1. Kaleb Sharp, Jordan, 1:55.37; 3. Cameron Stocke, Rock Ridge, 1:57.38; 5. Andrew Schmitz, Hermantown, 1:58.42; 800 wheelchair — 1. Eaton, Duluth Denfeld, 2:30.28; 1,600 — 1. Cameron Stocke, Rock Ridge, 4:11.53; 15. Josh Knight, Proctor, 4:43.86; 100 hurdles — 1. Corbin Herron, St. Peter, 14.97; 300 hurdles — 1. Jack Fischer, Orono, 39.68; 400 relay — 1. Hill-Murray, 42.36; 800 relay — 1. Mankato West, 1:28.43; 1,600 relay — 1. Jordan, 3:22.20; 9. Proctor (Zach Schnabel, Kolbin Carter, Josh Knight, Evan Bowen), 3:33.60; 3,200 relay — 1. Jordan, 7:52.79; 9. Duluth Denfeld (Xander Schroeder, Cole Abernethy, Luke Rosholt, Charles Juntunen), 8:22.12; 12. Cloquet (Cale Prosen, Sam Buytaert, Miles Fischer, Jake Mertz), 8:25.53; high jump — 1. Carter Anderson, Stewartville, 6 feet, 6 inches; 2. Kolbin Carter, Proctor, 6-5; long jump — 1. Grant Nelson, Providence Academy, 22-7.5; 10. Amari Manning, Hibbing, 20-4.25; discus — 1. Sawyer Tordsen, Fairmont, 156-9; 12. Jackson Weston, Grand Rapids, 135-9.
1. Monticello, 71; 2. Providence Academy, 60; 3. (tie) Rockford and Holy Angels, 48; 5. St. Paul Highland Park, 45; 6. Alexandria, 41; 7. Mankato West, 39; 8. Jordan, 37; 9. Rocori, 32; 10. Cloquet, 28; 25. (tie) Hibbing, 12; 31. (tie) Rock Ridge, 10.
100 — 1. Ashley Fisher, Holy Angels, 12.29; 200 — 1. Brooke Hohenecker, Providence Academy, 25.26; 400 — 1. Ellie Moore, St. Paul Highland Park, 57.61; 800 — 1. Calia Chaney, Pequot Lakes, 2:13.49; 1,600 — 1. Aleah Miller, Alexandria, 4:59.57; 16. Nora Stark, Rock Ridge, 5:31.76; 100 hurdles — 1. Jillian Hiveley, Jordan, 14.53; 8. Olivia Jameson, Cloquet, 16.04; 300 hurdles — 1. Cecelia Woods, Rocori, 43.45; 400 relay — 1. Southwest Christian, 49.11; 800 relay — 1. Monticello, 1:42.95; 1,600 relay — 1. Providence Academy, 4:00.52; 3,200 relay — 1. Alexandria, 9:26.31; 14. Cloquet (Katie Turner, Lauren Hughes, Erin Soup Loeb, Caley Kruse), 10:17.05; 16. Hibbing (Geli Stenson, Abigail Theien, Mileena Sladek, Gianna Figueroa), 10:25.01; pole vault — 1. Julia Gherardi, Hibbing, 13-0; triple jump — 1. Cassia Cady, Rockford, 38-4.5; 14. Taylor Wick, Cloquet, 34-7.75; shot put — 1. Mandy Duellman, Winona, 39-3.75; 2. Sydney Fitzgerald, Rock Ridge, 37-11.75; Bella Harriman, Cloquet, foul.