Prep softball: Rodberg's bomb keeps Proctor on track in win over Moose Lake/Willow River
Junior pitcher Maddy Walsh struck out 11 — including the final four batters — in the Rails' victory over the Rebels.
PROCTOR — Payton Rodberg strode to the plate during a game Saturday in the bottom of the first inning knowing she needed a hit during a game against Moose Lake/Willow River on Monday at Terry Egerdahl Field.
Proctor had gotten singles from Sophie Parendo and Maddy Walsh and Rodberg had struggled over the weekend at a tournament in Sauk Rapids.
"I had two foul balls and I dipped my shoulder a little bit, but I waited on her longer and then I cranked it," Rodberg said. "I just knew I had to wait a little bit because this past weekend, my bat just wasn't really on fire. So I just had to get that rip."
The ball sailed over the center field fence and gave Proctor a 3-0 lead. Those would be the only runs the Rails scored in a 3-1 win over the Rebels.
"It was tough to do that with two strikes, but she kept her head down," Proctor coach Bud Joyce said. "Her swing is a little bit to that right center field gap, the power alley. That was good to see her with two strikes put the ball in play and just what we needed, obviously."
After Rodberg's home run, MLWR pitcher Sarah Christy settled in and struck out the last two batters of the inning. What's more, the Rails would only get one more hit, a swinging bunt in the bottom of the fifth by Parendo.
"I just try to keep myself up and not get down if people are getting hits off me," Christy said. "I just tried to pitch my hardest and then it's good having a team that has my back on the field not making errors."
Christy allowed four hits, struck out five and walked one over six innings for the Rebels.
MLWR coach Kelly Goeb was happy with the sharp defense and the way the team responded to the early deficit.
"I think we played really strong defense, we didn't have any errors today," Goeb said. "This is our first time in probably two years playing on turf, so that's a little bit different for us. I think it just took a little while to get used to it … If you get away from that first inning where they hit the ball pretty well, the next six they didn't do that well at all."
The Rails' sophomore pitcher sets goals and "goes hard at it," according to her father, Pat Walsh.
As good as Christy was, Walsh, the 2021 News Tribune All-Area Player of the Year, was just a little bit better in the circle. Walsh allowed five hits, but struck out 11 over seven innings for Proctor. This was after picking up wins over the weekend against Maple Lake, Monticello and St. Cloud and fanning at least 11 batters in each game.
MLWR's Maci Kukuk got on base with a bunt single in the top of the fifth inning. After stealing second, Kukuk took third on a throwing error and came home on a wild pitch by Walsh for the Rebels only run.
Walsh allowed two singles to lead off the top of the sixth, but got Sandra Ribich to hit into a fielder's choice while Natalie Mikrot lined out to shortstop. Walsh then struck out Janna Bode on three pitches to end the threat and followed it up by striking out the side in the seventh.
"It was a little off day for me coming off a weekend where we played three games on Saturday," Walsh said. "Everyone's a little tired today, but personally my body was just a little tired and trying to catch up. It's definitely not my best game, but by far not my worst game."
The weekend win over Maple Lake, the second-ranked team in Minnesota Class AA, was particularly big, but Joyce knows his team has to keep focused and look to get better.
"I wouldn't say we've played a perfect game by any means," Joyce said. "To get where we want to go, we'll have to improve and to contend against Superior, against a pitcher like they have, we'll have to play a pretty error-free game and maybe manufacture a run. Even in our section, there are teams that can beat us — it's not going to be easy by any means."
Walsh is currently ranked third in Minnesota, regardless of class, with 98 strike outs and boasts a 0.51 ERA. She is excited about what the team has done, but wants to avoid a loss in the section tournament again in 2022.
"I'm just looking forward to the playoffs in general," she said. "We're just going to take it one game at a time and not go in too cocky or too confident and give it everything that we have."
Proctor (12-0) will play Cherry, the defending Section 7A champion, at 4:30 p.m. Tuesday in Iron Junction.
Despite losses, Rebels remain a balanced, potent threat
While MLWR has suffered two straight losses — including an eight-inning, 5-4 loss to Cloquet on Saturday — the Rebels remain one of the top teams in Section 7A. They are currently ranked 10th in Minnesota in Class A.
The Rebels have two strong pitchers in Christy and fellow junior Alexis Hoffman. Christy, a left-hander and Hoffman, a righty, give MLWR a one-two punch that gives Goeb options. The difference between a right-handed and left-handed curve ball isn't as "drastic" in softball as it is in baseball, but there is an advantage, according to Goeb.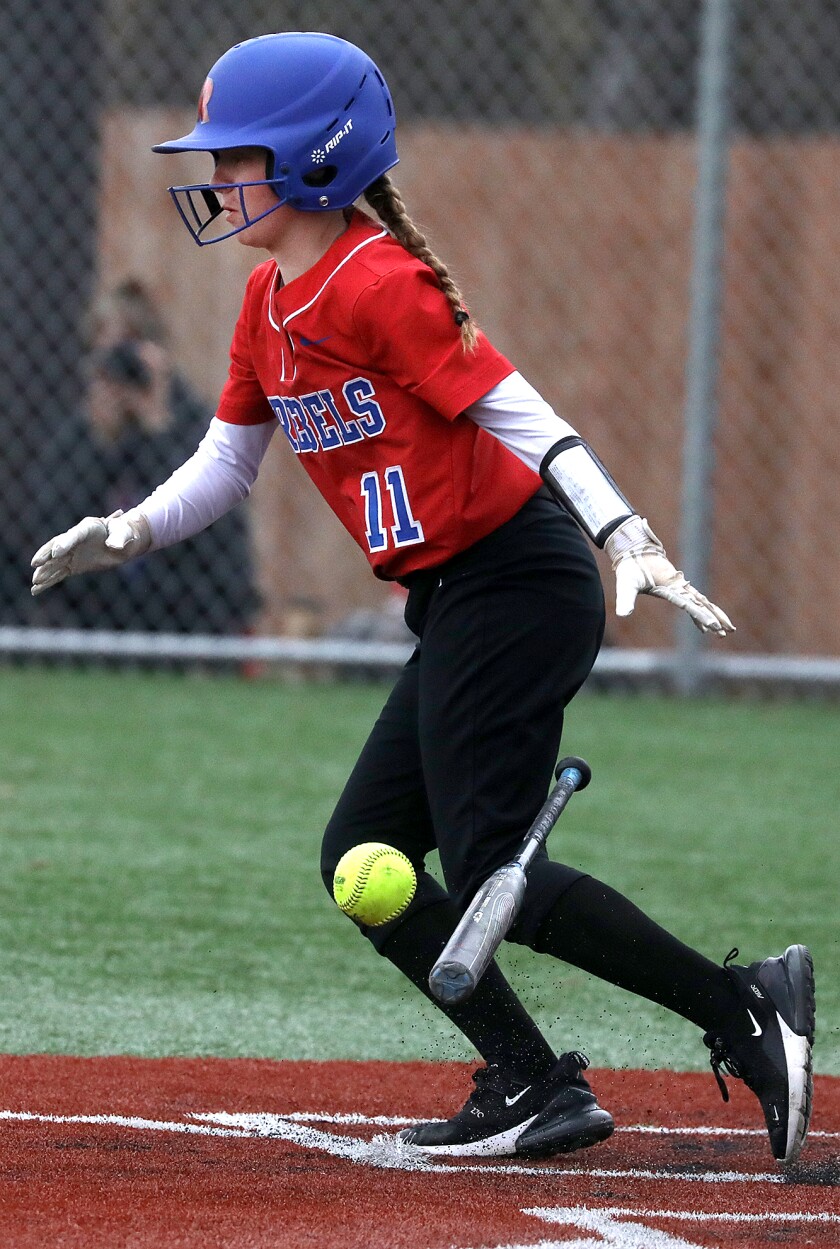 "I don't know that it makes that big of a difference if they're lefty or righty as far as spin on the ball or that type of thing," Goeb said. "What is an advantage for us having two very competitive pitchers is that if one is having an off day, I have somebody else I can reliably go to, to pick up the pieces. I coached for many years where I only had one strong pitcher and if that person was off that day, it just was we were going to lose."
Despite the fact they couldn't solve Walsh on Monday, the Rebels have four players with at least 11 RBIs and Christy leads the team with a .667 batting average. The Rebels balance throughout their lineup extends to their bench and much like if a pitcher is struggling, they have hitters on the bench they can count on for a good plate appearance.
"We're fortunate that our lineup is deep all the way through," Goeb said. "We have hitters on the bench that we can put in. If one of our hitters is struggling, we can pinch hit for them and know that batter is going into the game with a pretty good chance of getting a hit."
If the Rebels can dethrone Cherry in Section 7A, it will be their first trip to state since the Moose Lake Lakers won the state championship in 1982.
MLWR (11-3) will play Aitkin at 4:30 p.m. Thursday in Willow River.
No school has been able to accomplish what the Lakers did during the 1981-1982 school year, winning championships in volleyball, girls basketball and softball.