Prep baseball: Duluth Marshall's 'bunch of dogs' outfight Hermantown
After a slow start, the Hilltoppers are rounding into shape just in time for the start of the playoffs.
We are part of The Trust Project.
DULUTH — Duluth Marshall pitcher Max Berrisford didn't like the way his fastball was working during the Hilltoppers' game against Hermantown Tuesday at Wade Stadium.
The freshman needed a double play to get out of the first inning, but after a single by Garron Upsahl and issuing a walk to River Freeman, Jackson Summers put Marshall in a 2-0 hole with a rope triple to the centerfield wall.
"I felt like I couldn't really locate my fastball today," Berrisford said. "It was in the zone still, but not to the spots like I usually can. So I was relying on my off-speed stuff and my defense behind me."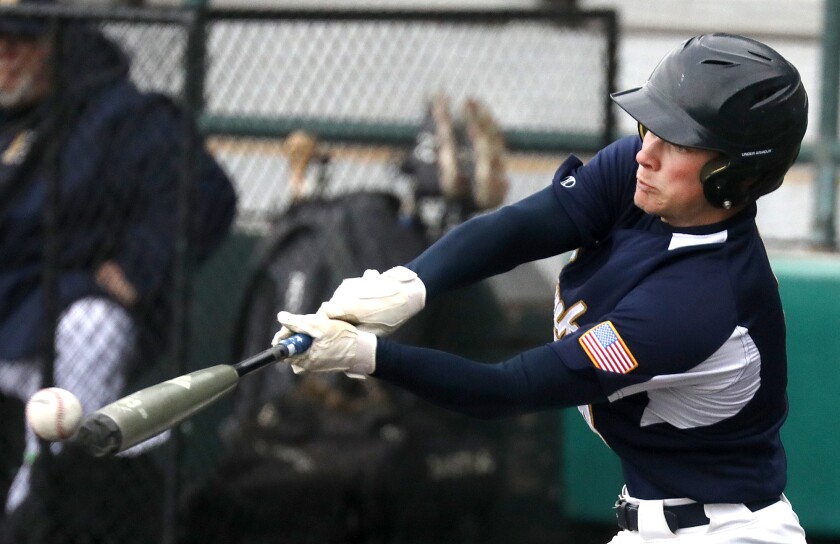 Berrisford got out of the second with just the two runs and the Hilltoppers rallied for a 7-3 win.
Marshall coach Nick Garramone was proud of the way Berrisford "persevered" through the early innings and was a little more generous about how he pitched.
"Max is a freshman but he is an unbelievable baseball player," Garramone said. "He has an unbelievable work ethic and he knows we've got to keep our emotions not too high and not too low. He battles, he throws strikes and all his pitches were working and he was pounding the zone."
Berrisford allowed five hits over five innings, struck out three batters and allowed three walks in the win for Marshall.
"He controls the well game by changing speeds and exploiting hitters where we know they can't hit the ball," Hilltoppers catcher Owen Marsolek said. "He does a really good job locating his off-speed pitches and that really helps him throughout the game."
Mason Boos' one-out triple off Hermantown pitcher Cruz Runyan started a two-run rally in the third inning, but Runyan limited the damage and kept the game tied.
The Hilltoppers took the lead in the fifth inning when Boos scored on a wild pitch. Deegan Hoffbauer's sacrifice fly and Aaden Westerbur's two-RBI single made the score 6-2.
"(Runyan) had our number early, for sure," Boos said. "Our coaches have preached all year baseball is a game of failure, that's going to happen. We play the game one at-bat at a time and we had a spark there late from the bottom of the order and that just carries over. It's contagious, it just takes one hit, one defensive play and that's what got us rolling."
Garramone was happy with the way his team was able to put the early challenges behind it and grab the momentum back from Hermantown.
"We talk about playing the game one pitch at a time, because once that pitch is done, it's done — we move on," Garramone said. "It's a marathon not a sprint and baseball gives us a lot of emotions. There's a lot of ups and downs and this game brought us a lot of those emotions here today. Our kids are staying the course, they love each other and they play together."
Marshall (8-2) started the season a little slow, but is coming on at just the right point in the season, Garramone said.
"When you're playing with two feet of snow around the fences, I think it's fair for anybody to come out slow," Garramone said. "We really want to be playing our best baseball here in the next couple weeks come playoff time. I'm really happy with how we compete and I don't think there's been once this year where the other team has got up and we've given up. We've got a bunch of dogs on this team that fight."
Marshall has a critical week with seven games in seven days beginning with a doubleheader against Blake beginning at noon Saturday in Hopkins, Minnesota.
Hermantown (10-4) will play host Chisago Lakes at 4 p.m. Friday.
The Spartans junior led her team to its first victory in the Wisconsin state tournament since 1978.
The group, cut down from 150 to 39 on this week, was cut to the final 24 on Wednesday.
While girls sports have come a long way in the 50 years since the passage of Title IX, the state high school league — and everyone — has a long way to go in recognizing the accomplishments of female athletes.