Prep girls hockey: Kimbrel's OT goal lifts Orono over Proctor/Hermantown in state semifinals
Mirage forced overtime after Izy Fairchild's power-play goal with 32 seconds remaining in regulation.
ST. PAUL — Orono freshman Maddy Kimbrel has been so good all season long for the Spartans, it was no wonder with the game on the line that she ended up with the puck Friday in the Class A girls hockey state semifinals at Xcel Energy Center.
"She's impressive," first-year Orono coach Larry Olimb said.
But Kimbrel didn't have to do anything too impressive this time. Like Happy Gilmore, she just had to tap it in.
Kimbrel's goal at 3:47 in overtime, which deflected off the skate of teammate Zoe Lopez and straight to her, lifted third-seeded Orono to a 4-3 victory over second-seeded Proctor/Hermantown and onto the state championship game.
"I'm proud of the resiliency our team showed today, coming back from a 3-1 deficit," Mirage coach Emma Stauber said. "One bad bounce ended up right on her stick. It's unfortunate, but that's the game and things like that are going to happen."
And Proctor/Hermantown sophomore goalie Neelah McLeod had no chance of stopping it as she was protecting the side of the net closest to Lopez. Nothing short of teleportation could have stopped that puck from going in.
Orono (22-3-4) advances to play top-seeded and defending champion Warroad (25-3-1) in the championship game at 4 p.m. Saturday at Xcel Energy Center.
"That was just how we planned it," Olimb said, drawing a laugh in the postgame press conference. "We're happy for the girls. We're so evenly matched with Proctor/Hermantown. We tied during the regular season and essentially tied again … this one had to be decided in overtime. Both teams played really hard. I was really proud of the effort. I thought the energy in the building was fabulous."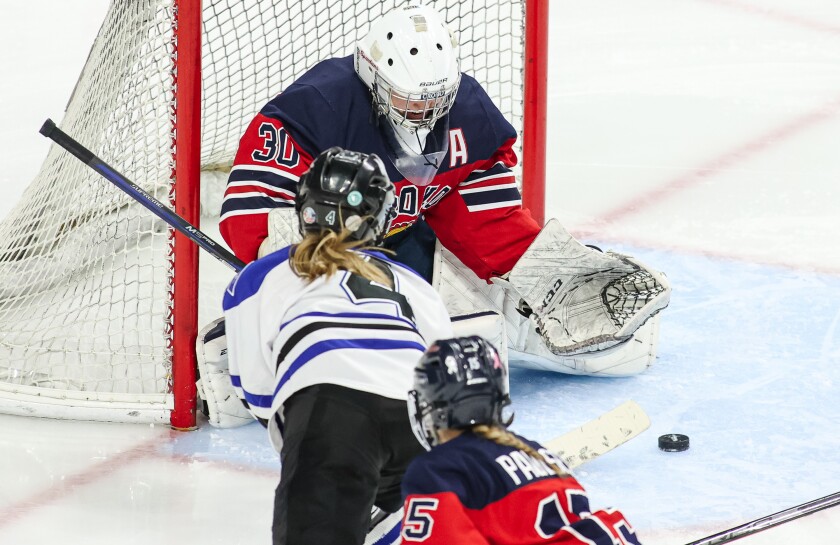 Proctor/Hermantown plays fourth-seeded South St. Paul (22-6-1) at 9 a.m. in the third-place game.
"It's good to know we gave it our all and there are no regrets in my senior year," said defenseman and alternate captain Sophie Parendo, one of eight seniors on the team. "And we still have one more to go. The season's not over."
After senior forward Reese Heitzman opened the scoring at 6:21 in the first period on a perfect backdoor pass from Nya Sieger, Orono scored three consecutive goals in a 6:19 span of the second period to take control.
Proctor/Hermantown trimmed the lead to a goal when Jane Eckstrom circled from behind the net and spotted Sieger on the opposite side to make it 3-2 going into the third.
That's how it stayed until Proctor/Hermantown junior forward Izy Fairchild scored on the power play with 32 seconds remaining in regulation. The Mirage pulled their goalie to give them a 6-on-4 advantage. Fairchild got the puck all alone but initially fumbled the handle. She took a step back to retrieve the puck and quickly lifted a shot off the shoulder of Orono goalie Celia Dahl and into the net, sending the Mirage bench into a frenzy as Stauber slammed the palms of her hands into the glass and started waving her arms up and down, up and down.
"It's the stuff that we work on in practice," Stauber said. "It's the stuff that we put in the work for. We were ready for it, we were prepared and our girls executed. That was a huge goal. That definitely gave us some momentum, gave us some life. We were trying to get it all period.
"Both teams were running on adrenaline at that point. That goal gave us some momentum. We definitely felt like we had it."
Proctor/Hermantown had its chances and even went on the power play early in the overtime period but couldn't make it happen as Kimbrel played spoiler. The freshman is second on her team in scoring with 21 goals and 47 points.
Dahl, who singled out Sieger for her outstanding play on Friday, finished with 24 saves for Orono while McLeod had 23 for Proctor/Hermantown.
Orono is playing in its second state tournament after the Spartans made their first appearance last year, falling 4-1 to Proctor/Hermantown in the semifinals.
"We were ready for this game and we knew what was coming," Orono junior defenseman Grace Bickett said. "We call it the "Revenge Tour 2023.'"
The Mirage was playing in their third straight state semifinal after winning the Class A title in 2021 and finishing as state runner-up to Warroad last year. It is their seventh state tournament overall, all since 2014 (Proctor/Hermantown/Marshall also went in 2010).
"Obviously this is going to sting but at the end of the season there's only two teams that take the championship," Stauber said. "It takes a lot of hard work and time and effort and energy to get to this point. We're not disappointed in the strides we made as a team or with the program. Yeah, we fell short a little bit today but didn't negate what put on the ice."
Proctor/Hermantown 1-1-1-0—3
First period — 1. PH, Reese Heitzman (Nya Sieger), 6:21.
Second period — 2. O, Alexa Niccum (Anika Fortin, Alex Paulsen), 1:00 (pp); 3. O, Macy Rasmussen (Kali Schmidt), 5:41; 4. O, Zoe Lopez (Allie Pleimann), 7:19; 5. PH, Sieger (Jane Eckstrom), 10:43.
Third period — 6. PH, Izy Fairchild, PH, Izy Fairchild (Sieger, Alyssa Yokom), 16:28 (pp).
Overtime — 7. O, Maddy Kimbrel (Lopez, Macy Rasmussen), 3:47.
Saves — Celia Dahl, O, 24; Neelah McLeod, PH, 23.