Prep girls basketball: Mountain Iron-Buhl rallies from 11 down to earn spot in Class A title game
The Rangers will face BOLD in the championship game at noon Saturday at Williams Arena.
MINNEAPOLIS — Midway through the second half, Mountain Iron-Buhl trailed Belgrade-Brooten-Elrosa 48-37 in the Class A semifinal Friday at Williams Arena.
Coach Jeff Buffetta called timeout and just tried to settle his team down and get them back on track.
"The message was just stay calm," Buffetta said. "We have enough experience on this team and the last 11 minutes, we basically went with our experienced five … I said be disciplined on defense and get after it and if do that, you're going to give yourselves a chance."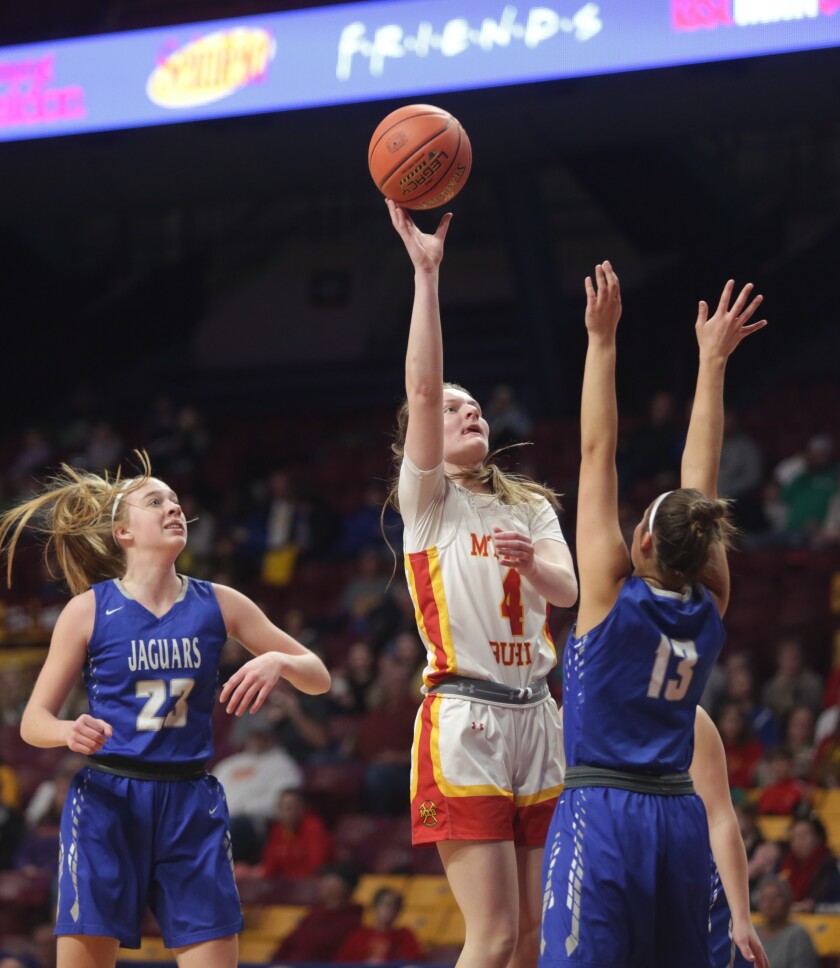 Out of the timeout, junior Jordan Zubich drained a 3-pointer, her first of the game, with nearly 10 minutes remaining. The Rangers went on a 20-2 run over the next 8 minutes, 32 seconds and went on to take a 61-57 win and advance to the state championship game.
Earlier this season, MIB hit 14 3-pointers in an 84-62 win over the Jaguars in a meeting at the Granite City Classic Dec. 29 in St. Cloud and BBE wanted a second crack at the top-ranked Class A team in the state.
"We took a little offense to that first game over Christmas break," Jaguars coach Kristina Anderson said. "We got in some foul trouble and just didn't play real well. We also know that Mountain Iron can light it up from the 3-point line. We used that as motivation throughout the year — let's have another shot at them."
The Jaguars ratcheted up the defensive intensity and senior Abby Berge was given the unenviable task of guarding Zubich, a University of North Carolina recruit who averaged 26.8 points a game this season.
The Rangers junior said things "just felt organic" when she visited the North Carolina campus in Chapel Hill.
"Going in we knew that she was the one to stop," Berge said. "I think that just putting that pressure on, staying focused and mentally saying that you can stop her even when she's committed to D-I — you have to try your best to put that pressure on and try to get in her head."
Berge held Zubich to just four first-half points and BBE then used an 11-2 run to open up a 30-21 lead late in the half. Anderson noted that the 5 foot, 11 inch Berge's length "helped too," something Buffetta agreed with.
"They really played hard and used their length to their advantage," Buffetta said. "Give them credit for playing with a lot of energy. These guys have come to expect that everybody is playing us tight like that and trying to use their length to their advantage because that is our disadvantage. The thing is, we wore them down as the game went on because we have to use our spacing and quickness. These guys understand that over the course of the game, that spacing and quickness started to pay off."
Instead of Zubich, it was senior Sage Ganyo who stepped in with five points in the final minute of the half to keep MIB within striking distance of the Jaguars. Ganyo finished with a game-high 23 points.
"I think we gave here a little bit too much room and she made us pay for it," Anderson said.
Ganyo said it was improved defense from MIB that keyed the offense late in the game by forcing turnovers.
"When things aren't going our way, we still get back," Ganyo said. "If our shots aren't going in, we get back, we still play super-hard and we still play as a team. We weren't making our shots and then finally we got those transition points and that's what really pushed us to get going. Then we were like, 'Yeah, this is our game."
With the win the MIB (29-3) will play BOLD (26-5) for the Class A state title at noon Saturday at Williams Arena. BOLD defeated Hayfield 58-46 in the other Class A semifinal.
"I've seen BOLD a little bit — they're long, sort of like BBE," Buffetta said. "They mix things up in their defenses and I know it's going to be a great game. We'll have our work cut out for us, but I like our chances with the group we have. We'll be ready."
Belgrade-Brooten-Elrosa 32-25—57
Mountain Iron-Buhl 26-35—61
Belgrade-Brooten-Elrosa — Brooklyn Fischer 9, Tiyana Schwingenhammer 10, Allison Dingmann 6, Abby Berge 18, Adley Hagen 2, Harley Roering 12. Totals 19 12-15 57.
3-point goals — Fischer, Dingmann 2, Roering 4.
Mountain Iron-Buhl — Hali Savela 8, Jordan Zubich 17, Gabby Lira 4, Sage Ganyo 23, Suzey Aubrey 2, Anna Neyens 5, Ava Luukkonen 2. Totals 23 11-13 61.
3-point goals — Zubich 2, Ganyo, Neyens.