Prep girls basketball: Lumberjacks edge Rails in OT classic
Cloquet's Alexa Snesrud and Proctor's Hope Carlson dueled past the end of regulation.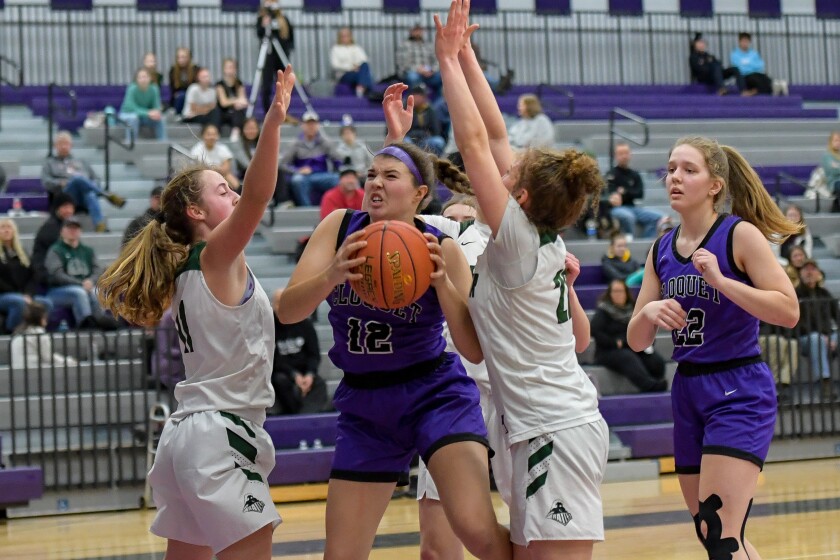 We are part of The Trust Project.
CLOQUET — With about 10 seconds to play and Cloquet trailing Proctor by two Tuesday, Lumberjack senior Alexa Snesrud stepped to the free throw line for a one-and-one opportunity.
"I looked at the scoreboard and I was like 'Dang, I need to hit these," she said.
Snesrud did exactly what she needed — she drained both, forcing overtime and Cloquet went on to win the Lake Superior Conference matchup, 66-65.
Snesrud led the Lumberjacks with 23 points, while Proctor's Hope Carlson finished with a game-high 24 points.
Cloquet coach Heather Young said the Lumberjacks know some nights it can vary who they want on the line, but Snesrud was exactly who the team needed.
"As a team, we discuss that any given night, those roles can change," Young said. "Tonight I think — I don't think, I know — I know Alexa wanted this win. I know she has got enough experience and is a veteran player. She just knew how to sink those two and put us in a great position to take this to overtime."
The Lumberjacks played stifling defense, particularly in the first half, limiting the Rails to just 22 points and forcing them to shoot 0-for-15 from 3-point range.
Proctor started attacking the basket in the second half, opening the half on an 11-2 run and taking a six-point lead.
"We stopped settling for 3-point shots," Proctor coach Matt Solberg said. "The strength of our team is driving and distributing off that. In the first half, it was dribble, dribble, dribble and chuck it up there, so the halftime adjustment was we've got to drive the ball. They're a good defensive team, but if we drive the ball, that's our strength. We have kids who are quick, athletic and can drive the ball."
When the Lumberjacks fell behind, it was Snesrud who led the team back, with 10 quick points that included a 4-point play and a 3-point play. Young said the play was indicative of how strong Snesrud is and how she has learned to finish around the basket.
"There were many years where that ball doesn't necessarily go in the rim," Young said. "She has learned how to adjust her game so at the end of the day, when she's finishing, it's a finish."
Young was also proud of the way the Lumberjacks responded to the Proctor attack early in the second half.
"They could have packed it in when we were down," Young said. "I'm not going to take a timeout to bail them out and they know that because at the end of the day, they know what they need to do and I saw that tonight. They responded, they didn't give up, they didn't quit and they got back to the game plan."
Carlson was disappointed in the loss, but her 24-point night also included some impressive assists, including a behind-the-back pass to junior Kelsey Tangen under the rim for an easy basket.
"I love passing, I love assists," Carlson said. "I love to set my teammates up for success because if I've able to give them a bucket, then it gets everyone on the same page and gives everyone momentum."
Cloquet (9-1) will next play at Esko at 7:15 p.m. Thursday.
Proctor (8-4) will host Hermantown at 7:15 p.m. Thursday.
Proctor (8-4) — Chloe Carlson 13, Sierra Ciaccio-Carlson 2, Paige Evans 8, Hope Carlson 24, Lily Smith 4, Kelsey Tangen 14. Totals 26 9-10 65.
3-point goals — C. Carlson 2, H. Carlson 2.
Cloquet (9-1) — Kiley Issendorf 6, Quinn Danielson 4, Macie Majerle 6, Lauren Hughes 6, Alexa Snesrud 23, Carly Johnson 4, Ava Carlson 17. Totals 22 16-19 66.
3-point goals — Issendorf 2, Snesrud 2, Marjerle, Carlson.
The Hawks were led by 25 points from Blake Schmitz and 22 from Abe Soumis.