Prep boys hockey: Hermantown's George Peterson scores 'backbreaker' against Benilde-St. Margaret's
The senior finished with two goals and an assist in the Hawks' eighth-straight win and 'might be the most unsung defenseman in the state,' according to coach Pat Andrews.
HERMANTOWN — Already leading Class AA's fifth-ranked Benilde-St. Margaret's 3-0 early in the second period Friday, Hermantown senior defenseman George Peterson found the back of the net to put the Hawks up four.
The Red Knights picked up two second-period goals, but Hermantown's attack overwhelmed Benilde in a 7-2 win.
Peterson was coming up the middle behind forwards Kade Kohanski and Dallas Vieau when he got his chance.
"I was following two really talented forwards with Kohanski and Vieau and I just drove the middle because I had the chance to hop up," Peterson said. "Dallas was skilled enough to get it to me and I was lucky enough to put it in."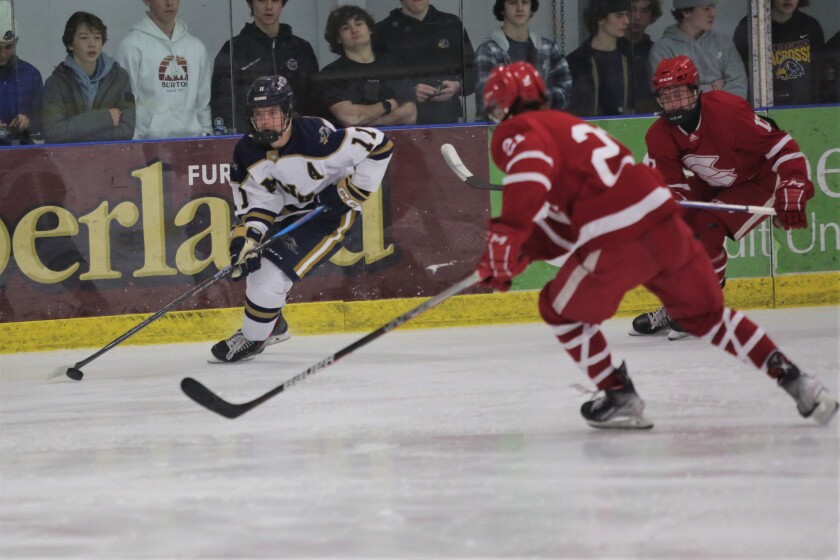 Benilde responded with two quick goals later in the second period, but Peterson's goal cemented one of Hermantown's best performances of the season.
"This was the most complete game we've played all year — maybe ever," Hawks' coach Pat Andrews said. "It was as dominant of a performance as we've had coming right from the start hot and getting up three. We knew they would push back in the second, but that fourth goal I think was a backbreaker. Credit to them, they got a good push, but I think once you get down four, it's pretty hard."
Slow starts have been a bit of a problem for Hermantown (20-2-1), but the Hawks were really focused on coming out and setting the tone for the game against Benilde.
"The first half of the season, we really struggled with our starts," Peterson said. "We've really been concentrating on our starts and coming out strong and we did a great job with that. We showcased our depth with four guys scoring and that's the beauty about Hermantown. We've just got so many guys that can play at the varsity level."
The Hawks have had a number of guys out with injuries — including Kohanski, Hermantown's leading returning scorer from last season. Kohanski missed about six weeks due to a wrist injury and Peterson has helped steady the team through his and several other players' injuries.
As a defenseman, Peterson is second on the team in points with 11 goals and 25 assists, but he's not playing forward to get those points.
Kade Kohanski, the Hawks' top returning scorer, has been sidelined with a broken hand since a game against Hill-Murray on Dec. 3.
"He's unbelievably talented and he's just getting better and better," Andrews said. "He might be the most unsung defenseman in the state…his gaps are so tight because he skates so well. He surfs into contact forward and shuts line rushes down before they even come back. Then he's so fast he's up in the line rush, he had two more goals tonight, it's really impressive, and it's not that he's cheating defensively to do it. He's our best shutdown D guy."
Peterson and Kohanski each finished with two goals and an assist in the game and goalie Dane Callaway had 16 saves in the win.
Hermantown will be back on the ice against Chaska at 3:15 p.m. Saturday in Hermantown.
Benilde-St. Margaret's 0-2-0—2
First period scoring — 1. H, Wyatt Carlson (River Freeman), 8:52; 2. H, Mason Sundbom, 14:52; 3. H, Dallas Vieau (Nolan Barker, Weston Bohlman), 16:27.
Second period scoring — 4. H, George Peterson (Vieau, Kade Kohanski), 1:00; 5. BSM, Michael Risteay (Caleb Koskie, Ben Norris), 2:56 (pp); 6. BSM, Ryan Baird, 6:16; 7. H, Kohanski (Peterson, Carlson), 12:01 (pp).
Third period scoring — 8. H, Peterson (Esterbrooks, Wyatt Carlson), 2:48 (pp); 9. H, Kohanski (Rocco Ericksen, Dallas Vieau), 12:02.
Saves — Mason McElroy, BSM, 25; Dane Callaway, H, 16.