Prep boys basketball: Little brother no more; Duluth East's Rocco Paulson is 'coming into his own'
The senior is averaging 11.3 points per game and is shooting nearly 70% from the field for the one-loss Greyhounds.
We are part of The Trust Project.
DULUTH — A high school senior standing 6 feet, 8 inches tall is unlikely to be overlooked by much of anyone — unless his name happens to be Rocco Paulson.
Two years ago, Rocco's older brother Noah Paulson, currently a redshirt freshman at Minnesota Duluth, along with fellow Bulldog freshman Mattie Thompson, led the Greyhounds to the Class AAAA state tournament in 2021 for the first time in nine years.
His father, Damien Paulson, was a standout at AlBrook and then with the Bulldogs in the early 1990s.
This season, Rocco has emerged from the shadow of his talented brother and father to become a force in the paint for Duluth East. He is averaging 11.3 points per game and is shooting nearly 70% from the field. He is also averaging almost eight rebounds per game, including four on the offensive end.
Rocco's emergence as a senior has the Greyhounds off to an 9-1 start and eyeing a second trip to the state tournament in three years.
In a blowout over Duluth Denfeld Dec. 19 , Rocco and fellow 6-8 Greyhound Patrick Smith each scored 18 points and a new addition to Rocco's game was on full display — the ability to finish at the rim with both hands.
In fact, he credits the family connection with his development, particularly his dad, a Greyhounds assistant and a lifelong coach.
"I think my dad is one of the best big-man coaches you can find — he really focuses on being able to finish on both sides of the rim with both hands," Rocco said. "I think having him at home teaching me and them having him on the coaching staff, it's like an extra class when you get home. You can break it down easier."
The work Rocco Paulson and Smith have put in over the years is really paying off this season for the Greyhounds.
"We've spent so much time on skill development stuff," Duluth East coach Rhett McDonald said. "When you see a kid that uses his right and his left hand, like Rocco and Pat, that's just a product of so many reps that we've worked with these guys over time. It poses a lot of challenges and there's not going to be a lot of teams that can beat out two big guys at once."
It's not just a high shooting percentage, Rocco is averaging more 7.6 rebounds per game, but when breaking out the numbers, he actually averages more offensive rebounds (3.9) than defensive (3.6). Whether it's tipping it out to teammates for another long-range attempt or putting it back up for a shot, it all means opportunities to score.
He probably could get a few more defensive rebounds, but that's not necessarily his assignment.
"Guarding that big guy, it's not always your job to get that rebound," Rocco said. "It's making sure that their best rebounder can't get it. A lot of times you're tasked with making sure that that big guy can't get to the ball and your guards can scoop it up."
While scoring in the post or even stepping back for a deeper shot is the bread and butter for big men, Rocco isn't just a scorer. He has an uncanny ability to find an open man on the perimeter.
Rocco found senior Jobe Juenemann in the corner for the game's first points Tuesday against Hermantown, and a few plays later he found Michael Kastelic from the low post for a bucket in the Greyhounds' 65-58 win over the previously unbeaten Hawks.
The Hawks lost their first game of the season, but "there's a lot to build on," according to coach Andy Fenske.
"I love playing with him," Juenemann said. "He's just so big down there, it's so easy to get him the ball down there. I trust him to go score and if he gets a double team, if my guy goes and digs on him, I'm there to knock down the shot. He'll see that and kick it out. Then if I or any other guys shoot and miss, he's there to go get a board and he can kick it back out to us or he can put it back up."
The passing isn't something that's new to Rocco's game this season, though. McDonald said he's always had the "innate ability" to play off his teammates and has a "knack" for finding an open man.
"I can remember a summer basketball camp, sometimes he would very uncomfortably take the point and run the floor and then all of a sudden have a nice dime to his teammates," McDonald said. "He's had that ability all along, I'm not surprised. I think a lot of people come to this game and think that Rocco was just Noah's brother or Damien's son, but Rocco's coming into his own here and he's been very, very solid for us this year."
When he was younger and a less-skilled player, Rocco said he started thinking to pass first to his older brother or anyone else.
"As I grew up, I got stronger, my hands got bigger and this sounds strange, but it made passing easier," Rocco said. "I never really had a score-first mentality and having such strength on passes — even being able to one-hand pass — it opens up way more options. I think growing up with that pass-first mentality really led well into being about to dish out assists."
In fact, sometimes that pass-first mentality has become a small problem, according to Damien.
"Rhett and I have had to beg him to shoot sometimes instead of pass," Damien said. "He wants to do the best thing for the team, but sometimes the best thing for the team is for him to shoot the ball."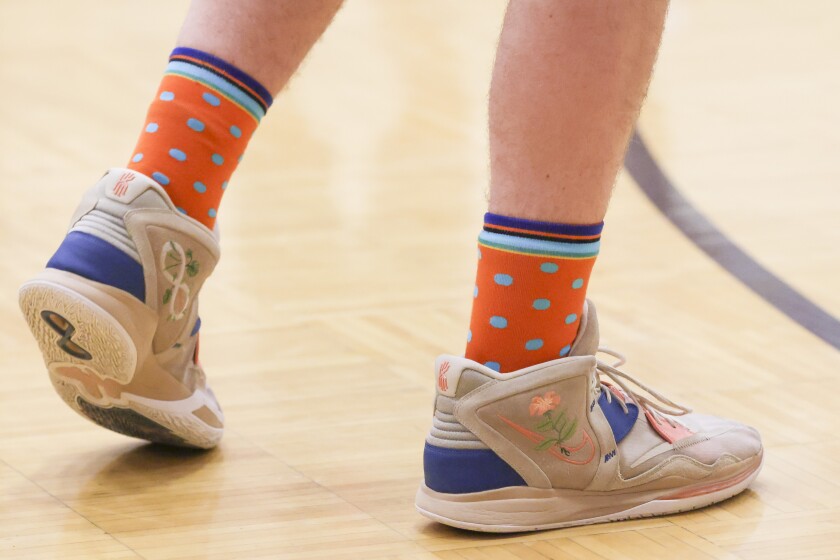 Over the years, Rocco has established himself as one of the most colorful Greyhound players, even down to his socks.
Duluth East's colors are red, gray and black, but against Hermantown Tuesday, Rocco was wearing orange socks with light blue polka dots.
"I'm a bleacher captain, which means I help run the student section and part of that is picking themes," Rocco said. "I used to always match my socks to the theme of the game to show that I'm still supporting the student section when I'm playing. Then over Christmas, I got a bunch of funkier socks and I always double-sock, just as a ritual. So I always put athletic socks on and then put a pair of fun socks on to lighten the mood or make it more enjoyable."
While Rocco's skills have clearly improved, Damien thinks the biggest difference is an increased confidence and something his son has always had, a willingness to put himself out there for his teammates and classmates.
"A lot of us like to dip our toes in, but Rocco dives in," Damien said. "Whether it's basketball, student government or walking out of the house in a construction hat painted in East colors, Rocco's all in."
The Hawks were led by 25 points from Blake Schmitz and 22 from Abe Soumis.