Prep baseball: Esko bats come out hot in win over South Ridge
Eskomo hitters are working to develop "good hitting routines" to avoid a late-season slump that ended with an early playoff exit in 2021, according to coach Ben Haugen.
We are part of The Trust Project.
SUPERIOR — Esko batters didn't waste any time getting on the board in in a game against South Ridge Thursday at the NBC Spartan Sports Complex.
Joey Antonutti hit a two-RBI double in the first inning and the Eskomos jumped on the Panthers for four runs in an eventual six-inning, 12-1 win.
Antonutti picked up three RBIs and junior pitcher Cale Haugen overcame a slow start in the first inning to allow four hits and record nine strikeouts.
Freshman Sam Haugen also picked up three hits and three RBIs in the win for Esko.
"Our bats are pretty hot right now," Esko coach Ben Haugen said. "That's the one thing I thought about our team — if we can swing the bats, we're going to be pretty tough because I think our pitching staff is going to be pretty darn tough."
The Eskomos scored in every inning but the second and Haugen kept South Ridge hitters off balance to secure the win.
In the first inning, South Ridge's Carter Anderson drove home Kaden Lane in Haugen's toughest stretch of the day. Haugen allowed two of his four hits and hit a batter in the first inning.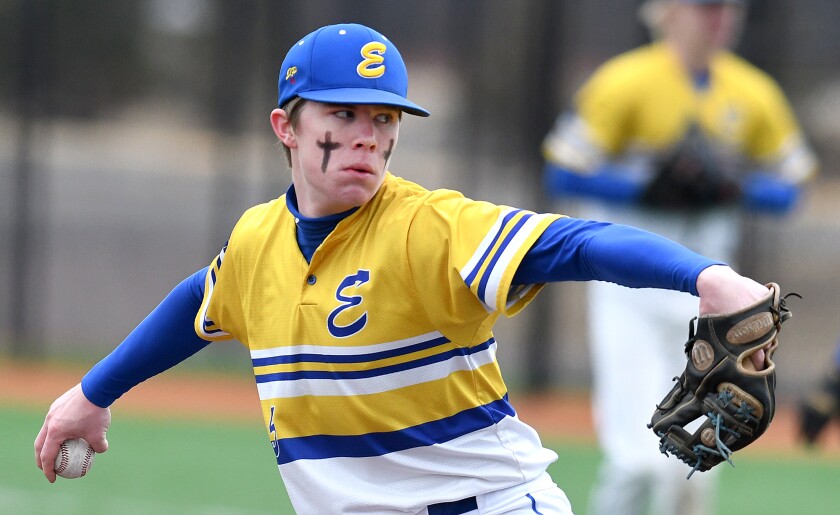 "He needs to get a better routine for being a starting pitcher and getting ready to go," coach Haugen said. "It was obvious after watching him pitch the rest of the game that he wasn't loose and ready to go. He needs to do a better job of making sure he's ready to go that first inning and those are some of the things early on, you're trying to develop routines and when you haven't been outside very much, it's a work in progress."
South Ridge's Aaron Bennett struggled on the mound early, walking six batters in two innings of work and allowing six runs. Christian Pretasky struck out five, allowing six hits and five earned runs in 3 2/3 innings.
"We had guys have good at-bats against a really good pitcher and I liked the way about four or five of our guys swung it today," South Ridge coach Aaron Weber said. "But overall, we were very flat with no energy."
Earlier in the day, Esko dominated Barnum in a five-inning, 24-3 win immediately before the South Ridge game.
Cl Berglund had a home run and two RBIs, while Bryce Hipp and Ty Christensen and Bryce Hipp each had three RBIs for the Eskomos while Cale Haugen and A.J. Kazel both had two.
Isaak Sertich allowed three tuns and struck out four in three innings of work for Esko.
Henry Dammer allowed 10 hits and six earned runs in the loss for Barnum.
Esko hopes to avoid late-season fade
While Esko hitters are swinging the bat well to start the season, coach Haugen wants to make sure the team keeps it up into the latter part of the season.
"The bats have been good, but we've always been pretty decent to start and we've kind of faded," he said. "Our goal this year is to make sure we continue to get better offensively."
Last season, the Eskomos started the season 9-1 and were the top seed in the Section 7AA tournament, but were eliminated early on after surprising losses to Duluth Marshall and Eveleth-Gilbert. Coach Haugen said he noticed before the tournament started his team wasn't hitting as well and they even struggled in their 7-0 win over Rush City.
"We're trying to be deliberate with developing good hitting routines, sticking with the process and trying to not get too high when things are going well," he said. "That's happening right now, so we want to make sure we keep the kids grounded and keep it realistic that baseball is a tough sport."
Cale Haugen said he thought the team got "nervous" in the latter part of the season and with an even younger team this year, it's important they get out and play — something that has been tough in the early going this season because of cold, wet weather.
"We have a lot of guys who are good at baseball, but they just haven't played varsity before," Cale Haugen said. "What we're trying to do is get kids a lot of reps early, put them in tough situations so that nervousness doesn't happen later on in the season and we can be playing our best baseball in June."
Esko (3-0) is scheduled to play at Pequot Lakes at 4:30 Friday.
South Ridge (1-1) will host Cook County at 11:30 a.m. Friday.
Barnum (0-1) is scheduled to play at Cook County at 4 p.m. Tuesday.
The three coaches graduated from the school in the early 1990s and ended up playing college football together at Valley City State in North Dakota.