Prep baseball: Duluth Marshall's 'marks of excellence' key to state run
The Hilltoppers are seeded third in the Class AA tournament and will face Roseau at 5:30 p.m. Tuesday at Dick Putz Field in St. Cloud.
DULUTH — There was no doubt that Duluth Marshall was going to be good in 2023, but with just four seniors on the 2022 squad, the conventional wisdom was that the Hilltoppers were a year away from truly contending.
Then Owen Marsolek carried a no-hitter into the seventh inning of the Section 7AA semifinal against Esko. The Eskomos' Joey Antonutti broke up the no-hitter with two outs in the seventh, but it led to a 5-0 win and an 8-4 win over Proctor to return to the state tournament for the first time since the Hilltoppers won the championship in 2019.
Marsolek and fellow freshman pitcher Max Berrisford have become a powerful duo that keeps opponents guessing about what's coming.
"What Max and Owen do really well is they fill up the strike zone — they attack and they throw a lot of strikes," Hilltoppers coach Nick Garramone said. "They're good velocity guys, but they've got second and third pitches that are devastating. They're really not just flamethrowers, they're pitchers. They know how to spot up pitches and they know how to change speeds."
Berrisford said he and Marsolek have done well this season, but it's not just the freshman duo that has gotten them where they are.
"Our pitching has been outstanding," Berrisford said. "Between myself, Owen Carter Boos, Mason Boos and everyone else who's been on the bump has always thrown strikes and just pounded the zone."
The team hasn't been blasting the ball out of the park, but they've been putting balls in play and keeping pressure on opposing defenses by forcing them to make plays in the field.
'We've done a good job of getting balls in play, especially against the better teams like Esko last week," Berrisford said. "We didn't have that many strikeouts. I didn't have the greatest game, but our team put balls in play. When you put balls in play, other teams are going to make errors, they're going to get through holes and you're going to get guys on base. That's how you score runs and end up winning."
The Hilltoppers have also gotten contributions from some unlikely places. Eighth grader Aaden Westerbur had a walk-off RBI single in a 3-2 win over Pine City May 26.
"He's come up in a variety of spots where we're struggling to get runs across the board — he'll pop in with an RBI single or two-RBI single," Garramone said.
Duluth Marshall (17-5) will face Roseau (17-6) in the Minnesota Class AA quarterfinal at 5:30 p.m. Tuesday at Dick Putz in St. Cloud. After a 3-5 start, the Rams finished by winning 14 of their final 15 games, including a 3-2 win over Perham in the Section 8AA championship game.
"They're a well-coached team and they play the game right," Garramone said. "It will be a test."
Garramone, in his second season guiding the Hilltoppers, said the team's success goes back to how much they enjoy playing baseball with each other and the culture he's trying to establish at the school.
"Our culture is really a derivative of what we talk about every day, which is call our marks of excellence," Garramone said. "Ultimately, it's really the fundamentals of who we are, how we approach our schoolwork, our relationships, the game and how we handle the ups and downs of life."
With their talent and youth, the Hilltoppers could reign over Section 7AA for the foreseeable future.
Grand Rapids headed back to state tournament
With a 9-2 win over Chisago Lakes Wednesday, Grand Rapids secured its second consecutive Section 7AAA title.
The Thunderhawks won all three of their section tournament games by at least seven runs and secured a 14-1 win over Hermantown in the section semifinal. The Hawks were the last team to beat Grand Rapids, a 13-12 win for Hermantown May 24 in Grand Rapids.
The Thunderhawks (16-6) have won eight of nine games and will face Mahtomedi in the first round of the Class AAA tournament at 5:30 p.m. Tuesday at the Chaska Athletic Park.
The Zephyrs beat St. Anthony Village 8-1 Thursday to advance to the state tournament.
South Ridge claims fourth straight section title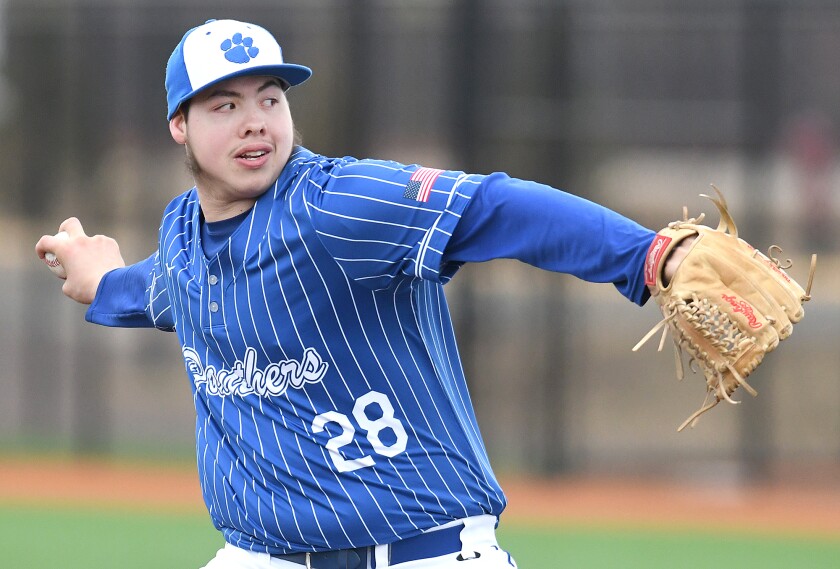 South Ridge topped Ely 3-2 in the Section 7A championship game Thursday at Mesabi East to claim its fourth consecutive berth in the state tournament.
The Panthers (20-3) have won nine straight games and all three of their losses — Esko, Moose Lake-Willow River and Rock Ridge — are to Class AA schools.
South Ridge was seeded fifth in the state tournament and will face Sacred Heart at 1 p.m. Tuesday at Joe Faber Field in St. Cloud.
Sacred Heart (22-3) topped Ada-Borup-West 3-2 in the Section 8A championship to advance.