Nordic skiing: Duluth East relay tandem captures first girls sprint relay state title
Greyhound sophomores Cope-Schaeffer and Bixler edge Forest Lake by a fraction of a second.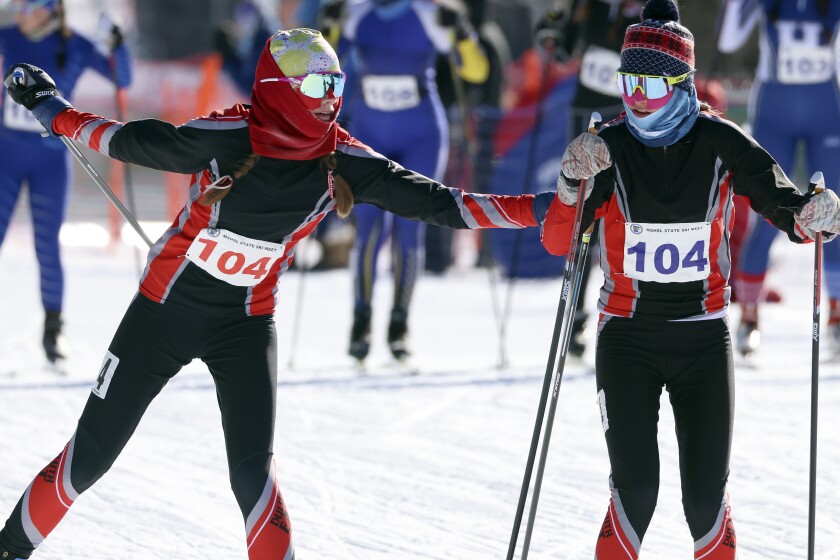 We are part of The Trust Project.
BIWABIK — Duluth East Nordic skier Rowan Bixler was presumably cold and spent after crossing the finish line at the state meet on a frigid Thursday at Giants Ridge, so she needed a few moments to compose herself.
That was OK because she had teammate Liesl Cope-Schaeffer standing next to her to do most of the talking.
That's what teammates are for.
Cope-Schaeffer and Bixler, both sophomores, became Minnesota's first state sprint relay champions, crossing the finish line in 17:52.41 to edge Forest Lake (17:52.66) by a quarter-second on a historic afternoon at Giants Ridge.
With the temperature topping out at about 2 degrees in Biwabik, the start of the meet was delayed to noon and the sprint relay — the first of its kind at the state meet — would simply be a series of three timed sprints.
The field of 24 relay teams was divided into three heats of eight teams apiece, with the team with the top time being declared the champion.
Cope-Schaeffer and Bixler dominated their heat but then had to wait.
"That's hard not having anybody to chase," Cope-Schaeffer said of the Greyhounds' heat. "I didn't think we'd dominate by that much, but it all depends on who is in your heat. You just don't know. I felt really good."
Cope-Schaeffer looked really good, too.
Each two-person team alternately did two 1.3-kilometer loops around the stadium at Giants Ridge, so 5.2K altogether.
Cope-Schaeffer started and was third early on but that didn't last long as she seized the lead on the first hill and the Greyhounds never looked back, clocking a time that was about 30 seconds faster than what they did in winning last week's Section 7 meet on the same course.
Forest Lake won the next heat, but it wasn't quite enough, and Stillwater, winner of the third heat, was about 12 seconds off the pace.
"Just as a team, you always want to win," Cope-Schaeffer said. "That's always the main goal."
East came up just short in the team standings with St. Paul Highland Park edging the Greyhounds 371 to 368. The Duluth East boys also finished second, with Minneapolis Southwest holding a 389 to 363 advantage, but the Greyhounds' cross country cupboard certainly won't be bare.
One need look no further than Cope-Schaeffer and Bixler for proof of that.
Just how good is this team going to be?
"I don't know," Bixler said, smiling and laughing and feeling a lot better. "We'll see. Even if we didn't win, I'd be happy either way because I had fun and we gave our all. I'm proud of our team … I've been proud of our team all year."
Morse, Kyes settle for second
While East's time held up in the girls sprint relay, the time Carl Morse and James Kyes set in winning the first heat wasn't enough as Minneapolis Southwest's Lars Brinkema and Sam Scott won the third heat in 14:59.55 to top the Greyhounds by about 10 seconds.
Morse took the lead about 500 meters into the race on the crest of the opening climb.
"We put everything out there, so I hope it holds, but if not, I'm still really proud of us," Morse said shortly after the Greyhounds won their heat. "We did our best."
Taking advantage of super-fast conditions — cold with little wind, the Greyhounds' time was more than 45 seconds better than the 15:56 they clocked in winning last week's Section 7 meet at Giants Ridge.
"We learned a lot from sections on this course," Morse said. "We learned where to go and where to conserve some, and I think that was a big advantage for us. It was very fast and fun."
Bettendorf leads Northland pursuit racers
Proctor/Hermantown freshman Della Bettendorf was the Northland's top overall finisher in the girls freestyle pursuit, finishing fifth, while Duluth East senior Ian Morse, Carl's older brother, was the Northland's top boys finisher in 10th.
"I'm just so grateful for this opportunity God's given me, to just ski for Him and have fun out there," Bettendorf said. "Today was just so much fun and I'm thankful. I really appreciate having my friends out here with me and the opportunities skiing has given me."
Bettendorf finished Wednesday's classic 5K in 17:14.36 to go with Thursday's 17:29.81 in the 5K freestyle for a combined time of 34:44.1. Hopkins freshman Sydney Drevlow won in 33:40.7.
Morse finished in 29:56.1, with Minneapolis Southwest senior Cooper Camp winning in 28:25.7.
"I'm used to the cold. I really like it," Bettendorf said. "It felt really fast out there skiing."
Bettendorf is No. 5 of 12 siblings. Her older brother Luke Bettendorf, a senior, was 68th amongst boys.
Della Bettendorf was competing for the third time at state, finishing 30th as a seventh-grader and 12th last year as sophomore. She credited her family for the improvement.
"My family has taught me how to ski since I was walking," Bettendorf said. "Skiing is one of my favorite things."
So who was the best Bettendorf skier?
"Hannah, my oldest sister, was second at state, so I still have to catch her," Bettendorf said, laughing.
The Ely girls finished ninth in the team standings and the Proctor/Hermantown boys — competing in their first Nordic state meet in 25 years — were 11th.
1. Minneapolis Southwest, 389; 2. Duluth East, 363; 3. Wayzata, 345; 4. Minneapolis Washburn, 344; 5. St. Paul Highland Park, 331; 6. Prior Lake, 310; 7. Forest Lake, 302; 8. Robbinsdale Armstrong, 293; 9. Brainerd, 291; 10. Minneapolis South/Roosevelt, 282; 11. Proctor/Hermantown, 279; 12. Stillwater, 276; 13. Little Falls, 261; 14. Maple Grove, 255; 15. Champlin Park, 208; 16. Rosemount/Apple Valley/Eastview High School, 208.
Top 10 Individuals and Northland Finishers
1. Cooper Camp, Mpls. SW, 14:33.40-13:52.34—28:25.7; 2. Davis Isom, SPHP, 14:48.57-14:01.35—28:49.9; 3. Andrew Defor, Edina, 14:45.21-14:05.44—28:50.6; 4. Daniel Mccollor, Wayz., 14:54.47-14:04.47—28:58.9; 5. Ben Lewis, Blaine, 14:51.01-14:08.72—28:59.7; 6. Benon Brattebo, Eden Prairie, 14:46.69-14:29.61—29:16.3; 7. Jon Clarke, Bloomington Jefferson/Kennedy, 14:41.00-14:42.42-29:23.4; 8. Noah Erickson, FL, 14:56.80-14:31.95—29:28.7; 9. Owen Lindseth, Mpls. SW, 15:00.97-14:39.23—29:40.2; 10. Ian Morse, DE, 15:18.02-14:38.11—29:56.1; 18. Oliver Miatke, DE, 15:22.40-15:03.77—30:26.1; 22. Aiden Vanstraten, PH, 16:05.07-14:51.49—30:56.5; 30. Paavo Rova, DE, 16:02.25-15:16.38—31:18.6; 46. Riley Hutchinson, Duluth Marshall, 16:52.59-15:20.12—32:12.7; 56. Gabriel Pointer, Ely, 16:08.00-16:28.06—32:36.0; 57. Arlen Hegenbarth, Eagan, 16:59.76-15:36.83—32:36.5; 58. Elijah Wozniak, PH, 17:14.99-15:22.50—32:37.4; 59. Keegan Poston, CP, 17:12.21-15:25.86—32:38.0; 60. Jon Hakala, Ely, 16:34.01-16:04.66—32:38.6; 68. Luke Bettendorf, PH, 17:09.00-15:56.59—33:05.6; 77. Colin Willemsen, DE, 17:12.42-16:34.21—33:46.6; 94. Liam Snihurowych, DE, 17:20.42-18:25.74—35:46.1; 103. Santiago Lenz, PH, 18:32.60-18:00.05—36:32.6; 104. Will Cornell , MS/R, 19:54.64-17:19.41—37:14.0; 105. Hendrick Hicks, PH, 18:54.29-18:48.54—37:42.8.
Top Five Sprint Relays and Northland Finishers
1. Lars Brinkema/Sam Scott, Mpls. SW, 14:59.55; 2. Carl Morse/James Kyes, Duluth East, 15:09.48; 3. Matthew Binsfeld/Eliott Swanson, ERZ, 15:19.85; 4. Graham Adleman/Sam Strickland, MW, 15:40.22; 5. Noah Schaeffer/Taite Knapp, Brain.,15:40.48; 14. Braden Mehle/Joshua Knight, PH, 16:13.75.
1. St. Paul Highland Park, 371; 2. Duluth East, 368; 3. Forest Lake, 346; 4. St. Louis Park; 5. Brainerd, 318; 6. Stillwater, 316; 7. Hopkins, 304; 8. Minneapolis Washburn, 301; 9. Ely, 294; 10. St. Paul Academy and Summit School, 278; 11. Eden Prairie, 276; 12. Eagan/Eastview, 255; 13. Elk River/Zimmerman, 253; 14. Winona, 237; 15. Bemidji, 236; 16. Maple Grove, 200.
Top 10 Individuals and Northland Finishers
1. Sydney Drevlow, Hopkins, 16:55.14016:45.55—33:40.7; 2. Maggie Wagner, Edina, 16:32.68-17:28.28—34:00.9; 3. Molly Moening, SPHP, 17:04.45-17:20.32—34:24.7; 4. Greta Hansen, Math & Science Academy, 17:35.27-17:07.95—34:43.2; 5. Della Bettendorf, Proctor/Hermantown, 17:14.36-17:29.81—34:44.1; 6. Zoe Devine, Ely, 17:29.19, 17:23.56—34:52.7; 7. Jordan Parent, FL, 17:12.06-17:43.83—34:55.8; 8. Hailee Zimpel, ERZ, 17:15.02-17:45.78—35:00.8; 9. Margo Nightingale, Mounds Park Academy, 17:21.17-17:57.18—35:18.3; 10. Liliana Schaeffer, Brain., 18:00.53-17:26.45—35:26.9; 14. Lily Brown, DE, 17:41.98-17:56.79—35:38.7; 15. Inga Wing, SPA&SS, 18:23.32-17:21.91—35:45.2; 16. Audrey Parham, Wayz., 18:26.42-17:37.04—36:03.4; 17. Olya Wright, North Shore, 18:30.75-17:37.16—36:07.9; 18. Greta Hendrickson, DE, 18:08.93-18:02.45—36:11.3; 21. Lydia Kraker, DE, 17:43.24-18:45.47—36:28.7; 23. Jenna Johnson, DE, 18:13.63-18:35.98—36:49.6; 26. Anna-Britta Helmer, DE, 18:27.58-18:26.44—36:54.0; 48. Sanny Gangi, Grand Rapids, 19:40.25-18:47.05—38:27.3; 53. Phoebe Helms, Ely, 19:17.32-19:19.16—38:36.4; 67. Ava Skustad, Ely, 19:49.22-20:03.37—39:52.6; 77. Ella Karkela, Grand Rapids, 21:05.68-19:51.25—40:56.9; 91. Claire Blauch, Ely, 20:39.17-21:36.46—42:15.6; 93. Anna Dunn, Ely, 20:57.13-22:14.76—43:11.8.
Top Five Sprint Relays and Northland Finishers
1. Liesl Cope-Schaeffer/Rowan Bixler, DE, 17:52.41; 2. Chloe Erickson/Ella Niznik, FL, 17:52.66; 3. Stella Powell/Bailey Holmes, Still., 18:03.91; 4. Silja Earl-Torniainen/Rayna Axelson, SPHP, 18:15.82; 5. Maren Overgaard/Helen Townley, SPA&SS, 18:30.42; 11. Graci Pointer/Sydney Durkin, Ely, 19:04.2.