2022 News Tribune All-Area Baseball Team
Half of this year's selections will return for at least one more season in 2023.
We are part of The Trust Project.
Ben Keske capped off a stellar high school career by leading Grand Rapids to the state semifinals and maybe more importantly, a 2-0 victory over Mahtomedi in the Class AAA quarterfinal. The Zephyrs topped the Thunderhawks 20-3 in the state championship game in 2021.
While coach Bill Kinnunen will have to deal with replacing Keske and fellow All-Area team member Myles Gunderson, half the 2022 All-Area Team will return for at least one more season.
Duluth East's Charlie Sutherland — a Minnesota recruit — and Esko's Cale Haugen — a Class AA first team All-State selection — will return for one more run at a state title at their schools.
Several other area schools have multiple more years to break through to the state tournament. Northwood/Solon Springs pitcher and shortstop Abe Ahlberg, a sophomore, had the Green Eagles a win away from the state tournament.
Duluth Marshall went back to the state tournament for the first time since winning the Class AA title in 2019 on the back of freshmen Owen Marsolek and Max Berrisford. The pair had a disappointing debut at the state tournament after a 13-2 loss, but bounced back to win the consolation tournament over Wadena-Deer Creek.
2022 DULUTH NEWS TRIBUNE ALL-AREA BASEBALL TEAM
Abe Ahlberg
Northwood/Solon Springs
Sophomore pitcher/shortstop

- The Superior Telegram All-Area Player of the Year led the Green Eagles to the sectional championship game with a 0.99 ERA, averaged more than two strikeouts per inning and had two no-hitters in 2022.
- Also the Lakeland East Conference Player of the Year, Ahlberg led NSS in nearly every offensive category, including batting average (.474), RBIs (33), and home runs (4).


The team's sophomore pitchers have combined for four no-hitters and haven't allowed more than six runs in any game so far this year.

The Green Eagles rallied from an early three-run deficit to take the lead, but the Ramblers took advantage of some costly mistakes to advance to the state tournament.

The Green Eagles scored 12 runs in the first two innings to advance to the sectional semifinal Tuesday.
Mason Stenberg
Superior
Senior pitcher/centerfield

- An All-Lake Superior Conference first team selection, Stenberg "always had the ball when we faced our toughest opponents," according to coach Ryan Hendry.
- The Ellsworth Community College (Iowa) recruit had a 2.47 ERA and had a .333 batting average with three home runs this season.
Tanner Olson
Proctor
Senior pitcher/catcher

- A great defensive catcher, according to coach Anthony Bush, Olson is Proctor's all-time leader in slugging percentage (.670) and triples (11).
- A Class AA All-State selection, he batted .427 with eight doubles, five triples and two home runs. Olson also was Proctor's closer in 2022, with an ERA of 0.88, three saves and one win.
Cale Haugen
Esko
Junior pitcher/shortstop

- The Eskomos junior led the team in batting average (.465), triples (3), RBIs (32), home runs (6) and stolen bases (28).
- A Class AA All-State selection, Haugen allowed just five earned runs in eight starts and had an ERA of 0.83 in 2022.


With a batting average of 462 and 23 RBIs and an ERA of 0.58, the Esko junior hopes to lead his to a section title in the tournament that starts next week.

Panthers end Eskomos' unbeaten season with 8-6 comeback win.
Wyatt Olson
South Ridge
Junior pitcher/catcher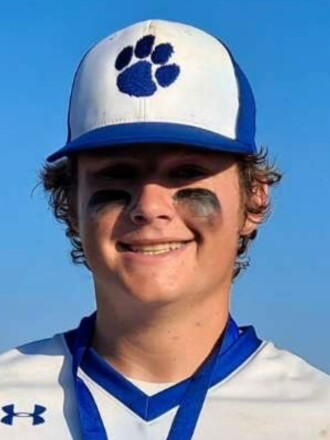 - The Panthers' junior had three home runs and led the team in batting average (.395), slugging percentage (.658) and extra-base hits (12).
- Olson went 3-1 on the mound in the Panthers' run to the Class A state tournament and had the lowest ERA (1.97) of any pitcher with at least 30 innings pitched.
Kole Paulsen
Northwestern
Senior catcher/pitcher

- The Tigers' catcher was a "wall behind the plate" who didn't allow passed balls and when runners tried to steal, "they usually failed," according to coach Ryan Teal.
- An All-Northwest District honorable mention selection, Paulsen batted .373 with a .507 on-base percentage and had 14 RBIs with 17 stolen bases.
Charlie Sutherland
Duluth East
Junior pitcher/third base/outfield

- Among the best all-around players in the area, Sutherland batted .424 with 20 RBIs and four home runs, including a two-home run, six-RBI performance against Bemidji May 10.
- A University of Minnesota commit, coach Chris Siljendahl could play Sutherland at almost any position on the field, including pitcher, where he went 2-1 with a 3.54 ERA and 29 strikeouts in five starts.
Ben Keske
Grand Rapids
Senior centerfield

- The 2022 Duluth News Tribune All-Area Player of the Year has "unbelievable range" in the outfield, according to coach Bill Kinnunen, and "ran down many sure doubles in the gaps because of his speed and the jump he gets on balls."
- An All-State selection who will attend Iowa Central Community College in Fort Dodge was the leadoff hitter for the Thunderhawks with a .429 batting average, 32 runs scored and 29 stolen bases.


The senior took up powerlifting in the offseason in the hopes of getting stronger and faster, eventually finishing 14th in his weight class at a national competition in March.

Thunderhawks win the Section 7AAA title with a 6-0 victory
Myles Gunderson
Grand Rapids
Senior pitcher

- An All-Lake Superior Conference first team selection, Gunderson was 5-0 for the Thunderhawks with a 1.50 ERA and 44 strikeouts in 2022.
- Was the winning pitcher in the 2-0 win over defending state champion Mahtomedi in Class AAA quarterfinal in Chaska.
Max Berrisford
Duluth Marshall
Freshman pitcher/catcher

- Led the Hilltoppers in batting average (.405), RBIs (29) and doubles (13) on their way to the Class AA state tournament.
- An All-Lake Superior Conference first team selection, Berrisford also had five wins and 34 strikeouts in 37 innings pitched.


After a slow start, the Hilltoppers are rounding into shape just in time for the start of the playoffs.
Owen Marsolek
Duluth Marshall
Freshman pitcher

- The "ace" of the Hilltoppers staff, according to coach Nick Garramone, Marsolek had five wins with a 1.57 ERA and 84 strikeouts in 53 innings pitched.
- The All-Lake Superior Conference first team selection also had a .373 batting average with 18 RBIs and 17 runs scored.


The freshman pitcher fanned seven and carried a no-hitter into the final frame against the top-seeded Eskomos.
Dane Dzuck
Duluth Denfeld
Senior catcher

- An All-Section 7AAA selection, Dzuck led the Hunters with a .438 batting average and 11 extra-base hits.
- Also an All-Lake Superior Conference selection, the senior's 20 RBIs were double the next highest total on the team.
The Prep Bowl was held the weekend before Thanksgiving at the ends of the 2014 and 2015 seasons, when the title games were held outdoors on the University of Minnesota campus.
The Plante family tradition of playing athletic at UMD continues. Zam's and Max's parents, Derek and Kristi, were both standout athletes for the Bulldogs. Derek Plante is also a former UMD hockey coach.
The annual one-day celebration of hockey in the state will be coming to one of the northernmost communities in the state in early 2024, as officials from the Minnesota Wild announced the awarding of Hockey Day Minnesota to Hockeytown USA.