Prep track and field: Duluth East's Niska eyes strong finish in 400 meters at Class AA state meet
Local athletes look to make an impact but Cloquet junior Olivia Jameson has to fight through an injury.
Duluth East senior Alexandra Niska just started running the 400 meters as a sophomore in 2019, competing in four races.
More of a 100 and 200 runner, her best time in the 400 that season was one minute, three seconds; fast, but rather pedestrian compared to what the top runners do at the state meet.
Since then, it's become her event as evidenced by her time last week at the Section 7AA meet in Cloquet.
Now Niska will compete in all three events at the state meet this week at St. Michael-Albertville High School. All 3,200 races will be Thursday, with the rest of the Class A meet Friday and the rest of the Class AA meet Saturday.
Last week, Niska won the 400 in 57.97 seconds, breaking Minnesota Duluth Hall of Famer Julie (Hay) Klun's 1980 school record. Niska, however, had a ways to go to beat the section meet record. That mark is held by one of her mentors, Duluth Denfeld grad Paige Stratioti, who was lightning in a bottle in 2011 with a 55.83. Competing for Duluth Central that season, Stratioti won the Class AA title as a senior in the event before going on to star at North Dakota State, the same college Niska is bound for.
Niska wears a ring on her right pointer finger that Stratioti got for herself after earning All-American honors in college. Stratioti gave it to Niska after the fleet-of-foot Greyhound qualified for the state meet in the 200 her sophomore year. With no junior year to build upon after COVID-19 wiped out last season, it will be interesting to see just how fast Niska can get. She had already set personal records in the 100 (12.5) and 200 (25.9) this season, but that 400 record, now that was something special, more than four decades in the making.
"I would love to win state, but ultimately, I just want to do as well as I can," Niska said. "I want to feel really proud of myself when I'm done."
Gavin Skelton: one big hurdler
Mesabi East senior Gavin Skelton won the 300 hurdles and finished fourth in the 110 high hurdles at the Section 7A meet two years ago, back in the good 'ol days, back when it was easy.
Skelton weighed a mere 190 pounds then. Now, the Minnesota Duluth football recruit is a muscled 6-foot-3 and 220 pounds.
That's a lot of weight to be carrying around the track.
"Oh, yeah," Skelton said, laughing.
That didn't stop Skelton from sweeping the 110 and 300 hurdles events at last week's Section 7A meet in Cloquet. He also took fifth in the discus and fourth as part of the Giants' 800-meter relay
It's too bad UMD has him pegged as a linebacker on defense, depriving Bulldogs' fans the treat of that rare athlete who can turn the tables, an offensive player who can punish the defense for daring to attempt to tackle him, more nuke than juke.
This is the third year Skelton has qualified for the state track meet. He finished seventh in the 300 hurdles as a freshman in 2018 and fourth as a sophomore in 2019.
"I'm looking to win, to be honest with you," Skelton said. "I was a little bummed about last year, so I'm super excited for this. I probably won't run track at UMD. After this, I'll work out the rest of the summer and get ready for the football season next fall, then August 8, I move in. I'm looking forward to it."
Make no mistake, Skelton is a football player, all the way, but he brought up something unique about track. Players can be bitter rivals on the gridiron in the fall, but in the spring, they become friends, chatting in line while waiting for their jumps, fist bumping at the finish line after running their guts out, shaking hands on the podium afterward.
"There's a social aspect about track that is pretty special," Skelton said. "It's really awesome just to get to know other people. You get to know a little more about them than when you're competing on the football field against them, that's for sure."
Rails get back on track
Proctor girls track coach Jim Savre said the Rails hadn't won a section event in years, possibly since 2014, but last week, they took six firsts, something he said was an unprecedented accomplishment. With Minnesota going to three classes next year, and Proctor slotted for Section 7AA, matching that will be tough.
Senior Courtney Werner won the 400 in 58.77, not far off the school record of 58.56 set in 1989, which she has been close to breaking much of the year.
"I think she would have broken it weeks ago except she has only had one race all year where she didn't win by three or four seconds. She's basically been racing herself," Savre said.
Werner, who has qualified for the state meet four times, is also part of a 1,600 relay that could challenge the school record of 4:07.14, but a lot of things have to go right, and the schedule isn't favorable.
"There's no prelims this year, which hurts," Savre said. "In a normal year, I'd guarantee we'd break both records. Courtney is an amazing kid, on and off the track, and I think she has a real chance to do something."
Geno vs. Cameron, Duel in the Sun II?
OK, this isn't the famed 1982 Boston Marathon, or Alberto Salazar vs. Minnesota native Dick Beardsley, but for high school track, it's about as close as we can get:
Friday's matchup between Greenway/Nashwauk-Keewatin's Geno Uhrbom and Rock Ridge sophomore Cameron Stocke in the Class A boys 1,600 could be a classic, and it will be hot, with Friday's forecast for St. Michael being 87 degrees and not a cloud in the sky.
This, of course, isn't the first time they've met, with the older Uhrbom winning most of the big showdowns.
Uhrbom's first task will be defending his 2019 Class A title Thursday in the 3,200, while Stocke will be doing the 800, in addition to the 1,600, on Friday instead.
"It was pretty sad not having track last year. You couldn't really go anywhere or do anything, so I just stayed home and ran." Stocke said. "I'm just so grateful to even have a season. I appreciate every event."
Uhrbom took the "Triple Crown" of distance running in 2018-19, winning the Class A cross country title to go with victories in the 1,600 and 3,200 in track. However, he didn't get to defend his track titles last year due to COVID. While Stocke had the upper hand in last week's Section 7A meet, setting a meet record in the 800 in 1:55.38 and missing the 1,600 record by a half-second in 4:17.56, Uhrbom was conserving energy for the Titans' state-qualifying 1,600 relay.
"I was trying to save up steam knowing that relay would be really close, and my coach agreed," Uhrbom said last week after anchoring the Titans to a second-place finish. "My mile and two mile weren't really all out. Next week, it's all out."
Jameson on the mend
Cloquet girls track star Olivia Jameson clipped a hurdle in practice Monday and has been wearing a walking boot as a precaution.
Jameson, a multi-talented junior, qualified for the state meet by winning the high jump, 100 hurdles and triple jump at last week's Section 7AA meet in Cloquet. Lumberjacks coach Tim Prosen said Wednesday that Jameson is recovering well and expects her to compete in at least the high jump Saturday but "only time will tell."
1
/
4:
Rock Ridge's Cameron Stocke leads GNK s Geno Uhrbom in the boy s 1,600-meter race at the Section 7A track and field meet in Cloquet on Thursday, June 10, 2021. The pair finished the race one-two. (Steve Kuchera / skuchera@duluthnews.com) free card
2
/
4:
Duluth East's Alexandra wins the 400-meter dash at the Section 7AA girls track and field meet in Cloquet on Wednesday, June 9, 2021. (Steve Kuchera / skuchera@duluthnews.com) free card
3
/
4:
Duluth's East Alexandra Niska wears a ring on her right pointer finger that Paige Stratioti got for herself after earning All-American honors in college. Stratioti, a Duluth Denfeld grad, gave it to Niska after the fleet-of-foot Greyhound qualified for the state meet in the 200 her sophomore year. (Jon Nowacki / jnowacki@duluthnews.com)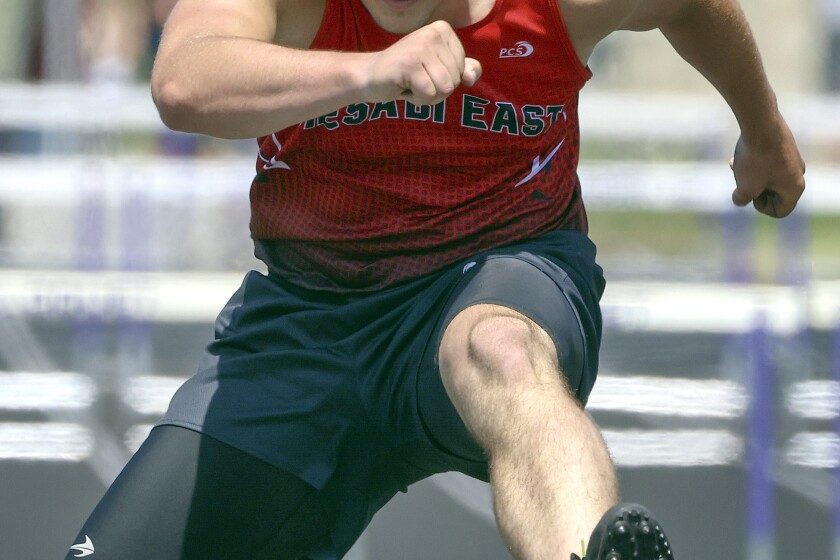 4
/
4:
Mesabi East's Gavin Skelton clears a hurdle during the 300-meter race at the Section 7A track and field meet in Cloquet on Thursday, June 10, 2021.(Steve Kuchera / skuchera@duluthnews.com) free card