Prep report: Kneepkens lifts Marshall into 7AA girls basketball title game
Senior moves into fifth place in all-time scoring in state.
Gianna Kneepkens scored 49 points and made six 3-pointers to lead Duluth Marshall to a 92-75 victory over Pequot Lakes in a Section 7AA girls basketball semifinal Wednesday night at Marshall.
Kneepkens raised her career scoring total to 3,604 points, passing two players into fifth all-time in Minnesota history, as the second-seeded Hilltoppers (17-2) earned a berth opposite Esko in Friday's section title game.
Ava Meierotto contributed 18 points for Marshall.
Esko 63, Crosby-Ironton 60
Jayden Karppinen hit three 3-pointers and scored 34 points as the top-seeded Eskomos held on in overtime to win the 7AA semifinal in Esko.
Alia Gabel was the only other player in double figures in scoring with 10 points for the Eskomos (16-3).
Four players reached double figures in scoring for the Rangers (17-4), led by seventh-grade phenom Tori Oehrlein's 15 points.
BOYS BASKETBALL
Deer River 89, North Woods 83
Sam Rahier scored 21 points and Mikhail Wakonabo added 19 as the host Warriors ended the Grizzlies' three-year reign atop Section 7A in the semifinal win.
Second-seeded Deer River (19-2), winners of 17 in a row, travel to top-seeded Nashwauk-Keewatin for Friday's championship game. The Spartans eliminated Northland 60-51 to improve to 18-2.
WRESTLING
McPhee among state entrants
Only four Northland wrestlers qualified for this week's state individual tournament, which was moved out of the spacious Xcel Energy Center in St. Paul into the St. Michael-Albertville High School gym.
Proctor-Hermantown senior Alex McPhee (20-2) will wrestle in the Class AA 160-pound field on Friday after earning second place in last weekend's state preliminaries.
Grand Rapids freshman Justin Jobe (28-3) also won a second-place match at 113 pounds to qualify for the individual tournament.
Deer River senior Zach Ikola (27-4), a 113-pounder, and sophomore 220-pound teammate JoJo Thompson (28-3) will compete in the Class A tournament Saturday.
1
/
4:
Esko's Brenna Stark (42) grabs a lob pass over the outstretched arm of Crosby-Ironton's Jacey Rydberg (10) in the first half of the playoff game in Esko Wednesday evening. (Jed Carlson / jcarlson@superiortelegram.com)
2
/
4:
Esko's Brenna Stark (42) reaches for a tipped pass in the first half of the Eskomos playoff game with Crosby-Ironton in Esko Wednesday evening. (Jed Carlson / jcarlson@superiortelegram.com)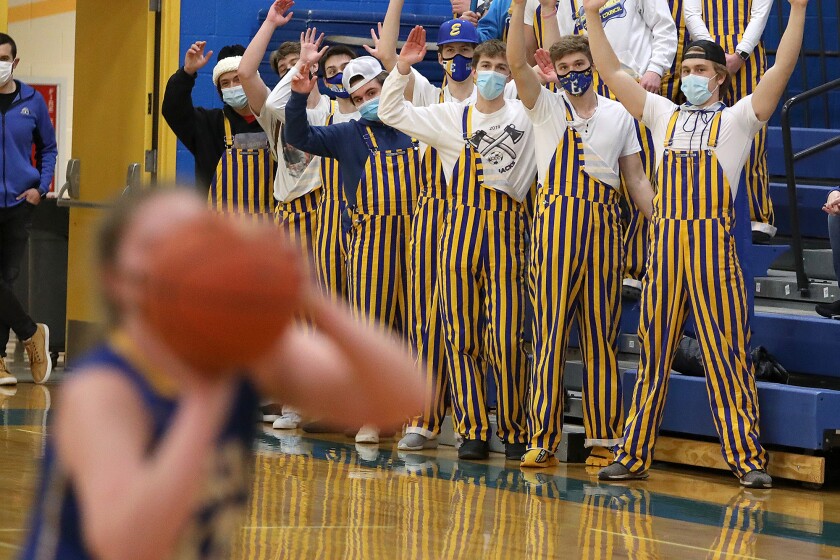 3
/
4:
The Esko student section watches as Esko's Brenna Stark (42) shoots a free throw in the first half of the Eskomos playoff game with Crosby-Ironton in Esko Wednesday evening. (Jed Carlson / jcarlson@superiortelegram.com)
4
/
4:
Esko's Avery Kuklinski (12) drives past Crosby-Ironton's Tori Oehrlein (30) in the first half of the playoff game in Esko Wednesday evening. (Jed Carlson / jcarlson@superiortelegram.com)