Prep girls swimming: Superior coach eyes virtual meets
With COVID-19 restrictions preventing invitationals, Spartans' Punyko seeks to offer swimmers other options
We are part of The Trust Project.
Consider it a symbolic lifeline.
When high school swimming invitationals became a casualty of the COVID-19 pandemic, Superior girls swim coach Bill Punyko resolved to find a way for his athletes to peak at the optimal time and reach their potential.
His answer was virtually right in front of him: virtual meets.
When Punyko, a Superior High School assistant principal and district administrator the past 21 years, used to coach YMCA teams, bad snowstorms sometimes forced teams to stay home.
"We'd host a meet in our pool and they would host a meet in their pool, and then we'd contact each other about the results to see who got ribbons. It was a way to give the kids a chance to still compete and participate," said Punyko, who is entering his fifth season as Spartans coach and has been involved in coaching youth for 42 years. "When this COVID thing came out and they were talking about not having invitationals — I understand the need for social distancing — but at the same time it's not fair to the kids to not compete in a larger venue."
Senior Kaelyn DeRoche, a butterfly and individual medley specialist, swam in those YMCA virtual meets that her coach devised.
"It ended up working pretty well, and I think we can make this work," DeRoche said.
Punyko hopes to use the Spartan Relays on Sept. 12 as a test run. Superior's swimmers will race in their own pool while Rice Lake and Ladysmith will hold a duel at Ladysmith as near simultaneously as possible. Computer files with the results will then be merged (still a work in progress) to determine placement.
"I want to experiment and see if it's going to work, first of all, and then maybe have a bigger event later in the season," Punyko said.
While the Minnesota State High School League and the Wisconsin Interscholastic Athletic Association each gave swimming the green light, they only allowed dual meets to be held and have not committed to any section or state meets. Minnesota's Return to Play task force began meeting Wednesday to establish parameters for all fall postseason events.
"We know for sure the events will look different than our traditional state tournaments," MSHSL associate director Lisa Lissimore said of any potential postseason event. "We'll know more when this committee continues with its work."
Swimmers aim to peak physically at the end of the season, a method called tapering. The WIAA sectional meets normally would be held Nov. 9, but if it falls through Punyko hopes to use that weekend for a virtual invitational.
"I want to have a taper meet; I want to have a meet that's a big deal," he said. "And if the state can't come up with a section championship, then I want to try another virtual meet for other teams that may want to participate and give our kids a chance to demonstrate their development over the season."
As of right now, Superior's season would end Oct. 13, nearly a month before the potential sections. The Spartans compete in the Lake Superior Conference, comprised of Minnesota schools, but Lissimore says Minnesota does not have any rule prohibiting virtual meets. In fact, several conferences either have held or plan to hold such meets this fall.
"There are conferences throughout Minnesota that have chosen to use virtual meets," Lissimore said. "We don't have any rules against virtual meets; they are an acceptable choice. It's an option for a conference or individual schools to use. And I think it's been working well."
Punyko acknowledges 1-meter diving events would be more difficult since different judges would be judging different divers at different venues, though he says USA Swimming, the national federation for club teams, has issued guidelines on virtual meets that can be followed.
"I have to do my homework and check that out and see how it will work," he said.
Meanwhile, the Spartans carry on with what remains of their season, still hopeful it will be a success.
"We're working really hard and we'll be ready for the virtual meet, and we'll do better than in the past," said senior Cassie Stank, who specializes in the breaststroke. "I'm more motivated this year than I was in the past."
DeRoche says that applies to everyone on the team.
"The girls are motivated to get their time in and do well because there is a chance we might not be able to finish this," she said. "I think everyone is really motivated to do their best."
Elsewhere
Senior Clara Wodny leads Duluth East into the season. Wodny had two top-seven finishes at the 2019 Section 7AA meet and also heads up the Greyhounds' relays. Juniors Teagan Rudstrom and Elly Rectenwald are key relay members, with Rudstrom specializing in the sprint freestyles and Rechtenwald swimming in the breaststroke and individual medley events. Senior Elena Siers is the team's top diver, while other expected point-scorers include junior Amelia Berry and sophomores Julia Zimpel and Emma Dauner.
Duluth Denfeld returns senior co-captain Lindsay Johnson, who won the 2019 Section 7A 100 butterfly and placed third in the 200 freestyle. Other section point-producers who are back include senior co-captains Rilie Clark (200 and 500 freestyles) and Lilly Glass (100 backstroke), juniors Cailyn Volkenant and Leah Nelson (both 50 and 100 freestyles), freshman Addison Bartling (200 IM and 100 breaststroke) and sophomore diver Elly Blazevic.
Hibbing graduated a state meet medal winner in Meghan Minne, but brings back several other Section 7A champions. Sophomore Geli Stenson won the section title in the 500 freestyle and swam on the winning 200 freestyle relay and on the 400 freestyle relay team that advanced to the state meet. Sophomore Madison St. George also was a member of both of those relays, while senior Mandy Clusiau reached the state meet in 1-meter diving. Seniors Shelby Hughes and Meghan Savage add depth and leadership to a young, but talented, team.
Mesabi East, the two-time defending 7A meet champion, is loaded with upperclassmen. Section diving champion Kailey Fossell was fourth at the state meet and also swims backstroke. Fellow seniors Adrianna Lehmkuhl (state meet competitor on 400 freestyle relay) and Lydia Skelton (state meet competitor on 200 medley and 400 freestyle relays) also should contend in individual races. Juniors Siiri Hakala (7A runner-up in 100 backstroke), Kylie Meyer (200 medley relay, 100 breaststroke), Emma Williams (7A champion in 100 backstroke), Emily Blake and Adriana Sheets all lend experience to blend with a talented group of seventh and eighth graders.
Proctor-Hermantown lost a lot of swimmers to graduation and is relying on junior Elizabeth Nicolai and sophomore Summer Kienzle in the freestyle events, sophomore Allana Carlson in the 100 breaststroke and eighth grader Norah Gunderson in the butterfly and breaststroke races.
International Falls senior Emma Erickson swims the freestyle sprints as well as legs on the freestyle relays, while junior Havyn Pelland is a butterfly specialist who was All-Section 7A on the 200 medley relay and also swims legs on the freestyle relays.
1
/
3:
Kaelyn DeRoche swims the 500 freestyle during practice at Superior High School on Monday, Aug. 31. (Jed Carlson / jcarlson@superiortelegram.com)
2
/
3:
Molly Lenmark swims laps during practice at Superior High School on Monday, Aug. 31. (Jed Carlson / jcarlson@superiortelegram.com)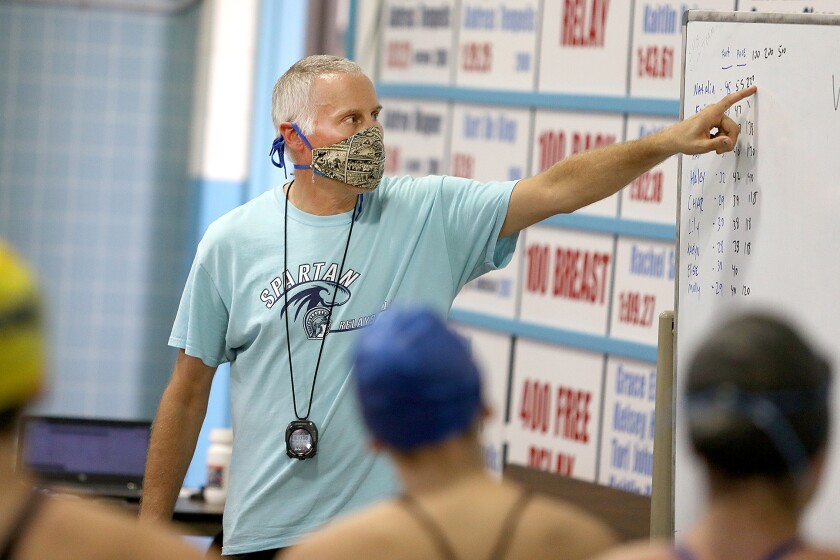 3
/
3:
Superior head swim coach Bill Punyko goes over split times during practice at Superior High School on Monday, Aug. 31. The team is broken into two groups this season for practice, each group getting equal time in the pool. (Jed Carlson / jcarlson@superiortelegram.com)