Prep girls basketball: Kneepkens closes in on 3,000 points but Esko spoils the party
Marshall senior now has 2,987 career points but Esko earns hard-fought victory.
Jayden Karppinen hit five 3-pointers and scored 23 points as Esko controlled the pace and held off host Duluth Marshall 62-59 in high school girls basketball Monday, denying Hilltoppers senior Gianna Kneepkens' pursuit of 3,000 career points for another day.
The game was close throughout.
Sarah Wagemaker (15 points) and Brenna Stark (14) also reached double figures in scoring as Esko (3-0) stayed unbeaten while handing Marshall (4-1) its first loss of the season.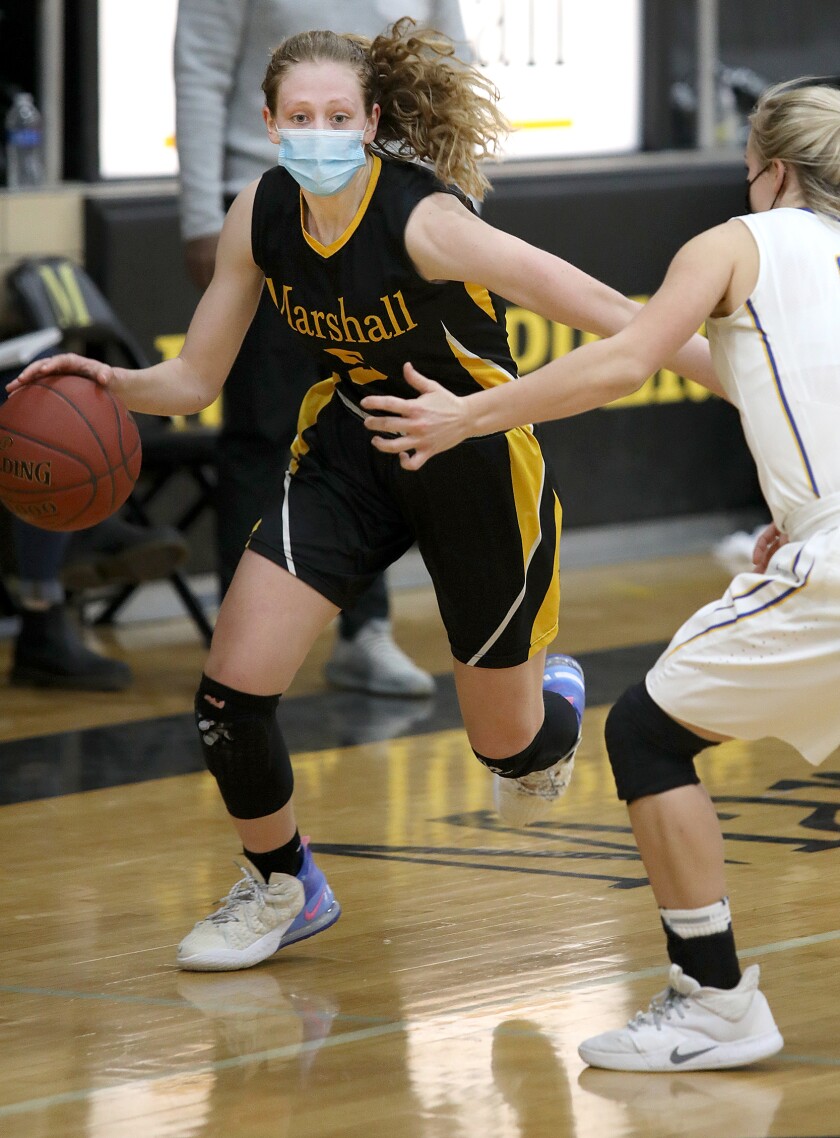 Kneepkens made three 3-pointers and scored 28 points and now has 2,987 for her career. She is just 13 points from becoming the third girls basketball player from the area to reach 3,000 for her career, joining South Shore's Megan Gustafson (3,229, 2015) and Mountain Iron-Buhl's Chelsea Mason (3,035, 2017).
"She's amazing," Hilltoppers coach C.J. Osuchukwu said. "She is a once-in-a-lifetime type of player. Just off the court, too, she inspires a lot of girls in northern Minnesota and throughout the state. She's the best of both worlds, a 4.0 student who also gets the job done on the court. It's a blessing to have her around, and I'm super excited to have one more season with her."
Ada Skafte hit four 3-pointers and had 14 points, and Ava Meierotto added three 3-pointers and scored nine points for the Hilltoppers.
Kneepkens' next shot at 3,000 points will come at 7:15 p.m. Friday when the Hilltoppers play at Pine City (4-0).
"I don't really keep track of that, but other people do," Kneepkens said of the mark. "I just try my best, and if it happens, it happens.
"Esko was the better team today. They kind of slowed it down, and we played to their speed and not our speed. That ultimately hurt us in the end, but it's OK that we lost today because we can learn from this and be able to fix things so we'll be ready for when we play them again in the playoffs."
Esko 37-25—62
Duluth Marshall 32-27—59
Esko — Jayden Karppinen 23, Aila Gabel 3, Sarah Wagemaker 15, Avery Kuklinski 3, Mallory Sunnarborg 4, Brenna Stark 14. Totals 25 4-12 62.
3-point goals — Karppinen 5, Gabel, Wagemaker, Kuklinski.
Duluth Marshall — Ava Meierotto 9, Ada Skafte 14, Gianna Kneepkens 28, Merlea Mrozik 2, Laila Monroe 2, Jada Kirk 2, Pearl Swanson 2. Totals 21 7-7 59
3-point goals — Meierotto 3, Skafte 4, Kneepkens 3.