Spartan round-up: Superior boys fall to Mesabi East
In other action Tuesday,the girls and boys basketball teams topped Duluth Marshall and the girls hockey team lost to Cloquet-Esko-Carlton.
We are part of The Trust Project.
Superior's Paolo Pagnucci won the 100-meter breaststroke and was part of the Spartans' winning 400-meter freestyle team, but the team lost at home to Mesabi East 90-75 Tuesday.
Pagnucci won the breaststroke in 1 minute, 11.8 seconds and the team of Joe Duzell, Zeke Fish, Ryan Peterson and
Pagnucci won the 400-meter relay in 4:06.54.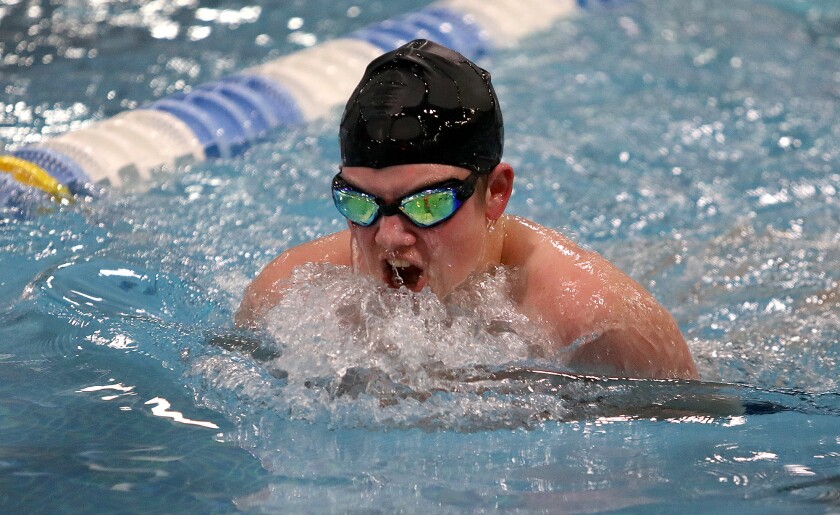 Peterson also won the 200-meter freestyle in 2:05.09.
Cloquet-Esko-Carlton 4, Superior 1
Autumn Cooper scored almost 7 minutes into the Spartans game against Cloquet-Esko-Carlton Tuesday in Superior, but the Spartans couldn't find enough offense to stay with the Lumberjacks.
Tenley Stewart evened the score late in the first and Marina Dosta, Erin Loeb and Dana Jones all scored to give CEC the 4-1 win.
Karli Williams stopped 29 shots for Superior and Araya Kiminski stopped 10 shots for the Lumberjacks.
1
/
2:
Superior goalie Karli Williams (30) makes a kick save in the third period of the game with Cloquet-Esko-Carlton at the Superior Ice Arena on Tuesday evening, Jan. 11, 2022.
2
/
2:
Cloquet-Esko-Carlton's Eve Eugenis (23) and Ashtyn Schneberger (28) celebrate a third period goal by Erin Loeb (5) at the Superior Ice Arena on Tuesday evening, Jan. 11, 2022.
Superior 92, Duluth Marshall 69
Robert Olson's 36 points were more than enough for a Lake Superior Conference road win over the Hilltoppers.
Tanner Swanson and Evan Bennett added 13 points apiece for the 8-4 Spartans, who have beaten all three Duluth high schools in consecutive games.
Superior 88, Duluth Marshall 62
Emma Rae scored 30 points and five Spartans scored in double figures in the blowout home win for Superior.
Regan Juenemann scored 28 to lead the Hilltoppers.
The Spartans junior led her team to its first victory in the Wisconsin state tournament since 1978.
The group, cut down from 150 to 39 on this week, was cut to the final 24 on Wednesday.