Prep boys hockey: Grand Rapids holds off Duluth East
Goalie Zander Ziemski made 50 saves to keep the Greyhounds in the game.
Grand Rapids dominated possession and shots, but two third-period goals for Duluth East had the Thunderhawks scrambling to hold off the Greyhounds to preserve a 4-3 win Tuesday in Duluth.
In the first period, the teams played to a 1-1 draw, with both goals coming 25 seconds apart during a Duluth East power play.
Grand Rapids' Joey DelGreco put a shot past Greyhounds goalie Zander Ziemski, but Henry Murray tied the score before the power play ended on a pass from Gunnar Terpen.
In the second period, the Thunderhawks came out firing, outshooting Duluth East 22-4 and scoring three goals. Ziemski fended off several shots before Will Stauffer found the back of the net with 10:13 to play in the period and Kaden Nelson scored 39 seconds later off an Easton Young pass to give Grand Rapids a 4-3 lead.
"The puck came out to Easton, but he didn't have any speed and he tapped it back to me," Nelson said. "I somehow got through the defense and managed to poke it past the goalie and it went in."
Blayne Mortenson added another goal with about 4:31 remaining in the period to give the Thunderhawks a 4-1 lead heading to the third period.
"We were fast, we were all over the puck," Thunderhawks coach Wade Chiodo said. "Obviously, in the second and third period, we had many great chances and their goalie came up big. What do you do? Goalies are going to make saves and we've just got to find a way to get to the back of the net."
The onslaught of shots continued in the third period, with Grand Rapids outshooting Duluth East 21-5, but the Greyhounds made two of those shots count. Thomas Gunderson scored with about 8 minutes remaining in the game and Cole Christian cut the lead to a single goal when the Greyhounds pulled the goalie and had an extra attacker.
"I like the character of our team, the make-up of our guys," East coach Steve Pitoscia said after the Greyhounds' home opener. "They don't give up. We had a rough second period — we didn't move our feet very well — but we bounced back in the third and gave them a little push there at the end. That's all I ask of them, is they compete hard and give their best effort for 51 minutes. I don't know if we got that for a full 51 minutes, but we certainly finished stronger than we started."
Chiodo said one thing his team needs to improve on is the power play. Grand Rapids was 0-for-4 on power plays.
"Our special teams were not good today," Chiodo said. "Our power play, five-on-fours, six-on-five, it wasn't good and that's the bottom line."
Pitoscia was particularly impressed with the play of Ziemski, who finished with 50 saves for the Greyhounds.
"Zander is a competitor, he doesn't quit out there, that's one of my favorite things about him," Pitoscia said. "He throws the kitchen sink out there if it'll stop the puck. He's just going out there battling like we're asking everybody to do. He was under siege tonight, but he did a nice job."
Duluth East is 0-3, but Pitoscia is impressed with the way the team has progressed as it adjusts to its first new coach in more than 30 years.
"Everything to them is new right now, right down to the terminology we're using," Pitoscia said. "There's probably a little bit more thinking and a little less doing right now, which is to be expected, but that Grand Rapids team is dynamite. You can't take away what they made us do, too. But I can't wait to get back to the rink tomorrow with them because they're a good working group of kids. They listen, they're respectful and it's a blast every day at the rink with them."
Grand Rapids (2-0) will play at Duluth Marshall at 7:30 p.m. Thursday. Duluth East will host Bemidji at 7 p.m. Thursday.
First period — 1. GR, Joey DelGreco (Kaden Nelson), 6:30 (sh); 2. DE, Henry Murray (Gunnar Terpen), 6:55 (pp).
Second period — 3. GR, Will Stauffer (Ren Morque, Hayden DeMars), 6:47; 4. GR, Nelson (Easton Young), 7:26; 5. GR, Blayne Mortenson (Young, Henry Sterle), 12:29.
Third period — 6. DE, Thomas Gunderson (Cole Christian), 9:01; 7. DE, Christian (Lars Berg, Grant Winkler), 16:10.
Saves — Myles Gunderson, GR, 15; Zander Ziemski, DE, 50.
1
/
11:
Cole Christian (5) of Duluth East and Ren Morque (15) of Grand Rapids chase the puck on Tuesday, Nov. 30, 2021, at the Essentia Duluth Heritage Center. Clint Austin / Duluth News Tribune
2
/
11:
Hayden Davis (21) of Grand Rapids shoots the puck against Duluth East on Tuesday, Nov. 30, 2021, at the Essentia Duluth Heritage Center in Duluth. Clint Austin / Duluth News Tribune
3
/
11:
Duluth East goaltender Zander Ziemski (41) makes a stick save against Grand Rapids on Tuesday, Nov. 30, 2021, at the Essentia Duluth Heritage Center. Clint Austin / Duluth News Tribune
4
/
11:
Wyatt Zwak (17) of Duluth East and Henry Sterle (18) of Grand Rapids chase the puck on Tuesday, Nov. 30, 2021, at the Essentia Duluth Heritage Center. Clint Austin / Duluth News Tribune
5
/
11:
Blayne Mortenson (3) of Grand Rapids dives after the puck against Duluth East on Tuesday, Nov. 30, 2021, at the Essentia Duluth Heritage Center. Clint Austin / Duluth News Tribune
6
/
11:
Makoto Sudoh (8) of Duluth East watches the skate of an upended Grand Rapids player on Tuesday, Nov. 30, 2021, at the Essentia Duluth Heritage Center. Clint Austin / Duluth News Tribune
7
/
11:
Duluth East head coach Steve Pitoscia talks to his team during a timeout against Grand Rapids on Tuesday, Nov. 30, 2021, at the Essentia Duluth Heritage Center. Clint Austin / Duluth News Tribune
8
/
11:
Duluth East head coach Steve Pitoscia watches his team against Grand Rapids on Tuesday, Nov. 30, 2021, at the Essentia Duluth Heritage Center. Clint Austin / Duluth News Tribune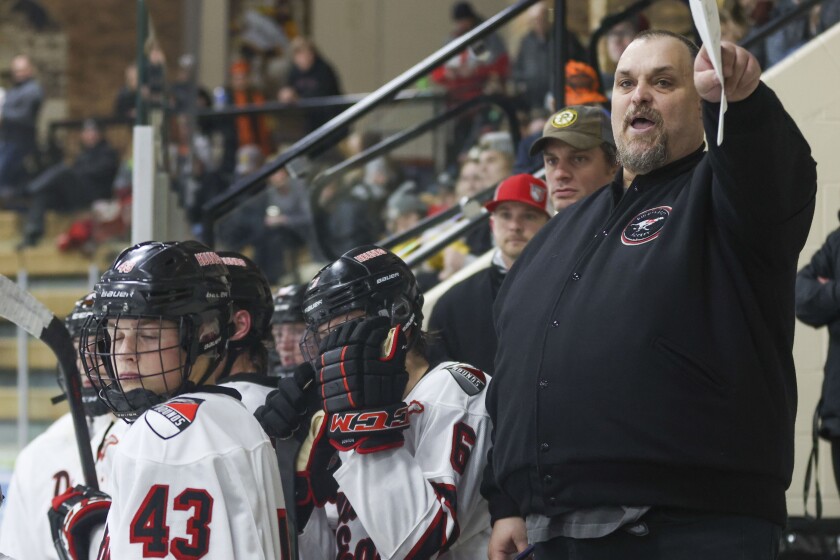 9
/
11:
Duluth East head coach Steve Pitoscia calls out to his players against Grand Rapids on Tuesday, Nov. 30, 2021, at the Essentia Duluth Heritage Center. Clint Austin / Duluth News Tribune
10
/
11:
Duluth East head coach Steve Pitoscia lines up to shake hands after playing against Grand Rapids on Tuesday, Nov. 30, 2021, at the Essentia Duluth Heritage Center. Clint Austin / Duluth News Tribune
11
/
11:
Duluth East head coach Steve Pitoscia talks to the Grand Rapids coaching staff on Tuesday, Nov. 30, 2021, at the Essentia Duluth Heritage Center. Clint Austin / Duluth News Tribune