Slushy conditions pose problems for anglers, snowmobilers
Minnesota Department of Natural Resources report for the week of Feb. 14.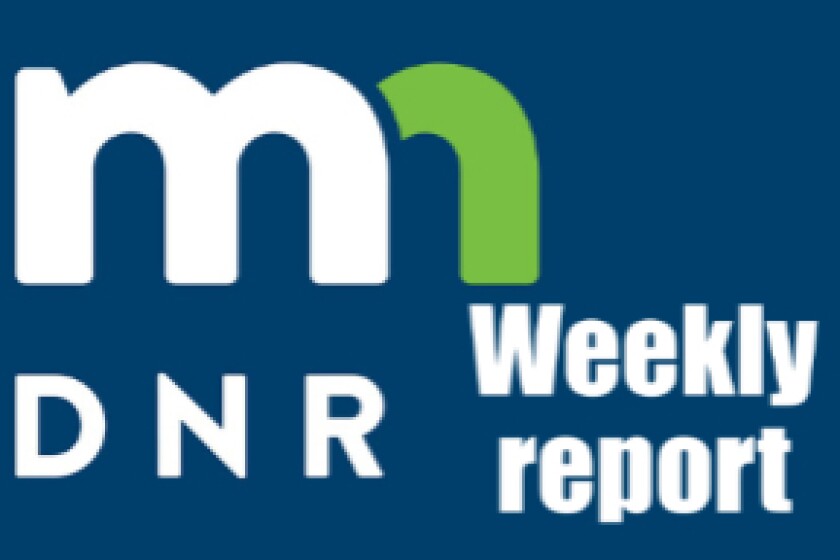 District 5 — Eveleth area
Conservation officer Darrin Kittelson (International Falls 1) reports snowmobiling and ice fishing activities continue to be the main focus in the area, however participation has been slow with the frigid weather. A youth snowmobile safety class was held with 18 area youth getting their safety certificates. People are reminded that safety should be a priority when out snowmobiling.
CO John Slatinski IV (Ray) reports that despite arctic temperatures in the area, snowmobiling activity remains consistent. Increased slush off trails is causing problems for anglers, with one group reporting 6 inches of slush around their house from the previous day, when they initially drilled holes. Wild animal complaints were fielded. CO Slatinski assisted a neighboring officer with a snowmobile safety class and field day event.
CO Troy Fondie (Orr) reports weekend temps at 30 degrees below zero found a slow start to outdoor activity. Angling activity appeared non-existent. Numerous snowmobile violations were dealt with. Deer appear to be struggling as we approach close to 2 feet of snow on the ground, and a lot of winter left. Wolf activity is plentiful. Administrative tasks were tended to.
CO Aaron Larson (Tower) worked primarily angling and snowmobile enforcement. Larson investigated cases relating to the illegal operation of snowmobiles. A reminder to be cautious while traveling on Lake Vermilion and any frozen lakes. The cold temperatures have caused cracks in the ice that could cause dangerous travel conditions.
CO Marc Johnson (Hibbing) primarily worked snowmobile enforcement and angling activity. Time was also spent speaking as an invited guest at the Hibbing Breakfast Rotary Club and completing administrative tasks.
CO Duke Broughten (Aurora) spent the week monitoring fishing and snowmobiling activity. Fishermen reported limited success. Snowmobile trails are in good shape and snowmobile traffic was high this week. Speed and failing to keep to the right of the trail continue to be the primary complaints by snowmobilers. CO Broughten also fielded calls regarding nuisance animals and litter left on the lake.
District 6 — Two Harbors area
CO Sean Williams (Ely 1) reports heavy snowmobile use in the Ely area in spite of lows of 40 degrees below zero and highs only in the single digits. High compliance was seen by most riders, but several groups were contacted driving too fast for the conditions. Violations included excessive snowmobile speed, angling with an extra line, and failure to display current snowmobile registration.
CO John Velsvaag (Ely) checked anglers and snowmobilers this past week. Fish house owners are reminded that identification in addition to displaying the shelter tag is required on permanent shelters. Cold temperatures reduced activity over the weekend and angling was slow this past week.
CO Thomas Wahlstrom (Grand Marais) spent time working on snowmobile trails and remote trout lakes. Fishing has been slow. The trails have been busy due to all the recent snow. Enforcement action was taken for snowmobile violations.
CO Mary Manning (Hovland) followed up on complaints in the state park and reports of bobcats visiting homes, checked cross-country ski passes, patrolled area grant in aid snowmobile trails and checked ice anglers. UTV riders are reminded that tracked machines are not allowed on the CJ Ramstad or grant in aid snowmobile trails.
CO Anthony Bermel (Babbitt) worked snowmobile, fishing and ski trail enforcement throughout the week. Weekend snowmobile traffic was high. Some groups need to slow down and stay to the right. The corners and hills were getting badly blown out from aggressive riding, numerous places were observed where people had gone off the trails, and some riders contacted spoke of scary close calls meeting other sleds. Enforcement action was taken for snowmobile violations and unattended lines.
CO David Schottenbauer (Silver Bay) checked anglers and snowmobilers this week. Time was spent mainly working busy trails and lakes.
CO Kylan Hill (Tofte) reports getting to the end of his background investigation on an applicant for the upcoming academy. Hill attended training at Camp Ripley. Various calls from the public were fielded. Hill also assisted a few anglers with getting their snowmobile out of the slush on a smaller trout lake. The slush and water made its way over the top of their rubber boots and they spent the next few hours warming up in the truck.
CO Don Murray (Two Harbors) worked angling and snowmobile activity this week. Litter left by some sloppy anglers is still showing up on area lakes at a higher rate than in the past. Anglers are encouraged to pick up trash they come across and report those that they see littering our waterways. Enforcement was taken for illegal snowmobile operation and registration violations.
District 7 — Grand Rapids area
CO Vinny Brown (Northome) enforced snowmobile activities and checked anglers on area lakes. Enforcement action was taken for possession of an illegal length northern pike on Island Lake and fishing with an extra line on Lake Winnie.
CO Jayson Hansen (Bigfork) patrolled state parks, checked anglers, snowmobile activity and small game. Numerous game and fish questions were answered. He also responded to wildlife complaints and assisted other agencies.
CO Mike Fairbanks (Deer River) checked anglers, monitored snowmobile activity and assisted with motor vehicle accidents. Angler success was slower this week. Enforcement action was taken for license issues.
CO Thomas Sutherland (Grand Rapids) worked snowmobiling and angling activity over the past week. Enforcement action was taken for spearing without a license and failing to register a snowmobile. Multiple roadkill deer tags were issued as well as individuals are still looking for venison after a not so successful fall hunt.
CO Brian Holt (Grand Rapids) checked anglers and snowmobiling throughout the previous week. Time was also spent investigating a Turn in Poachers complaint and following up on a trapping case. Complaints were received regarding deer feeding and an abandoned ATV on the ice.
CO Jimmy Van Asch (Pengilly) focused enforcement efforts on snowmobile, angling, and darkhouse spearing activities. Area snowmobile trails remain in good condition with the added snowfall over the weekend. Enforcement action was taken for various angling violations.
CO Taylor Hochstein (Hill City) assisted with a kids fishing event that was hosted by the Aitkin County Sheriff's Office on Hill Lake. Fourth and fifth grade students joined them on the ice for demonstrations on ice safety, fishing techniques, and learned about all the different types of equipment that can be used for ice fishing.
CO Jacob Willis (Brookston) checked anglers in the area but found most lakes are slow. Snowmobile activity was also patrolled and ongoing cases continued to be followed up on.
CO Andy Schmidt (Duluth West) spent much of the week working snowmobile trails and lakes in the area. Trails are still in good condition in the area but could use some snow and lakes are rough for recreational vehicle activities. Anglers seemed to be having a tough go at it this week as the bite appeared slow.
CO Kipp Duncan (Duluth East) continued to work snowmobile enforcement on area trails. Trail conditions continue to be good on most trails around the Duluth area. Winter fishing enforcement was also worked, but very few anglers were checked during the week. Officer Duncan talked to a steelhead fishing class that is put on by members of the Lake Superior Steelhead association.
CO Jeff Humphrey (Cromwell) worked snowmobile trail enforcement and checked area lakes for angling activity. Trails conditions improved with recent snowfall. A number of anglers were observed removing fish houses over the weekend. CO Humphrey took calls on an incidental trapped wolf, non-resident snowmobile use, collector snowmobile permits and persons stranded in a state forest after a vehicle breakdown.
Lake Superior Marine Unit
CO Keith Olson (Lake Superior Marine Unit) checked anglers in the Duluth-Superior Harbor during the week. He found those fishing off the airport experienced a good bite in the evening. Olson also worked snowmobilers along the Yukon and North Shore state trails and trail conditions were found to be in great shape mid-week. He attended a meeting with various agencies for the upcoming boating season and events on Lake Superior and the Duluth Harbor.
CO Matt Miller (Lake Superior Marine Unit) checked anglers and snowmobilers throughout the week. Snowmobile trails are hard and fast, but still grooming up nicely. Wind moved some of the fishable ice on Superior, making access harder again for anglers. Enforcement action taken for snowmobile violations.
Ice cross racers are competing in three divisions during multiple days of competition at Mont du Lac Resort in Superior as part of the U.S. Ice Cross Association's annual ATSX 250 event.
The bite has been OK, but slush is still an issue in the back bays of the St. Louis River.
The Legislature is considering new laws on everything from boating, rough fish and copper mining to deer hunting and ATV trails.