Remove bird feeders to help reduce chance encounters with black bears
Minnesota Department of Natural Resources report for the week of April 18, 2022.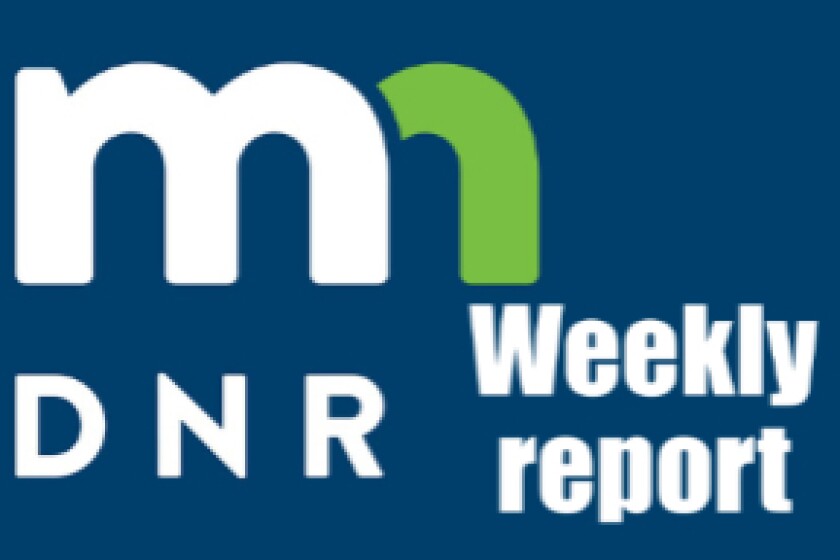 District 5 - Eveleth area
Conservation Officer Darrin Kittelson (International Falls #1) reports Rainy River spring fishing came to a quiet close with snow and cold putting a damper on things. Dogs-chasing-wild-animal complaints were handled, as was a fire complaint. People are reminded to control their dogs when outdoors.
CO John Slatinski IV (Ray) completed follow up with a site visit on a wetland restoration order. Animal-related complaints were heard and responded to. Assistance was provided with vehicles in the ditch after the last snow squall that came through the area. Now is a good time to remove bird feeders and clean up any remaining seed and waste. This simple act can help reduce the chances of conflicts with springtime emerging animals, namely black bears but also other hungry critters.
CO Troy Fondie (Orr) reports multiple inches of snow fell over the week and below-freezing temps were back. Streams that were open froze back over. Outdoor activity remains minimal. Deer remain scarce, and a foot-plus of snow remains in the sheltered areas. Lakes are all ice-covered with numerous inches of ice on them. Equipment work and administrative tasks were completed.
CO Aaron Larson (Tower) worked primarily angling enforcement. Larson also spent time working a complaint about forestry products. He also completed training at Camp Ripley.
CO Marc Johnson (Hibbing) attended training at Camp Ripley and conducted follow-up investigation of ongoing incidents. The spring turkey season opened last week, but few turkey hunters were seen. A complaint was received regarding the possession/sale of a monkey (prohibited in Minnesota). The investigation determined the owner of the monkey resides in Wisconsin (where it is legal). It was bananas.
CO Shane Zavodnik (Virginia) spent time training over the week. Nuisance-animal calls were taken, and he's also preparing for an upcoming firearms safety class.
CO Duke Broughten (Aurora) spent the week monitoring fishing and ATV activity. Few anglers were found on area lakes. Ice conditions vary from lake to lake as ice has started to deteriorate. Broughten also worked closed trails for ATVs.
District 6 — Two Harbors area
CO Sean Williams (Ely 1) reports very little angling activity was seen over the week. Snow and cooler weather continued and some ATV activity was seen on the roads that remained open. Violations included failure to display current ATV registration.
CO John Velsvaag (Ely 2) checked anglers and a few snowmobile riders this past week. Fishing has been poor and ice conditions are highly variable. ATV riders are out and some are getting stuck in slush and the recent snow.
CO Thomas Wahlstrom (Grand Marais) attended training at Camp Ripley.
CO Mary Manning (Hovland) patrolled area forest roads and checked Lake Superior tributaries. She conducted minnow dealer checks, checked on area lake service providers and followed up on litter and birch pole theft cases. Lots of questions have been fielded regarding ice-out. The recent snowfall and forecast snow for the area will not improve the prospect of open water for the fishing opener.
CO David Schottenbauer (Silver Bay) worked area angling and snowmobile activity this week. Time was also spent training at Camp Ripley.
CO Kylan Hill (Tofte) reports testifying in court for a DUI arrest Hill had this past fall.
CO Don Murray (Two Harbors) worked Lake Superior stream fishing and ATV activity during the week. Winter-like weather returned this week, slowing down angling in most areas. Travelers are urged to be vigilant as deer are active along roadways trying to find vegetation, increasing the odds of colliding with vehicles.
District 7 — Grand Rapids area
CO Vinny Brown (Northome) talked with law enforcement students about career opportunities with the DNR Enforcement Division. Questions were answered about the hiring process and he talked about what it's like to be a state conservation officer. Time was also spent checking anglers and taking wildlife-related calls. Brown responded to calls involving injured or deceased animals including eagles, deer, waterfowl, and skunks. Enforcement action was taken for operating an unregistered ATV and unattended fishing lines.
CO Thomas Sutherland (Grand Rapids) worked late-season ice angling with ice conditions deteriorating quickly. One individual fell through the edge of the ice up to their waist right in front of Sutherland, a reminder that caution needs to be used. Sutherland also worked littering cases where garbage was dumped at public landings.
CO Brian Holt (Grand Rapids) worked trapping and turkey hunting during the previous week. Time was also spent monitoring closed roads and trails for recreational vehicle use. Holt followed up on commercial inspections and checked angling activity. Ice conditions continue to deteriorate throughout the area.
CO Jimmy Van Asch (Pengilly) focused enforcement efforts on angling and ATV activities. Several turkey hunters were contacted throughout the area as well. Van Asch also attended training held at Camp Ripley.
CO Taylor Hochstein (Hill City) reports that beaver trappers continue to fight an uphill battle with freezing temperatures and fluctuating water levels. The first week of the spring turkey hunting season is very quiet with few people willing to sit in the cold.
CO Jacob Willis (Brookston) attended Division training at Camp Ripley this week. Multiple regulation-related calls were fielded and Turn in Poachers calls were followed up on. Administrative details were attended to regarding the Division Honor Guard as well.
CO Andy Schmidt (Duluth West) spent much of the week at Camp Ripley for training. He handled numerous complaints about nuisance animals, handled illegal-fire complaints, checked shore anglers along Lake Superior and followed up on trespassing complaints.
CO Kipp Duncan (Duluth East) spent three days at Camp Ripley training during the week. Field work in the Duluth area consisted of fishing enforcement along the North Shore. Some anglers are fishing in the rivers closer to Duluth and at river mouths farther up the shore. Inland lakes are still locked solid with ice and people are still ice fishing. ATV-related complaints were investigated and other complaints received included dogs chasing deer, turkey hunting trespass and road hunting for turkeys.
CO Jeff Humphrey (Cromwell) patrolled Moose Lake and Jay Cooke state parks and the Fond du Lac State Forest for spring road and trail closures. Humphrey checked turkey hunting activity with a slow "A" season reported due in part to poor weather conditions. Humphrey took calls about nuisance bears, ATV regulations and safety training classes. He spoke with members of the Eagles Club at the Cloquet VFW, taking questions on various DNR-related topics and activities.
Lake Superior Marine Unit
CO Keith Olson (Lake Superior Marine Unit) attended training during the week and checked anglers along the North Shore. Olson investigated a trespass complaint along the Sucker River and followed up with a concerned angler.
CO Matt Miller (Lake Superior Marine Unit) checked anglers and boaters on Lake Superior. Event details were worked on for the summer, and training was attended at camp Ripley. Watercraft season is arriving, and Miller reminds boaters that life jackets only help you if you wear them. Enforcement action was taken for angling violations.