More Minnesota bear permits available this year
Most quota areas saw a modest increase in available permits except Northeastern Minnesota, where bear numbers have been down recently.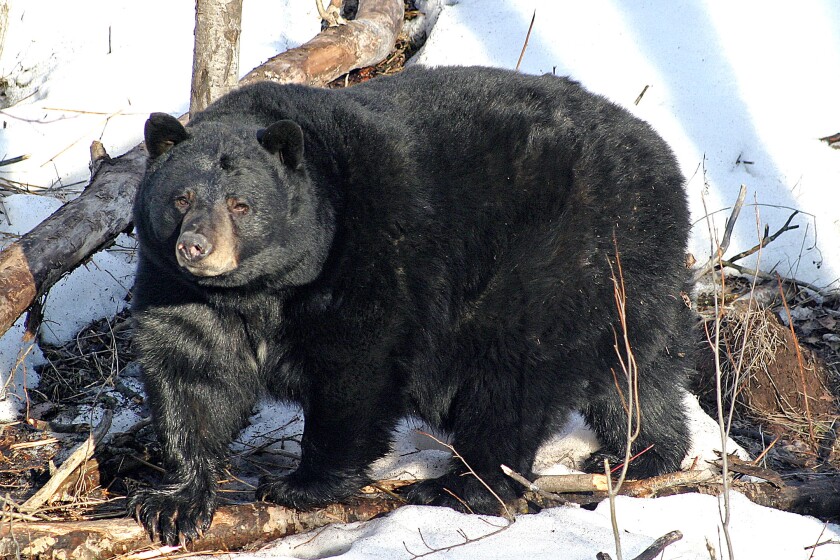 GRAND RAPIDS — Minnesota's bear population is doing mostly well, except in the northeastern areas of the state, and more bear hunting permits will be available in many areas for this fall.
Prospective Minnesota bear hunters have until May 5 to apply for a bear hunting license from the Minnesota Department of Natural Resources either online, at any license agent or by phone at 888-665-4236.
A total of 4,035 licenses are available in 14 permit areas for the season, which opens Sept. 1 and closes Oct. 15.
Ample wild food in the woods for sows should mean healthy cubs born this winter.
The number of permits available each year in the quota zone is based on population estimates. The DNR says bear numbers have stabilized and started to increase in many areas over the past decade, in part because of recent conservative permit quotas. That's why the DNR is offering 430 more permits this year compared to 2022. The exceptions are in several permit areas in far-Northeastern Minnesota, where permits have been reduced to help grow the population.
Permit areas 24, 25 and 31, which together cover the entire Arrowhead region outside the Boundary Waters Canoe Area Wilderness, saw decreases in permits where bears have been struggling in deeply forested areas.
Andy Tri, Minnesota bear biologist based in Grand Rapids, said poor wild food crops in 2020 and 2021 hurt northeastern bears. He also said too many bears may have been harvested a decade ago where poorer quality foods in the northeast, namely no agricultural crops, leads to very slow bear development. Some females in the northeast don't reach reproductive age until age 6.
"The decline was slow, but steady. ... We just were unable to detect it until recently," Tri told the News Tribune. "The permit levels we had at the time (a decade ago) were a bit too high for the population to sustain, and so to reverse the decline and stabilize the northeastern bear population, we cut permits. It takes a long time for these populations to recover due to poor food production up north. ... That said, if we combine the lowered permit levels with a couple years of good food production, it won't take long for things to turn around."
Last year, hunters killed 2,251 bears in Minnesota, down some from 2,971 in 2021 and 3,203 in 2020, but in line with previous years. Better wild food production in 2022 may have kept some bears away from hunter's bait. Hunting is by far the leading cause of bear mortality in the state and has the biggest impact on the bear population of the otherwise long-lived species.
Lottery winners will be notified by June 1. The deadline to purchase bear hunting licenses awarded by lottery is Aug. 1. Any remaining unsold licenses will be available over the counter starting at noon Aug. 4.
An unlimited number of bear licenses also will be sold over the counter for the no-quota area that includes east-central and far-northwestern Minnesota.
Hunters with either a quota or no-quota license who are interested in taking a problem bear should contact the area DNR wildlife manager mndnr.gov/areas/wildlife to be added to the hunter contact list for any opportunities that may arise.
Complete instructions about how to apply for a license, maps of permit areas and a listing of permit availability for each area are available at mndnr.gov/hunting/bear .