MN DNR Reports: Bring your bug spray as the summer bug crop is in full swing
Minnesota Department of Natural Resources report for the week of June 6.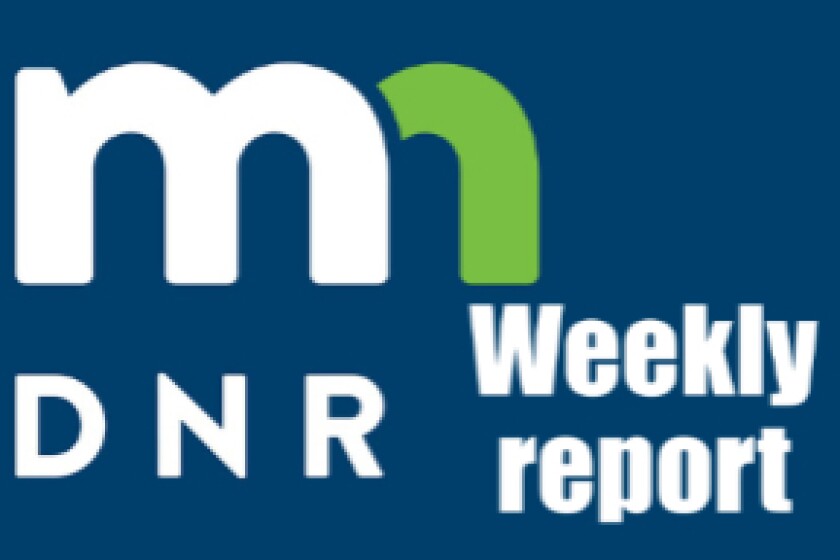 We are part of The Trust Project.
District 5 - Eveleth area
CO Darrin Kittelson (International Falls #1) worked on flood relief.
CO Curtis Simonson (International Falls #2) reports spending time checking muskie anglers on the Bigfork River this past weekend, monitoring ATV activity and assisting with flood-related issues on Rainy Lake. Simonson would like to remind people that deer are starting to drop their fawns throughout the area and that if a fawn is spotted to leave it alone and don't handle the fawn. More times than not the mother is not far away and will return to the fawn.
CO John Slatinski IV (Ray) reports that although area lakes are still at flood stage, it appears some are beginning to stabilize. Boat wake complaints are still being heard, with some causing damage to sandbagging efforts. Along with a neighboring officer, Slatinski responded to the location of a fire where the property owner had not obtained a burning permit ahead of time and the fire took a run. Slatinski contacted two ATV operators who entered the state highway almost directly across from his patrol vehicle. The ATV operators then started traveling on the shoulder of the highway in a direction against traffic.
CO Troy Fondie (Orr) reports monitoring area lakes for angling activities. Area forest roads and public access sites were checked. ATV activity was monitored. Equipment work is ongoing. Border lakes remain flooded. Complaints about boat wakes continue from high water on area lakes.
CO Aaron Larson (Tower) primarily worked on training and reports throughout the week. Larson also spent time on squad truck maintenance.
CO Marc Johnson (Hibbing) primarily worked angling/boating and ATV/OHM activity. Time was also spent working at an AIS check station and investigating a fire. Violations encountered included ATV/boat registration issues, failure to drain watercraft prior to transport, operating an ATV on a trunk highway, and allowing a smoldering fire.
CO Shane Zavodnik (Virginia) spent time patrolling area lakes over the week. Windy weather and rain have kept angling activity unusually slow for this time of year. Zavodnik also spent time assisting the International Falls area loading up sandbags.
CO Duke Broughten (Aurora) spent the week monitoring fishing, boating, and ATV activity. Fishing and boating activity remained low this week. ATV activity picked up with the better weather. Broughten also followed up on public waters violations.
District 6 - Two Harbors area
CO Sean Williams (Ely #1) reports fishing activity continued to be steady in spite of strong winds most of the week. Success was low but most anglers reported some luck. Violations included transporting watercraft without removing the plug, failure to display current registration and angling without a license in possession.
CO John Velsvaag (Ely #2) checked anglers this past week. He also had multiple bear reports and had several questions about watercraft-registration requirements from other states and the northern pike regulations in the northeast pike zone.
CO Thomas Wahlstrom (Grand Marais) spent time checking anglers on area lakes. He responded to complaints and attended an equipment meeting. Enforcement action was taken for angling violations.
CO Mary Manning (Hovland) took a report of a wetlands violation and met with local authorities to help resolve the issue. Manning also worked with other officers and DNR personnel to inspect watercraft and educate boaters on aquatic invasive species. Would-be campers were contacted before illegally camping at an area overlook and directed to a slightly more remote but also easily accessible and legal location. As a reminder, overlooks, boat accesses, trailhead parking lots and such are not legal locations for bivouac camping and campers should verify with DNR Forestry regarding condition of roads to some more remote campgrounds.
CO Anthony Bermel (Babbitt) worked typical summer activities throughout the week. Water levels have been consistently dropping from their high levels, and major bug hatches have been providing new challenges to those trying to enjoy outdoor activities. Enforcement action this week consisted of expired ATV registration, unregistered watercraft, insufficient PFDs, and possession of dressed fillets on a special management water (northern pike on Birch Lake). A TIP call was investigated.
CO Kylan Hill (Tofte) reports angling and boating activity is beginning to pick up. Citations were issued after a group of four anglers were found in canoes without PFDs. This was during a day of high winds and cold waters. During the contact, one of the parties provided a damp angling license and explained that he fell into the water the previous day. Even though they put themselves in a dangerous situation, they still complained about the tickets. Commercial minnow inspections were done at a few local businesses and no violations were detected. Hill took part in an AIS detail in the Duluth area. Numerous contacts were made and a few violations were handled. An ATV was stopped for illegal operation in Tofte.
CO Don Murray (Two Harbors) worked invasive species and boating enforcement activity this week. Anglers were doing well with panfish this week but the fish were not the only ones biting. Bring your bug spray as the summer bug crop is in full swing. Enforcement action was taken for licensing violations and failure to remove the drain plug while transporting watercraft.
District 7 - Grand Rapids area
CO Vinny Brown (Northome) responded to complaints of nuisance animals and answered questions from concerned people regarding the welfare of baby animals. It is best for baby animals to be left where they are found. In most cases, it is illegal to possess them. Time was spent patrolling area lakes by boat, conducting boater safety checks and checking anglers. Enforcement action was taken for fishing with no fishing license in possession, fishing in a closed area, possession of an illegal-length walleye, and fishing without a license.
CO Jayson Hansen (Bigfork) patrolled state parks and checked anglers, boaters and ATV riders. Numerous game and fish-related questions were answered. He also responded to wildlife-related complaints.
CO Mike Fairbanks (Deer River) attended training, checked anglers and worked boat and water enforcement. Fairbanks also assisted during weather events. Angler success was great this week. Enforcement action was taken for angling without license, no license in possession, failure to display registration on a watercraft, no throwable device, insufficient PFDs, no skin patch and possessing illegal-length fish.
CO Thomas Sutherland (Grand Rapids) worked angling and ATV activity with many people out enjoying the nice weather. Sutherland took enforcement action for angling without a license, operating a motor boat with expired watercraft registration, possessing protected-length fish, angling too close to a dam and operating an unregistered ATV.
CO Brian Holt (Grand Rapids) checked angling and recreational vehicles. Time was also spent on miscellaneous wildlife-related complaints. Holt worked on open fire investigations and monitored AIS compliance in the area.
CO Jimmy Van Asch (Pengilly) focused enforcement efforts on boating, angling, ATV, and AIS activities. Follow-up work was also conducted on pending investigations. Various angling and boating questions were answered, along with several nuisance-animal complaints being fielded and handled.
CO Taylor Hochstein (Hill City) noticed an increase in families out enjoying the natural resources with most local schools out for the summer. Hochstein was very pleased with compliance rates with children under 10 wearing life jackets while out on the lakes. Enforcement action was taken for angling without a license, not having enough PFDs on board a watercraft, and operating ATVs on a state highway.
CO Andy Schmidt (Duluth West) worked anglers and boating activity during the week. He assisted with an aquatic invasive species detail and followed up on ATV complaints. Nuisance-animal complaints were also handled. Please, just leave fawns alone.
CO Kipp Duncan (Duluth East) continued to work fishing and boating enforcement on area lakes. ATV activity continues to be monitored and worked in and around past complaint areas. Time was spent working with a property owner who needed permits to work within a waterway. Duncan also worked with CO Keith Olson on his last day of service with the DNR Enforcement Division before retiring. Duncan will miss Olson tremendously as a work partner.
CO Jeff Humphrey (Cromwell) worked off-highway vehicle, invasive species, angling and boating enforcement throughout the week. Humphrey responded to calls and complaints of nuisance beavers, wetland filling, ATV operation and DNR safety training courses. Humphrey assisted in an aquatic invasive species work detail held in the district and encountered violations regarding OHV-related issues, angling and boating issues during the week.
Lake Superior Marine Unit
CO Matt Miller (Lake Superior Marine Unit) checked anglers and boaters for AIS compliance. Anglers were checked along Lake Superior and the St. Louis River. Watercraft equipment maintenance was handled. Plans were made for an upcoming firearms safety class. Enforcement action taken for angling violations.