Conservation officers report prime snowmobiling conditions, but slushy ice for angling
Minnesota Department of Natural Resources report for the week of Jan. 24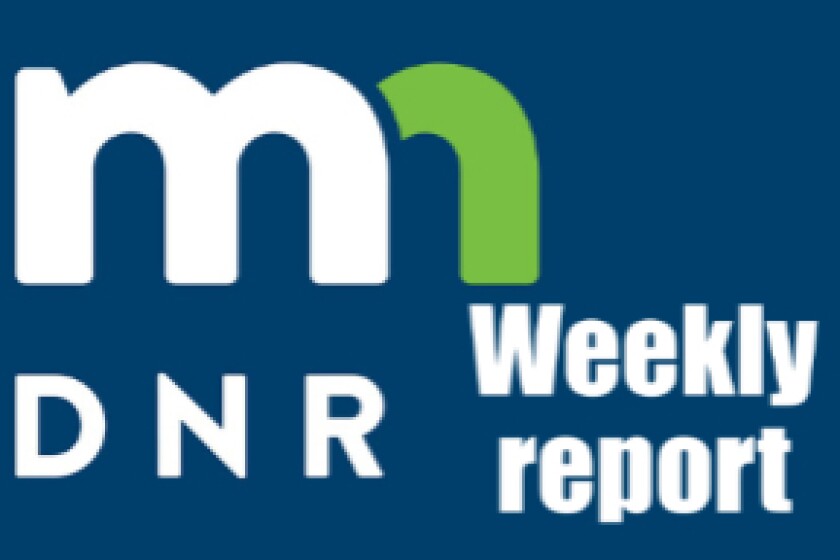 We are part of The Trust Project.
District 5 — Eveleth area
Conservation Officer Darrin Kittelson (International Falls 1) reports overall outdoor activity has been slow with the cold weather, but continuing snow falls have put the area snowmobile trails in great shape. Good job groomers! Ice fishing bite on Rainy Lake has been slow, typical January.
CO Curtis Simonson (International Falls 2) on leave.
CO John Slatinski IV (Ray) attended training at Camp Ripley and completed equipment maintenance. Most outdoor activity in the area has been snowmobiling or angling and spearing. The snowmobile trails are in excellent condition, but extreme temperatures have kept snowmobile activity down. The last snow event has helped to smooth the lake surface out. Angling and spearing activity continue to be steady with moderate success noted.
CO Troy Fondie (Orr) reports angling and snowmobile activities were monitored over the week. Area forest roads and timber sales were checked. Equipment issues are ongoing. Administrative items were completed.
CO Aaron Larson (Tower) attended training at Camp Ripley. He also spent time checking snowmobile activity.
CO Marc Johnson (Hibbing) primarily worked angling and snowmobile enforcement. In addition, time was spent attending training at Camp Ripley and completing administrative tasks. Cold temperatures throughout the week brought a decline in recreational activity and local anglers reported limited success.
CO Shane Zavodnik (Virginia) spent time patrolling area snowmobile trails and attending training over the week. He also assisted multiple law enforcement agencies in the search for a known individual with multiple warrants out for their arrest. After several hours of the multi-agency search, the suspect was located and safely apprehended.
CO Duke Broughten (Aurora) spent the week monitoring fishing and snowmobile activity. Recent cold weather appeared to have limited recreational activity. The few anglers that were encountered reported limited success. Snowmobile trails are in good condition due to the recent snowfall. CO Broughten also fielded calls regarding trapping laws and spearing regulations.
Minnesota Department of Natural Resources report for the week of May 16, 2022.
District 6 — Two Harbors area
CO Sean Williams (Ely 1) reports there was very heavy snowmobile activity during the warmer parts of the weekend. Angling activity was steady, although success was low. Violations included untagged trap and possessing live bait on a designated trout lake.
CO John Velsvaag (Ely) checked anglers and snowmobilers this past week. Slush conditions are getting worse on many lakes and snowmobile trail conditions are very good. CO Velsvaag also attended training at Camp Ripley.
CO Thomas Wahlstrom (Grand Marais) spent time checking area trout lakes. The officer assisted the use-of-force team teaching firearms tactics at Camp Ripley.
CO Mary Manning (Hovland) attended training at Camp Ripley and assisted with teaching for annual firearms qualifications with division officers. Officer Manning also patrolled snowmobile trails and forest roads, responded to a lost skier call, checked a few smaller trout lakes and checked ski passes at Pincushion ski trails.
CO Anthony Bermel (Babbitt) attended training and worked anglers, snowmobilers and cross-country ski trails. One person was contacted after they left two portable shelters overnight on a local lake without ID or shelter tags; gear and litter frozen into the ice; fish left on the ice; and a set tip-up left out. The individual was also burning prohibited garbage outside the cabin. Snowmobile speed infractions were dealt with. Local trails are in good shape after recent snowfalls.
CO David Schottenbauer (Silver Bay) worked area angling and snowmobile activity. Much of the week was spent at Camp Ripley for annual training.
CO Kylan Hill (Tofte) reports seeing heavy snowmobile activity in the area throughout the week. A few registration violations were handled, along with riders not stopping at road crossings. Hill has received ongoing calls regarding snowmobiles illegally operating on the new non-motorized section of the Gitchi-Gami State Trail in Tofte. Snowmobiles are also illegally operating on cross-country ski trails in Tofte. Please plan your route accordingly and definitely do not operate your snowmobile around barriers. Ongoing background investigation work was also completed.
CO Don Murray ( Two Harbors) worked snowmobile and angling activity during the week. Recent snowfalls have put trails in excellent condition and activity is high. Area lakes are showing more signs of slush conditions making access more difficult for anglers.
District 7 — Grand Rapids area
CO Vinny Brown (Northome) checked anglers and monitored snowmobile activities. Anglers have been reporting a fairly slow bite on most lakes. Enforcement action was taken for unattended tip-up line; no shelter license; possession of illegal length fish; and no fishing license in possession. A traffic stop was made which resulted in the arrest of an individual who gave a preliminary breath test over three times the legal alcohol limit. The individual received additional charges of test refusal at the jail.
CO Jayson Hansen (Bigfork) patrolled state parks, worked anglers and small game. Numerous game and fish questions were answered. He also responded to wildlife complaints and assisted other agencies.
CO Mike Fairbanks (Deer River) checked anglers, monitored snowmobile activity and attended training. Angler success was great this week. Many complaints of vehicles traveling too fast on the area lakes have came in this week. Enforcement action was taken for license issues and possess illegal length fish.
CO Thomas Sutherland (Grand Rapids) worked ice angling and snowmobile activity over the past week with many individuals out enjoying the deep snow and the better ice conditions. Trout season had its first full week of action with good catch rates seen on area designated trout lakes. Remember only one line and preserved minnows can be used on these waters. Enforcement action was taken for no angling license in possession and not having current registration on a snowmobile.
CO Brian Holt (Grand Rapids) worked anglers and trapping activity throughout the previous week. Time was also spent following up on Turn in Poachers complaints and answering questions about sick and injured animals. Holt attended training at Camp Ripley and responded to deer feeding complaints. Feeding deer is illegal in Itasca County in response to chronic wasting disease. Feeding and attractant bans are in place across the state to prevent concentrations of wild deer in areas with a higher risk for disease.
CO Jimmy Van Asch (Pengilly) worked angling, snowmobiling, dark house spearing and trapping enforcement. Division training was also attended at Camp Ripley. Enforcement action was taken for angling with extra lines; no angling license; failure to display snowmobile registration; and several trapping violations.
CO Taylor Hochstein (Hill City) monitored the end of the bobcat hunting and trapping season. Most hunters and trappers reported having to work hard to have success with the deep snow in the woods. Angling and snowmobile activity in the area continues to be greatly dependent on the weather. Training was attended at Camp Ripley.
CO Jacob Willis (Brookston) conducted training at division in-service at Camp Ripley. Calls were fielded regarding ongoing cases and regulation questions.
CO Kipp Duncan (Duluth East) spent time working off snowmobile patrolling area trails and lakes. A few anglers were out braving the cold weather. Area snowmobile trails continue to be in great shape and are being well-used. Officer Duncan attended a day of training at Camp Ripley and also spoke at a youth snowmobile safety class.
CO Jeff Humphrey (Cromwell) worked snowmobile trail enforcement and checked area lakes for angling activity. CO Humphrey patrolled Moose Lake State Park, local wildlife management areas and attended enforcement division training held at Camp Ripley during the week. Violations for dogs off leash, snowmobile speed, operation and registration were encountered.
Lake Superior Marine Unit
CO Keith Olson (Lake Superior Marine Unit) attended in-service training during the week, worked area snowmobile trails and lakes north of Duluth over the weekend. Fishing success was slow for most in the area. The colder temperatures have the area snowmobile trails in good condition and firm.
CO Matt Miller (Lake Superior Marine Unit) checked ice anglers and snowmobiles. Strong winds have prevented any accessible ice from forming on the Minnesota side of Lake Superior so far. Trails are in good shape with lots of snowmobile activity, especially on weekends. Enforcement action taken for angling and snowmobile violations.