Minnesota DNR: Certain violations can lead to trail closures, affecting everyone wanting to use the trail
Minnesota Department of Natural Resources report for the week of Jan. 17.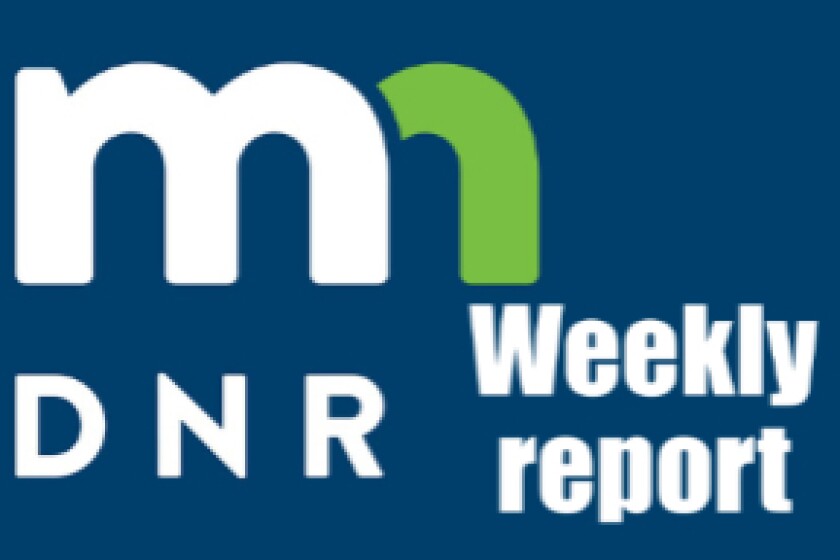 We are part of The Trust Project.
District 5 - Eveleth area
Conservation officer Darrin Kittelson (International Falls #1) reports snowmobile activity still continues to increase even with the unseasonably warm weather. The local snowmobile clubs continue to do a great job in the grooming efforts. People are reminded to always ride right, slow down, and don't drink and drive. Enforcement action for the week included modified snowmobile exhaust and registration issues.
CO Curtis Simonson (International Falls #2) reports checking anglers this past week on area lakes and rivers. Snowmobile trails were patrolled and trapping activity was monitored throughout the area. Enforcement action taken this past week was for snowmobile registration issues, angling with extra lines, and license-related issues.
CO John Slatinski IV (Ray) reports trail conditions continue to limit most of the snowmobile traffic to overland trails. Complaints of both illegal snowmobile exhaust and trespassing were heard. Both of these issues can lead to trail closures, affecting not only the operator, but everyone else wanting to use the trail as well. Equipment maintenance was tended to and work continues on a background investigation for the next CO Academy.
CO Troy Fondie (Orr) monitored angling and snowmobile activities. Trout opener was worked. Snowmobile trails remain rough with little new snow received. Equipment work and administrative tasks were completed.
CO Aaron Larson (Tower) worked primarily angling and snowmobile activity. Larson spent extra patrols working loud or modified snowmobile exhaust. Violations included fishing for trout before open hours, failure to have trap tags, trapping within 20 feet of flagging, top of the snare over 20 inches above the first ground surface, and various snowmobile registration issues.
CO Marc Johnson (Hibbing) primarily worked angling and snowmobile enforcement. Time was also spent at Camp Ripley, completing online training, and investigating a call regarding a deer illegally taken out of season. The winter trout season opened over the weekend, but few anglers were seen on local designated trout lakes.
CO Shane Zavodnik (Virginia) spent time checking anglers during the inland trout opener and patrolling snowmobile trails near the North Shore over the weekend. Angling success and activity were slightly lower than previous years. Several recreational vehicle and license violations were encountered.
CO Duke Broughten (Aurora) spent the week monitoring ice fishing and snowmobile activity. Anglers reported moderate success over the trout opener. Snowmobile trails were in rough shape after the weekend due to high traffic and warmer weather. Snowmobile trails could use some new snow. Broughten also fielded calls regarding dumped animal carcasses, trespass and snowmobile regulations.
District 6 - Two Harbors area
CO Sean Williams (Ely #1) reports the slush conditions on many local lakes have improved. Although they continue to be rough, traveling has become easier. Trout angling activity was extremely high over the opening weekend. Success was only fair and most fish seen were of a smaller class than previous years. Violations included angling without a license in possession, angling with extra lines, and operating an unregistered ATV.
CO John Velsvaag (Ely #2) checked anglers and snowmobilers this past week. Much of the slush has frozen but larger lakes are rough for snowmobiling. Fishing success was average and ice thickness varied a lot on the same body of water on several lakes.
CO Thomas Wahlstrom (Grand Marais) worked with several officers checking anglers during the trout opener. Time was also spent patrolling snowmobile trails. Enforcement action was taken for angling and snowmobile violations.
CO Hudson Ledeen (Grand Marais #2) reports opening weekend of the regular inland trout season saw mild success among most anglers. However, warm weather and light winds created ideal conditions to be out trying your hand a catching trout. Enforcement action was taken for fishing with an automatic hook-setting device and fishing with no license in possession.
CO Anthony Bermel (Babbitt) worked a busy week and weekend of angling and snowmobile enforcement. Trout opener saw high participation with the warm weather and great lake conditions. Violations were plentiful, including fishing with extra lines, unattended lines, fishing without licenses and trout stamps, litter, failure to transfer snowmobile ownership, expired snowmobile registration, and registration display violations.
CO Matt Miller (Silver Bay) worked anglers and snowmobilers on a busy inland trout opener weekend. Very warm weather had lots of anglers trying their luck. Success varied by lake, and some anglers found challenging access from downed brush and trees. Ice conditions were generally good. Extra lines and early fishing violations were found. Enforcement action was taken for angling and snowmobile violations.
CO Kylan Hill (Tofte) reports a busy weekend of trout angling and snowmobile activity in Cook County. Hill worked with other officers on Saturday and Sunday, contacting large groups of anglers chasing lake and stream trout. Stream trout lakes saw the best success, with anglers chasing lake trout reporting tough conditions. Activity as a whole was largely down compared to previous years, much like the Boundary Waters Canoe Area Wilderness opener. A few snowmobile violations were handled. A trapping case was opened after Hill was notified of a pine marten trap left after the season. Hill's work on a background investigation is nearing completion.
CO Don Murray (Two Harbors) worked angling and snowmobile activity during the week. Most area lakes still have areas of slush and hard-drifted snow. Snowmobile trails are in fair shape and are being groomed. Trespass and illegal aftermarket exhaust systems seem to be the areas generating the most violations. Please stay on posted trails.
District 7 - Grand Rapids area
CO Vinny Brown (Northome) checked anglers and patrolled lakes and trails by snowmobile. With decent weather, anglers have been hauling in good numbers of fish. Enforcement action was taken for possession of drug paraphernalia, no shelter license, and license violations. Enforcement action was also taken for several unattended line and extra line violations.
CO Thomas Sutherland (Grand Rapids) worked ice anglers in the area over the past week. He checked many panfish and walleye anglers out and about on area lakes. Sutherland saw good midseason crappie and bluegill bites with good ice conditions now present in the area. He took enforcement action on anglers not having licenses in possession. Remember when venturing out on the ice to have your license with you, as the law states.
CO Brian Holt (Grand Rapids) checked anglers and snowmobile riders throughout the area. Time was also spent assisting the local snowmobile club with a youth snowmobile safety class. Holt continued working on a background investigation on an applicant for the next CO Academy.
CO Taylor Hochstein (Hill City) worked a busy trout opener over the weekend. Weather and slush conditions were good, and the trout bite wasn't bad either. People have also been able to find schools of hungry crappies that are willing to bite. Enforcement action was taken for angling without a license, no trout stamp, and other various violations.
CO Jacob Willis (Brookston) patrolled area snowmobile trails and angling activity. Many snowmobile trails are still quite rough as the early snow has made grooming efforts difficult. Area clubs are doing a phenomenal job with constant improvement during tough conditions. Willis also attended a meeting at Camp Ripley for the Division Use of Force Instructor Team. Enforcement action was taken for no angling license and no license in possession.
CO Andy Schmidt (Duluth West) spent most of the week working snowmobile activity in the area. Trails continue to improve with all the downed trees, and riders should use caution as limbs and trees continue to fall due to the snow load. He assisted volunteer instructors at the Reservoir Rider Snowmobile Club annual safety class. Time was also spent checking anglers in the area.
CO Tony Elwell (Cloquet) continued follow-up investigations from this past deer season. Ice angling and snowmobile patrols were conducted. Most area trails are in great shape, thanks to hard work from local snowmobile clubs and volunteers. Snowmobile-registration violations continue to be at the top of the list of violations dealt with.
CO Ben Karon (Pine City) spent time this week working on deer-related cases. Time was spent checking anglers and snowmobilers. Meetings and training were attended at Camp Ripley. Background investigations continue.