Jarrid Houston column: Walleye bite going in Twin Ports harbor
Heavy snow causing some slush problems, but more ice expected after coming cold snap.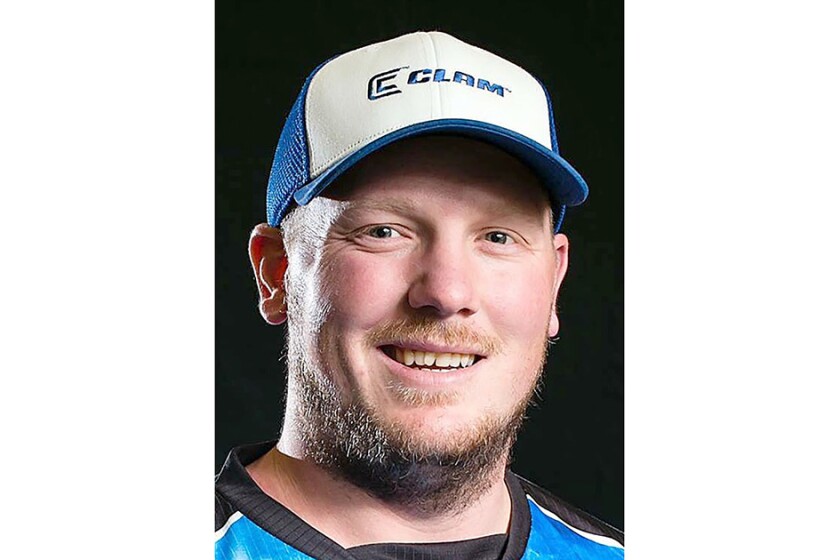 We are part of The Trust Project.
We hope everyone had a great Christmas and the fish cooperated. It's crazy to think that first ice is now transitioning into midseason form, and so is the fishing.
In our local areas, we are seeing ice thickness anywhere from a few inches to as much as a foot. We are still waiting for the green light to drive smaller trucks and cars onto the water. Otherwise, for the most part, smaller and shallower lakes are suitable for ATV and snowmobile transportation.
Just a reminder that experts suggest 5-7 inches for safely accessing ice with an ATV or snow machine, although I like to have at least 8 inches for my machines.
The good news is several bodies of water now have safe ice. The bad news is we just received enough snow to bog down ice hole locations. So expect to see wet, slushy areas on many parts of our fisheries. Another key tip: Some shorelines and areas that have natural spring feeds can still be dangerous, so pay attention.
So far, we have not heard of any local ice accidents. As far as the fishing success being reported and experienced, let's just say, we are having fun. Let's dive into the last fishing report of 2021.
Chequamegon Bay on Lake Superior is steadily seeing some ice forming and a little ice angling as well. The protected areas near Ashland are giving up some good pike and perch bites in 10-20 feet of water. The occasional trout can be caught, but we are waiting to get out a little further out from town. We did hear of a couple of anglers stretching their sea-legs north of Ashland toward Washburn. But since the storm earlier this week, that ice has blown out. The good news is we are on the verge of a massive cooldown. This will speed up ice development. We hope to have our first report from Lake Superior in the next week to 10 days, weather and ice depending.
If you do get out for some pike and perch (easy targets using nothing more than small jigging spoons tipped with live bait) on the Ashland side please be careful and bring along all of your emergency gear — spud bar ice picks, rope and flotation.
For the St. Louis River estuary, we have finally logged some time and have this fresh update: Ice conditions continue to progress, however as mentioned the heavy snow we just received changed up some areas into a wet mess, so bring your rubber boots. We are still walking out to our spots for the time being. But I forecast after next week we will be wheeler/sno-mo bound. Until then, our smitty-sleds — a framed sled platform on skis — has been an excellent tool to cut down on pulling a workload.
This last week, we had several on ice adventures, but one of the most memorable ones of all time was hosting the great godfather of ice angling himself, Mr. Dave Genz, and his daughter, Kathy Roberts. More on that later.
Walleyes are being picked up in the harbor area of the estuary using many different tactics, but it has been hard to beat a Northland coffin spoon or a Glo-shot spoon. Best colors have been fire-tiger or pink. The water clarity challenge (it's very dark down there) can be defeated by using something that rattles or has a beaming color (like pink). Most fish have been on the smaller size, but every now and then a good fish opportunity will present itself. As we move farther past first ice it's important to be set up for the prime times of early morning or later afternoon.
Inland lakes are giving a host of good fishing opportunities lately. Let's start with panfish.
We are finding several willing bluegill biters on top of weed patches using smaller gill-getter jigs or some sort of tungsten tipped with a Clam maki plastic (I prefer white). Depths have been ranging from 6-15 feet of water. For crappies, similar locations and depths are giving up some fish. However, my preference when targeting crappies is to use a live crappie minnow under a Venom float suspended in the water column.
For pike, bass and walleyes, setlines in the form of tip-ups continue to be the way to go. Make sure you position your flags far enough away from your jigging holes, unless you like to burn through panfish lures.
Walleyes have been more of a low-light biting deal, but on overcast days, and if things are quiet, you can expect to catch a few during the day. Choice of bait for tip-ups has been the medium-sized sucker minnows or large chubs. As usual, if you are looking for more action and some other species, set the depth well up off the bottom. If you are strictly walleye angling, set your live minnow 6 inches to 1 foot of the bottom.
Be safe and courteous to each other and we will see you on the ice!
Jarrid Houston of South Range is a fishing guide ( houstonsguideservice.com ) on Minnesota and Wisconsin inland waters, the St. Louis River and, in winter, on Lake Superior.