Ice out on area lakes began this week
Minnesota Department of Natural Resources report for the week of May 2, 2022.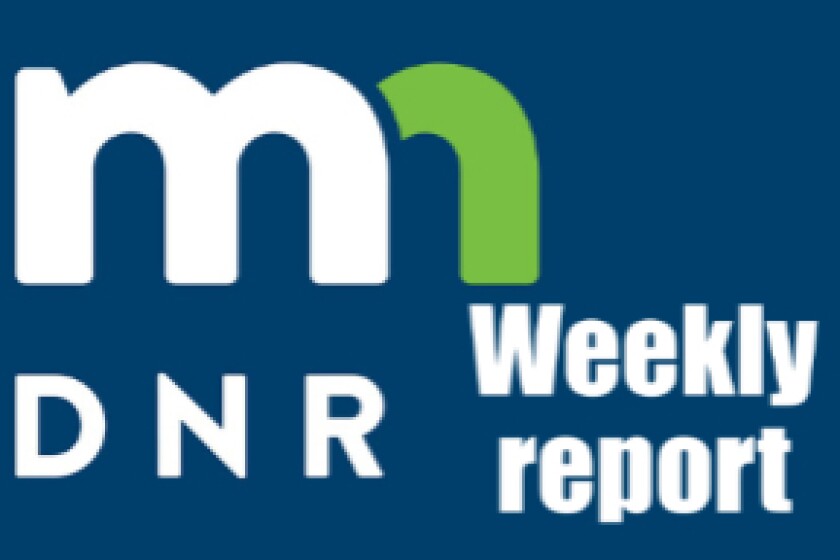 District 5 - Eveleth area
CO Darrin Kittelson (Int'l Falls #1) reports the sturgeon keep season on the Rainy River is in full swing, however rain and high water levels have made the fishing not enjoyable and difficult. Enforcement action for the week included boat registration issues and failure to have the proper boat safety equipment.
CO Curtis Simonson (Int'l Falls #2) reports checking sturgeon anglers throughout the week on the Rainy River. ATV and trapping activity were also monitored in the area. Simonson would like to remind people to continue to check and make sure the proper boat safety equipment is on board your boat before heading out.
CO John Slatinski IV (Ray) Open water activity has allowed for opportunities to remind people of AIS regulations. Water levels on area rivers has been observed to fluctuate over six feet over the course of a couple days but has recently leveled off and is showing signs of easing up. State forests, roads, and trails were monitored for compliance with closures and restrictions. Follow up on illegal structures on state lands was worked on with information passed on to appropriate divisions. Preparation for the upcoming inevitable summer season has been observed by campers and business owners in the area. Ice conditions have deteriorated rapidly over the last couple days, in this case deteriorating ice is a positive thing in conversation.
CO Troy Fondie (Orr) reports completing equipment work, monitoring area forest roads and checking public access sites. Lakes remain ice covered. Small streams have opened and are well outside their banks. Outdoor activities were minimal as the spring break up has begun.
CO Aaron Larson (Tower) primarily checked for snowmobile and ATV activity around his station. Larson also followed up on different cases and violations that had occurred in prior weeks.
CO Marc Johnson (Hibbing) continued monitoring closed seasonal roads and ATV trails. Time was also spent speaking at a firearms safety class in Hibbing and a banquet in Chisholm. Several calls were fielded which ranged from reports of injured animals to questions about the upcoming fishing season.
District 6 - Two Harbors area
CO Sean Williams (Ely 1) reports ATV activity was higher over the weekend, although rainy weather and cool temps meant mostly Class 2 machines were seen. Ice on the smaller lakes were starting to show signs of backing away from shore and most of the larger lakes are now snow free. Violations included: Fail to display ATV registration, and operating an aeration system without a permit.
CO Mary Manning (Hovland) checked anglers on Lake Superior tributaries and near their mouths. Recent rain and snowmelt is helping clear rivers of ice but water temperatures are still cold and fish are scarce. Officer Manning seized an accidentally taken otter, issued car kill permit and took reports of washouts on area forest roads. Drivers of state forest roads are urged to use caution as quickly melting snowpack inland is overwhelming some culvert pipes and flowing over road surfaces causing some instability of roads.
CO Anthony Bermel (Babbitt) spent time storing winter equipment and readying station watercraft and ATV. Assistance was provided to a neighboring officer on an ongoing investigation. Enforcement action for decorative tree theft and traffic violations is pending. Fish run was monitored. Ice fishing finally has come to a close for the season. Many people are anxious for the ATV season to be underway, but please wait until the trails are open to prevent resource and trail damage.
CO David Schottenbauer (Silver Bay) finished up a trapping complaint this week, as well as some training in the Metro with other allied agencies for public unrest response.
CO Kylan Hill (Tofte) reports another week of slow fishing reports on Lake Superior tributaries, but anglers are still trying their luck. A local angler predicts steelhead madness will be upon us in two weeks. Hill also began patrolling for beaver trapping activity as water has begun flowing. Hopefully trappers can get some trapping time in before the season closes.
CO Don Murray (Two Harbors) worked spring fish run activities and Lake Superior stream fishing. High water continues to be a challenge for spring fisherman. Murray also assisted with water survival training at the State Patrol academy.
District 7 - Grand Rapids area
CO Vinny Brown (Northome) checked anglers and monitored trapping activity. Animal related calls/complaints were also taken. Enforcement action was taken for fishing without a license and taking walleye and northern pike during the closed season.
CO Jayson Hansen (Bigfork) patrolled state parks, checked anglers, ATV activity, and small game. Numerous game and fish questions were answered. He also responded to wildlife complaints.
CO Mike Fairbanks (Deer River) monitored trapping activity, worked spring fish run and performed equipment maintenance . CO Fairbanks and his K9 partner Si also attended K-9 unit training and assisted with a shining case. Enforcement action was taken for license issues.
CO Brian Holt (Grand Rapids) focused on trapping and OHV activity throughout the previous week. Time was also spent on a TIP complaint and following up on an ongoing investigation. Holt continued to monitor closed roads and trails throughout the area.
CO Thomas Sutherland (Grand Rapids) work last minute ice anglers with some using boards to get to the last ice on area lakes. With this weekend's rain the ice has become unsafe even for foot travel. CO Sutherland gave a presentation to the Grand Rapids Area Lions Club on local furbearer's this past week. CO Sutherland also followed up on littering cases from this spring.
CO Jimmy Van Asch (Pengilly) – focused enforcement efforts on angling, trapping, ATV, and AIS activities. Numerous questions regarding the upcoming fishing opener were fielded, along with several nuisance animal complaints. Equipment maintenance, transition, and preparation were also completed.
CO Taylor Hochstein (Hill City) spent much of the week focusing on turkey hunting and beaver trapping activity. A law and ethics talk was presented youth students in both a firearms safety class and an ATV safety class. Several ATV and trapping violations were addressed.
CO Jacob Willis (Brookston) patrolled the station for ATV and angling activity. Trails are still too wet to ride, but most of the snow is gone even in the wooded areas now. Enforcement action was taken for burning prohibited materials.
CO Andy Schmidt (Duluth West) worked shore anglers along the north shore and followed up on trespassing complaints related to ATV use. The officer taught a firearm safety class in West Duluth and completed maintenance of equipment prepping for summer season.
CO Kipp Duncan (Duluth East) worked boot fisherman on area tributaries. Dog chasing deer complaints were addressed and fielded calls referencing bear complaints. Officer Duncan assisted with a water confidence training course for the State Patrol academy.
CO Jeff Humphrey (Cromwell) patrolled state parks and state forests for spring road and trail closures. CO Humphrey received calls/complaints on nuisance animals, trapping concerns, wolf depredation and turkey hunting. CO Humphrey and CO Staples presented a 30 year firearms safety instructor length of service award in Cloquet. Ice out on area lakes began this week.
Lake Superior Marine Unit
CO Keith Olson (Lake Superior Marine Unit) worked shore and river anglers along the North shore during the week. The cooler temps and rain have kept every river and feeder streams flowing hard and fast. Olson also assisted with water safety training for the State Patrol academy class. Bear sightings and concerns have been fielded in the Duluth area. As a reminder, bring in bird feeders and secure your outdoor garbage storage to help keep bears away.
CO Matt Miller (Lake Superior Marine Unit) checked anglers and boaters on Lake Superior. An ATV safety was facilitated in Moose Lake. Complaints of dogs chasing deer and angler trespass were received. Enforcement action taken for angling violations.