High-water boat wakes can cause damage to environment, property
Minnesota Department of Natural Resources report for the week of May 31.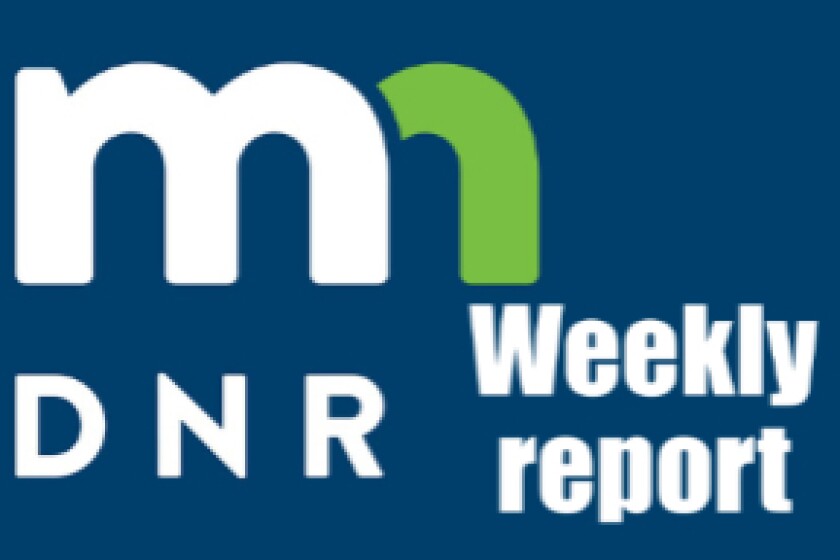 We are part of The Trust Project.
District 5 — Eveleth area
Conservation officer Curtis Simonson (International Falls 2) reports spending time this week patrolling Rainy Lake, Rainy River and the Bigfork River for angling activity. Time was also spent monitoring ATV traffic over the holiday weekend. Simonson would like to remind people that riding on state highways is not allowed or safe for that matter.
CO John Slatinski IV (Ray) High water is still wreaking havoc on the local communities as resort owners and guests try to make the best of the situation. Anglers have been reporting fair success. Public accesses are becoming congested as the parking and ramp areas take on more water. Have patience and be conscientious of the facilities and other users. A reminder to all that with high water boat wakes can cause damage both the environment and property. Be responsible and own your wake. Slow down to idle speed in sensitive areas.
CO Troy Fondie (Orr) reports more rain and wind over the holiday weekend. Area forest roads were checked. Public access sites were monitored and angling activity checked. Campgrounds and campsites were monitored. Administrative tasks were completed.
CO Aaron Larson (Tower) worked primarily angling and ATV enforcement. Larson spent his week working on training. He also followed up on tip calls and ATV complaint areas.
CO Marc Johnson (Hibbing) primarily worked angling activity and ATV/off-highway motorcycle enforcement on local trails. Recreational activity was relatively low over the holiday weekend and anglers reported a slow bite. Nuisance bear complaints continue to be fielded and people are reminded to remove bird feeders and not leave garbage cans outdoors as both invite bears. Violations encountered included fishing with extra lines, taking fish without an angling license, allowing illegal ATV operation, and youth not wearing helmets on ATVs.
CO Shane Zavodnik (Virginia) Time was spent working boating details with CO Fitzgerald on the Gull Lake and Whitefish Chain and Mille Lacs Lake over the week. Anglers found little success in search of walleyes, but panfish were much more cooperative. A variety of boating registration violations were found throughout the week including inadequate life saving devices onboard watercraft. They also ran into a number of illegal-length northern pike and angling license violations.
CO Duke Broughten (Aurora) spent the week monitoring fishing, boating and ATV activity. Poor weather appeared to have limited recreational activity over Memorial Day weekend. Anglers who were encountered had moderate success. Boaters and anglers are reminded to use caution while operating as high water continues to contribute to hazards in the water. ATV activity seemed lower than past holiday weekends. CO Broughten also fielded calls regarding nuisance animals, lake access and off-highway motorcycle regulations.
District 6 — Two Harbors area
CO Sean Williams (Ely 1) reports high water levels, cool temperatures, and the first major hatch of black flies made for a slow start to the Memorial day weekend. Areas of the Boundary Waters Canoe Area Wilderness were patrolled and fishing reports from the border lakes were very good. Violations included displaying expired watercraft registration and no fishing license in possession.
CO John Velsvaag (Ely 2) checked anglers and boaters this past week. He also worked on a detail on the Gunflint Trail. Fishing is still pretty good on area lakes but starting to slow down a bit.
CO Thomas Wahlstrom (Grand Marais) spent the week monitoring fishing closures. The officer checked anglers along the border with other officers during a work detail, he assisted search and rescue with a missing person call and assisted with a firearms safety field day. Enforcement action was taken for boating and angling violations.
CO Mary Manning (Hovland) assisted Cook County with 3 Search and Rescue operations this week which included 2 missing persons and a severe leg injury and carryout. Officer Manning also assisted U.S. Forest Service officer Belmore with an SUV stuck in a snowmobile trail. The newlyweds received a citation for drug possession, a citation for operating a car on the snowmobile trail, and a very hefty bill for the tracked loader to pull them from the axle-deep mud. Some folks really know how to celebrate. CO Manning checked anglers and ATV operators as well as a few boaters, took a report of illegal fishing in a sanctuary area and had a request for an animal possession tag.
CO Anthony Bermel (Babbitt) worked primarily angling, boating, and ATV enforcement throughout the week and Memorial Day weekend. Enforcement action was taken for no and insufficient personal flotation devices, expired canoe registration, expired ATV registration, no ATV safety certificate, fishing without a license, and no trout stamp.
CO Kylan Hill (Tofte) reports that despite periods of heavy thunderstorms, the woods and waters were still full of people over the holiday weekend. Hill spent a few days in the BWCAW with the U.S. Forest Service contacting boaters, campers and anglers.
One citation was issued to a person for using an unregistered kayak. Despite knowing that their watercraft needed to be registered, the person told Hill that they didn't plan on ever registering it.
Fishing success was spotty with anglers reporting a day of numerous fish followed by a day of hardly a nibble. However, one talented group of anglers had great success and left the Wilderness with a large cooler full of smallmouth bass and a large cooler full of walleye. Hill assisted Search and Rescue personnel with numerous calls for service.
CO Don Murray (Two Harbors) worked a wet and foggy holiday weekend along the North Shore. Outdoor activity was not as high as past years due to the rainy weather. Murray worked boating and ATV activity but high water continued to wash out remote boat launches and trails. Enforcement action was taken for ATV and camping violations.
District 7 — Grand Rapids area
CO Vinny Brown (Northome) spent the majority of a busy Memorial Day weekend on the water as he checked anglers and enforced boating safety laws. Several violations were encountered including insufficient life jackets, failure to activate navigation lights after dark, and boat registration issues. Other violations encountered were no fishing licenses in possession and operating ATVs on a state highway. Large numbers of anglers saw good success with a steady walleye bite over the weekend. For some anglers, the bite was too good. Three anglers were found in possession of an over-limit of walleye, resulting in the seizure of over 60 fish.
CO Jayson Hansen (Bigfork) patrolled state parks, checked anglers, boating, ATV activity and small game. Numerous game and fish questions were answered. He also responded to wildlife complaints.
CO Mike Fairbanks (Deer River) attended training in the Metro, checked anglers and worked boat and water. CO Fairbanks also assisted during the weather events. Angler success was great this week. Enforcement action was taken for angle without license, no license in possession, fail to display registration on water craft, no throwable, insufficient personal flotation devices, no skin patch and possess illegal length fish.
CO Sutherland (Grand Rapids) worked angling activities with the walleye action heating up. Enforcement action was taken for angling without a license, expired registration on a watercraft and not having enough life saving devices on board a watercraft.
CO Brian Holt (Grand Rapids) focused on boating safety and angling activity during the previous week. Time was also spent handling miscellaneous wildlife complaints and monitoring ATV activity. Enforcement action was taken for angling license violations, keeping bass out of season and angling with extra lines.
CO Jimmy Van Asch (Pengilly) reports working angling, boating, ATV, and AIS enforcement throughout the surrounding areas. Enforcement action was taken for angling without a license, illegal length walleyes, and several boating violations.
CO Taylor Hochstein (Hill City) reports working a busy Memorial Day weekend. Angling activity was high and people were even seen out tubing and jet skiing despite of the cold water temperatures. Several fishing, boating, and ATV violations were addressed.
CO Jacob Willis (Brookston) worked angling enforcement, as well as boating throughout the week. Willis also patrolled high use ATV complaint areas, as well as local trail systems.
CO Andy Schmidt (Duluth West) worked angling activity throughout the week and weekend. Anglers that braved the wind and rain enjoyed some luck and little competition for their favorite angling locations. The officer assisted with an ATV detail in the Moose Lake area and many contacts were made for state highway violations and equipment issues. The officer handled nuisance animal complaints, fish carcass dumping and handled ATV complaints.
CO Kipp Duncan (Duluth East) spent the majority of the week working fishing and boating enforcement on the Duluth area lakes. A couple days were spent working Lake Superior, Duluth Harbor and the St. Louis River. A possible wetland violation was investigated and forwarded to the local government units to follow up on. ATV activity was also worked around the Duluth area and also within the city limits of Moose Lake.
CO Jeff Humphrey (Cromwell) worked off highway vehicle, invasive species, angling and boating enforcement throughout the week. Humphrey responded to calls and complaints of nuisance and orphaned wildlife, wetland filling, ATV operation and trespass concerns. CO Humphrey assisted in a joint detail in the Moose lake area focusing on off highway vehicle education. Humphrey also attended division armorer recertification in the Twin Cities. A variety of violations were encountered over the Memorial Day holiday weekend.
Lake Superior Marine Unit
CO Matt Miller (Lake Superior Marine Unit) checked anglers and boaters in the Duluth Harbor. Wind and high water is continuing a tough bite, but some decent catches of walleyes, cohos, and king salmon were seen. A boat and water safety detail was worked on Prior Lake, White Bear Lake and Lake Minnetonka, with plenty of boaters excited to start the summer. Enforcement action taken for boating and angling violations.