Happy Trails: Caribou Falls Trails is an easy-access stunner
There's a secluded waterfall at the end. 'Nuff said.
We are part of The Trust Project.
Before settling in the Northland, I heard about the waterfalls — plural.
And, at the time, the prospect of seeing one up close felt nearer fantasy than reality.
Since then, of course, I've been to Gooseberry, but I hadn't seen or heard of Caribou Falls.
On Monday, I drove an hour and some change up the shore, just past Little Marais and parked in the Caribou Falls State Wayside lot at 7232 Minnesota Highway 61.
There, I ran into the Fonseca family from Andover, Minnesota, fresh off of Sugar Loaf Bluff and in for a second jaunt. "The family that hikes together," amiright?
Justin Fonseca, a University of Minnesota Duluth student, said he heard the Caribou Falls Trail is "a hidden gem." Not too busy and well worth the short hike.
Joanne, Todd, Ryan and Justin Fonseca all spoke of how hiking appeals to the senses: the blues and greens of nature, the sound of rushing water, the views of cliffs and mountains.
"It's pretty flat where we're from, so it's nice to come here, hike upward and see Lake Superior sprawl around you," Justin added.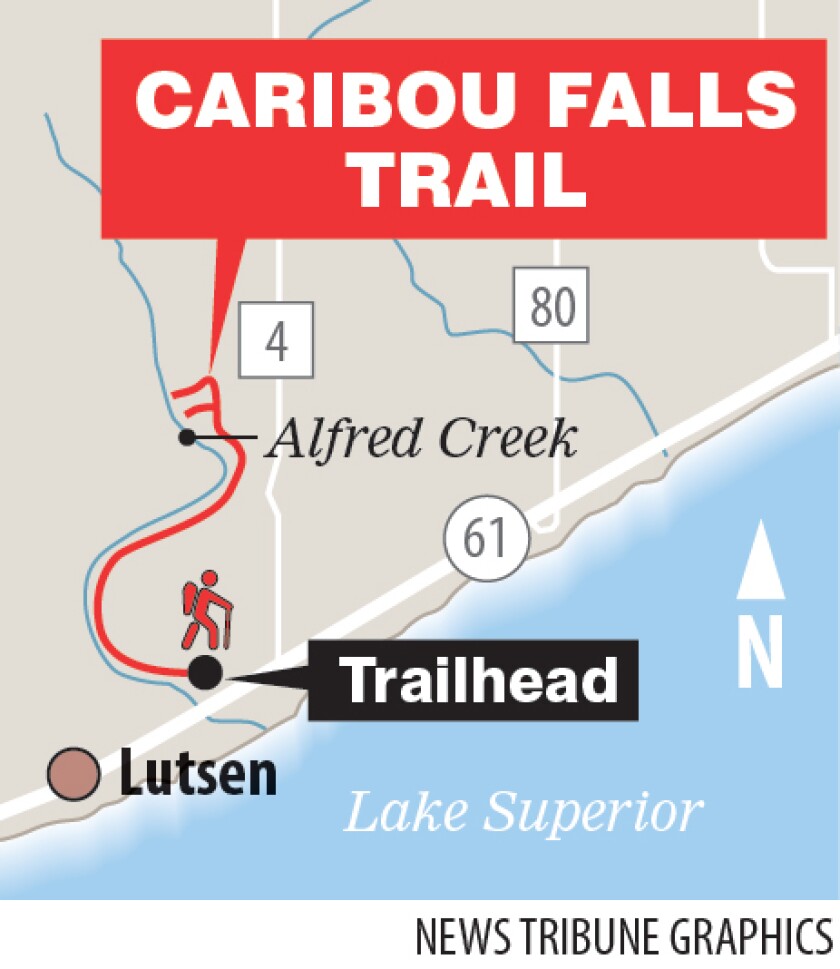 As for the Thompson family, this trail is old hat. They visit Lutsen together every year, and most of them had been on this trail before.
"It's relaxing; it's beautiful. You get a little water massage when you swim out," Dylan Thompson said of the falls.
His tip: "Expect to swim."
Noted.
I hit the trail solo, noticing the humming Caribou River on my left and a far-off pulsing from the falls. I spotted leashed doggies, wet-haired kiddos and their keepers; some coupled hikers; and a group of middle-aged men walking single file.
It's a narrower trail with several off-shoots to make way or check out the river or woods.
Pine, birch and spruce lined the track, and I crossed paths with more butterflies than I've seen all summer. It was a hot one, and I was thankful for my borrowed brimmed hat and the many wooded spots to snag some shade.
It's a out-and-back trail to the falls that runs a half-mile one way, and it's well-maintained. I saw zero litter but plenty of signs to pick up after yourself.
Soon, I descended a steep wooden stairway as the waterfall roared ahead, spilling a steady stream from high peaks.
The majesty and wonder of the falls was overwhelming. My mouth agape and my knees weak, I walked down, down the stairs slowly, grasping both handrails.
Compared to Gooseberry Falls, this space is secluded and a little more accessible for wannabe lone swimmers. The seclusion felt sacred and welcomed.
After some time losing time to the sound of the falls, I got my cardio in on the way up, where there are plenty of landings where you can rest if you need it.
Not ready to turn back, I ventured up the trail to find some steeper, less rocky terrain. I reached a platform overlooking the Caribou River gorge and Lake Superior, and I further realized my, let's say, respect for heights.
There's access to the Superior Hiking Trail, but I only went as far as a little clearing with benches made of fallen logs and a dug-out fire pit.
I imagined circling there with loved ones, noticed the change of terrain around me, before eventually heading back.
I zig-zagged down the steep hill, taking my time to stay upright. Back on flatter land, I came up behind an older couple, each with walking sticks in hand, and I made one more mental note for next time.
At 6 p.m. July 22, 2021, an incorrect map of the Caribou Falls Trail was removed.
Have a favorite trail you want us to check out? Drop us an email at outdoors@duluthnews.com with the subject line "Happy Trails."