DNR Reports: Waterfowl, grouse hunting results vary by area
Minnesota Department of Natural Resources report for the week of Sept. 26.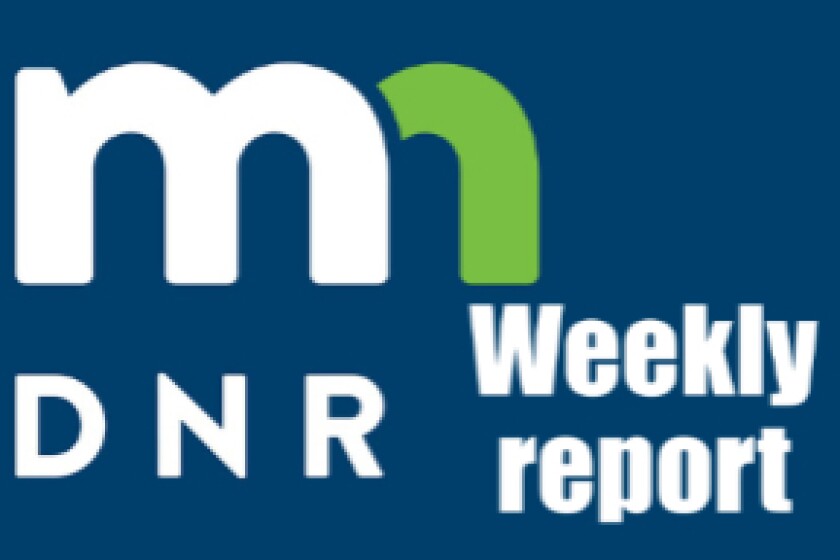 We are part of The Trust Project.
District 5 - Eveleth area
CO Darrin Kittelson (International Falls #1) and COC Choua Khang spent this past week monitoring fishing and boat activity on Rainy Lake and Rainy River. Waterfowl season opened with few birds in the bag as the wild rice in Black Bay and the Rat Root River is minimal to non-existent because of the flooding earlier this year. Weather over the weekend kept a lot of the grouse hunters at home. Enforcement action was taken for license violations, boating safety equipment violations, and transporting loaded firearms.
CO Curtis Simonson (International Falls #2) reports attending training at Camp Ripley this past week and working the waterfowl opener. Small-game hunters were monitored as well.
CO John Slatinski IV (Ray) reports waterfowl hunters did not seem as eager as in past years. Although there were hunters on the water, the overall number of birds observed in the area seemed to be down. Mosquitoes and sand flies were still present. Anglers are still plying the waters and reporting some success, although waiting for the infamous fall bite to take hold. The remainder of the week included taking part in annual in-service training and tending to equipment maintenance.
CO Troy Fondie (Orr) reports the waterfowl opener was one of the poorest he has seen. Few ducks and fewer hunters observed. ATV use and small-game activities continue to increase. Most hunters observed were hunting from ATVs. Forest roads and public access sites were checked. Fall fishing activities continue. Equipment work was completed. Numerous phone calls were returned and permits issued.
CO Aaron Larson (Tower) worked primarily small-game and ATV enforcement. Violations were related to youthful operation of an ATV, illegal use of an ATV on a snowmobile trail, failure to display ATV registration, and illegal possession of a firearm by a youth. Larson also spent time in training.
CO Marc Johnson (Hibbing) worked ATV activity, small-game enforcement, and the opening of the waterfowl season. Waterfowl hunters enjoyed a cool/rainy opener that allowed for some success in the blinds. In addition, time was spent training at Camp Ripley and speaking at a firearms safety class in Hibbing. Follow up was conducted on ongoing cases.
CO Shane Zavodnik (Virginia) spent time giving a hunting and ethics talk to approximately 30 students going through a firearms safety class. He also assisted other instructors during the weekend for the field day portion. Waterfowl numbers were higher than normal for opener weekend, and the majority of hunters were found to have success. Enforcement action taken over the weekend included several boating safety, federal stamp, and unplugged shotgun violations.
CO Duke Broughten (Aurora) spent the week monitoring fishing, hunting, and ATV activity. Waterfowl and grouse hunters reported limited success. Few anglers were observed during the week. Broughten fielded calls regarding nuisance animals, forestry regulations, and trespass.
District 6 - Two Harbors area
CO Sean Williams (Ely #1) reports waterfowl opener saw a generally low turnout in the Ely area, in spite of a good number of ducks and geese reported. Grouse-hunting activity continued to be steady with poor reports of hunter success. Violations included no small-game license in possession and taking waterfowl with no state waterfowl stamp.
CO John Velsvaag (Ely #2) checked grouse and duck hunters this past week. Fishing has picked up on several area lakes but duck hunting was slow. Velsvaag received several calls about nuisance animals and restrictions on shooting from roads.
CO Thomas Wahlstrom (Grand Marais) worked the small-game and waterfowl opener, checked ATV riders and responded to wildlife-related complaints. Grouse hunters who ventured out of their vehicle and left the road found plenty of birds. Enforcement action was taken for hunting without a license, allowing a minor to illegally hunt and driving after revocation.
CO Mary Manning (Hovland) received a few more reports of bears raiding BWCA campsites for food. Visitors should use secure storage bags/barrels and properly hang food to avoid a trip cut short. After many hunters reported daily limits taken each day of opening weekend, grouse hunting took a dramatic downturn in success. Complaints were received from homeowners of grouse hunters throwing beer cans out of trucks, driving onto clearly posted property and shooting birds directly in front of houses. One hunter was surprised to learn that the gate he shot his bird in front of blocked someone's home. He said: "I didn't know anyone lived here. I have been hunting this road for 30 years!" Hunters should note that many people have been buying property and building small homes in the North Woods. Oftentimes, these homes are most often not visible from roads – even well under the 500 feet distance for legal hunting on unposted land.
CO Anthony Bermel (Babbitt) continued training with COC Jesse Drown. A wide variety of enforcement activities were worked with ATV traffic being some of the highest ever observed in the area over the weekend. Enforcement action addressed included transporting loaded firearms in motor vehicles, unregistered ATVs and OHMs, no helmet on youth ATV passengers, possession of marijuana and drug paraphernalia, and cans and glass in the BWCAW.
CO Matt Miller (Silver Bay) checked small-game and waterfowl hunters in Lake County. Pink salmon are starting to run and a few anglers are finding fish willing to bite. ATV trails and roads are quite wet and muddy. Keep in mind the damage your machine does to the trail before you ride. Enforcement action was taken for ATV and parks violations.
CO Kylan Hill (Tofte) reports numerous ATV riders were seen throughout the week and a few minor violations were handled. Duck hunters were few and far between, but those who were checked were found in compliance. The typical bag of mallards and wood ducks was seen. Grouse-hunting success was a little spottier compared to the opener last week. The pink salmon run is hot, with anglers bringing home strings full of fish. A pair of anglers was issued citations after they were found in possession of an overlimit on the Cascade River. Hill spoke on WTIP, assisted with getting a nuisance bear out of Grand Marais, and dispatched an injured cow moose after it jumped off of a bridge and broke her back. The meat from the moose was salvaged.
CO Don Murray (Two Harbors) worked small-game and waterfowl-hunting activity over the weekend. Some hunters were finding a few grouse but cover was still plenty thick for trying to spot birds. Teal were mostly seen for the area waterfowl harvest. Fall colors continue to be brighter by the day and should peak in about a week along the North Shore.
District 7 - Grand Rapids area
CO Vinny Brown (Northome) spent the week checking grouse hunters and investigating illegal spruce top cutting activity. The weekend was spent mainly focusing on waterfowl hunting. A decent number of waterfowl hunters were out and most had small numbers of ducks in their bags. Some hunters continue to forget that they don't own public waters. Numerous complaints of territorial hunters harassing other hunters were taken.
CO Jayson Hansen (Bigfork) patrolled state parks and checked anglers, waterfowl and big-game hunters, boaters, and ATV riders. Numerous game and fish-related questions were answered. He also responded to wildlife-related complaints.
CO Mike Fairbanks (Deer River) reports a busy opening weekend of the regular waterfowl-hunting season, with lots of success for area hunters. Enforcement action was taken with a group of hunters who had no small-game licenses, no state waterfowl stamps, and no federal duck stamps. Fairbanks and K9 Si also assisted Itasca County Search and Rescue in efforts to locate a missing person.
CO Thomas Sutherland (Grand Rapids) worked a busy weekend of waterfowl opener in the area, with very good results had by hunters. Hunters harvested numerous blue-winged teal, wood ducks and some mallards. Enforcement action was taken for not having federal and state waterfowl stamps, possessing lead shot and having an unregistered ATV.
CO Brian Holt (Grand Rapids) focused on small-game hunting and angling during the previous week. Time was also spent checking waterfowl hunters on the opening weekend. Enforcement action was taken for hunting small game without a license, taking ducks without state or federal stamps and transporting loaded firearms.
CO Jimmy Van Asch (Pengilly) focused enforcement efforts on migratory waterfowl, small-game, boating, angling, and ATV activities. Duck hunters were greeted by a wet opener and reported steady success. Enforcement action was taken for numerous hunting, boating, and ATV violations.
CO Taylor Hochstein (Hill City) monitored waterfowl hunting over the opening weekend. Success rates were high considering the rice crop was rather poor this year. In-service training was attended at Camp Ripley. Hochstein also assisted with instructing at the State Patrol Academy for their water survival training.
CO Jacob Willis (Brookston) assisted with training at Division in-service this week at Camp Ripley. He also worked waterfowl opening weekend, with quite a few hunters in the field. Enforcement action was taken for failure to sign a federal stamp, unplugged shotgun, placing decoys before the season opened, and for insufficient PFDs aboard a watercraft.
CO Kipp Duncan (Duluth East) and COC Dallas Cornell spent time following up on deer-baiting complaints. They also spent time doing ATV enforcement while checking small-game hunters. They also checked shore anglers, who were having some success. Cornell and Duncan checked waterfowl hunters during the waterfowl season opener, where enforcement action was taken for no personal floatation device in a watercraft.
CO Tony Elwell (Cloquet) received training this week and worked the waterfowl opener this weekend. Heavy fog and no wind made for a slow opening day, but overnight northwest winds helped some hunters on Sunday. Good numbers of wood ducks and teal have been observed in the area. Violations observed included ATV registration violations, no helmet on juvenile ATV passengers, unplugged shotgun, unsigned federal waterfowl stamp, no license/stamps in possession, and insufficient PFDs aboard watercraft
CO Mikeena Mattson (Willow River) worked ATV, small-game hunting, bear hunting, and waterfowl hunting this week. Waterfowl hunters were checked opening weekend. Enforcement action was taken for various ATV violations and transporting a loaded firearm in a motor vehicle.
CO Ben Karon (Pine City) spent time this week checking small-game, bear and deer hunters. Time was also spent patrolling for waterfowl hunters, ATV and OHM activity. Calls were taken for burning garbage and illegal dumping (litter).