DNR Report: Two road-killed moose on the Gunflint Trail
Minnesota Department of Natural Resources report for the week of June 27, 2022.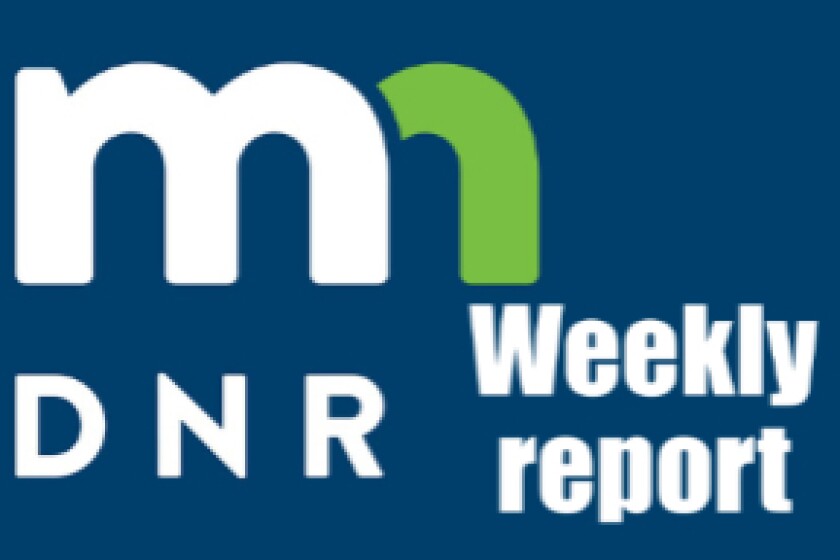 We are part of The Trust Project.
District 5 - Eveleth area
CO Curtis Simonson (International Falls #2) reports spending time this past week working at the Port of Entry in International Falls, patrolling area forest roads for ATV activity, working AIS enforcement and checking anglers on area lakes and rivers. Enforcement action taken this past week consisted of walleye/northern pike overlimits, transporting fish without skin patches, and failing to remove drain plugs.
CO John Slatinski IV (Ray) spent time patrolling multiple days in remote areas of the BWCAW. Activity for this time of the year seems to be down, likely due to a multitude of factors. He followed up on campground and garbage-dumping complaints. He also checked on a watercraft that was found to be on the wrong side of a navigational buoy and ended up on a rock. All parties were found to be safe and the vessel was still operable.
CO Troy Fondie (Orr) reports monitoring angling and boating activities. High heat and prolonged wind reduced fishing activities over the week. Bears have emerged and have started causing problems. Beaver-related problems have remained constant. Equipment work was completed. Other time was spent returning phone calls on a number of topics.
CO Aaron Larson (Tower) worked primarily ATV, angling, and AIS enforcement. Larson also spent time fielding several shoreline-violation complaints.
CO Marc Johnson (Hibbing) primarily worked ATV/OHM enforcement and angling/boating activity. Time was also spent following up on calls and maintaining station equipment. Violations encountered included operating an ATV on a highway and various ATV/watercraft registration violations.
CO Duke Broughten (Aurora) spent the week monitoring fishing, boating, and ATV activity. Anglers continued to report moderate success. ATV activity remained high. Broughten also fielded calls regarding nuisance animals and license questions.
District 6 - Two Harbors area
CO Sean Williams (Ely #1) reports that ATV activity continued to be high over the week. Boating and angling activity was nearly nonexistent over the weekend with cool weather, strong winds and rain. There were several emergency calls in the BWCA as at least four canoes had capsized in the extreme wind.
CO John Velsvaag (Ely #2) checked anglers and ATV riders this past week. Fishing was good and people transporting boats with plugs in were contacted. Calls about bears, beavers and wild rice regulations came in again this week.
CO Mary Manning (Hovland) assisted with firearms and Taser training for new officers at the current CO Academy. She also took calls on a nuisance-beaver complaint and two road-killed moose on the Gunflint Trail.
CO Anthony Bermel (Babbitt) worked a busy week of ATV, boating, and angling enforcement. A detail was worked at the International Falls Port of Entry with CO Simonson. Plenty of enforcement action to report, including no PFDs, unregistered boat, possession of fish unlawfully taken or possessed in Canada (including several overlimits), AIS violations, ATV passenger under 18 without a helmet, litter, and blocking a public access.
CO Don Murray (Two Harbors) worked boating and angling activity this week. High winds over the weekend made for challenging conditions on the water but kept biting insects away. Nuisance-bear complaints are still being reported in the area. Being bear wise and removing any food and attractant is always the best course of action to deter unwanted bear activity.
District 7 - Grand Rapids area
CO Vinny Brown (Northome) patrolled area lakes, checked anglers and boaters, and responded to wildlife-related calls. A large Norway pine tree containing an eagle nest was downed in a storm, resulting in an eaglet becoming trapped and abandoned. The eaglet was freed from the branches it was trapped behind and was transported to a wildlife rehab facility. Enforcement action was taken this week for possession of fish within the protected slot, no fishing licenses in possession, possession of fully dressed walleye fillets, and possession of an overlimit of walleyes.
CO Jayson Hansen (Bigfork) patrolled state parks and checked anglers, boaters and ATV riders. Numerous game and fish-related questions were answered. He also responded to wildlife-related complaints.
CO Mike Fairbanks (Deer River) worked boat and water safety, checked anglers and monitored OHV activity. Many complaints have been taken for boats not complying with the no-wake zones. Enforcement action was taken for license issues, insufficient PFDs, no navigation lights and OHV-registration issues.
CO Brian Holt (Grand Rapids) patrolled recreational vehicle trails and checked anglers during the previous week. Time was also spent monitoring AIS compliance in the area. Holt took nuisance-bear complaints and checked special regulation lakes. Enforcement activity involved ATV and OHM violations.
CO Thomas Sutherland (Grand Rapids) worked recreational boating, angling and ATV activity this past week with summer in full swing. Sutherland took enforcement action for failing to allow a watercraft to be inspected before entering a waterway, not having enough life-saving devices aboard a watercraft and angling with extra lines.
CO Jimmy Van Asch (Pengilly) focused enforcement efforts on angling, boating, ATV, and AIS activities. Van Asch spoke at the Goodland firearms safety class before their field day. A thank you to all the volunteer instructors who assisted with the class. A public waters violation was also investigated.
CO Taylor Hochstein (Hill City) took several nuisance-animal and -wildlife complaints. It is the time of year when people are starting to come across what appear to be abandoned fawn deer. Please remember that a majority of the time these fawns are not truly abandoned, their mother is nearby, and it is best to leave them alone.
CO Jacob Willis (Brookston) fielded regulatory and TIP calls during the week. Ongoing cases were also followed up on. A reported wetland violation was investigated with photos sent to the soil and water conservation district.
CO Andy Schmidt (Duluth West) checked anglers on area lakes and rivers. Angling activity seems to be slowing down but anglers were enjoying the weather. ATV complaints regarding trespassing, operating on closed trails and illegal use along roads were handled. Nuisance- and injured-animal reports were also handled. Please leave fawns alone!
CO Kipp Duncan (Duluth East) followed up on trespass complaints. Both complaints were on private property that was not legally posted, so enforcement action was not taken. Water recreation on area lakes has been increasing due to the warmer weather. Fishing and boating enforcement continues to be worked and time was spent talking with anglers about invasive species regulations at lake accesses.
Lake Superior Marine Unit
CO Matt Miller (Lake Superior Marine Unit) checked anglers and boaters on Lake Superior. Commercial net-marking issues were handled. Multiple nuisance-wildlife calls were handled in the Duluth area. Enforcement action was taken for angling and ATV violations.