DNR Report: Some small game hunters having success
Minnesota Department of Natural Resources report for the week of Oct. 3.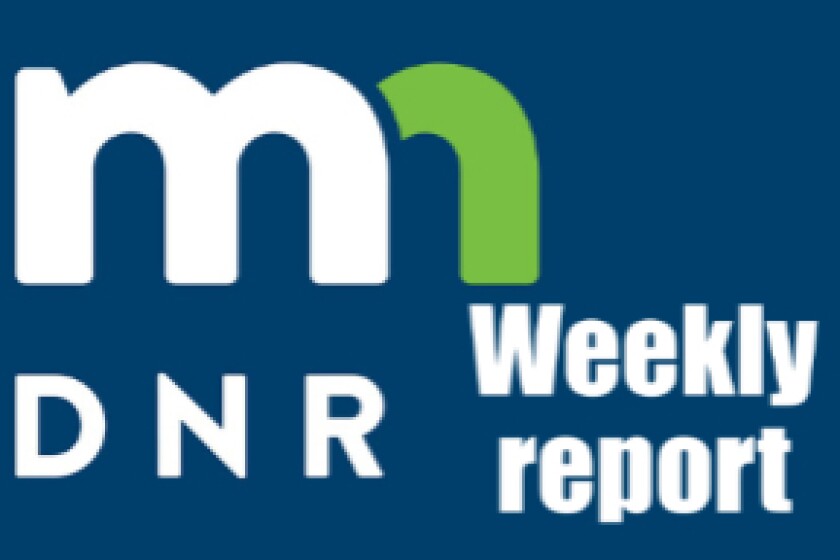 We are part of The Trust Project.
District 5 - Eveleth area
CO Darrin Kittelson (International Falls #1) attended annual in-service training at Camp Ripley and COC Choua Khang attended training in Arden Hills. A youth firearms safety class was held in the International Falls area where approximately 30 kids received their certification. Both officers' work activities continued to focus on fishing enforcement along the Rainy River, small-game hunting, and ATV enforcement throughout the area stations. Enforcement action was taken for several ATV violations.
CO Curtis Simonson (International Falls #2) reports working the Rainy River this past week and working grouse-hunting activity throughout the area. Simonson also assisted with a firearms safety field day in International Falls.
CO John Slatinski IV (Ray) reports more seasonable conditions have brought on an increase in ATV and small-game-hunting activity. Grouse hunters are reporting difficulty trying to find grouse once they leave the trails and openings. Two TIP complaints were investigated using the TIP411 app. If using this avenue, try to leave as much pertinent information as you can for officers to follow up with. Pictures are always helpful if available. Public waters violations were followed up on, as were miscellaneous animal-related complaints. Assistance was provided at a firearms safety class where 26 youth received their certification and Instructor Tom Worth was recognized for over 50 years of volunteer instruction.
CO Troy Fondie (Orr) reports monitoring ATV use throughout the week. Small-game-hunting activities were checked. Area lakes and public access sites continue to be monitored. Phone calls remain steady at all hours of the day related to a variety of outdoor activities. Permits were issued and equipment work was completed.
CO Aaron Larson (Tower) primarily spent time working ATV enforcement and small-game enforcement. He also spent time in meetings with local law enforcement addressing illegal ATV activity.
CO Marc Johnson (Hibbing) primarily worked small-game activity, ATV enforcement, and waterfowl-hunting activity. In addition, time was spent speaking at a firearms safety class in Buhl and preparing station equipment for the change of seasons. Grouse hunters have reported minimal success with lots of thick cover remaining in the woods.
CO Shane Zavodnik (Virginia) spent time attending annual in-service at Camp Ripley over the week. He also followed up on a suspicious vehicle complaint that resulted in two individuals found to have illegally harvested approximately 430 spruce tops on private land. Zavodnik worked ATV and small-game enforcement over the weekend. Many grouse hunters were encountered with reports of few birds harvested. Enforcement action taken over the week included several ATV violations and transporting decorative forestry materials without written consent.
CO Duke Broughten (Aurora) spent the week monitoring fishing, hunting, and ATV activity. Anglers and hunters reported limited success. ATV activity remained high this week. Broughten also assisted with a call regarding illegal spruce-topping.
District 6 - Two Harbors area
CO Sean Williams (Ely #1) spent the week focusing on small-game and waterfowl-hunting enforcement. A good number of grouse hunters were checked specifically looking for spruce grouse, which have increased in popularity as a destination species. A few were seen in bags, but seemed to be difficult for most hunters to target.
CO John Velsvaag (Ely #2) checked anglers and small-game hunters this past week. Fishing has been good for most of the week and grouse hunters were out in full force. Velsvaag had several calls about nuisance animals and trapping-regulation questions.
CO Thomas Wahlstrom (Grand Marais) spent time at Camp Ripley assisting with firearms qualifications. He also checked small-game hunters and ATV riders.
CO Mary Manning (Hovland) checked grouse hunters and saw many people looking at leaves. Some members of each group were oblivious to the fact that they were stopping in the middle of regularly traveled roadways and putting themselves and other drivers at risk. "Bear" is the word of the week with numerous reports of bears being bears and cleaning up under bird feeders and trying to take food packs. Taking in feeders at night still leaves plenty of seed on the ground to attract bears and other wild animals. Manning also assisted with fall training at Camp Ripley.
CO Anthony Bermel (Babbitt) continued work with COC Drown. Both officers attended a couple days of training. Work was conducted with waterfowl hunters. Saturday morning provided a mixed bag with many hunters out. Enforcement action was taken for watercraft without the required safety equipment, shotgun without a plug, transporting a loaded firearm, toxic shot, no small-game license, no federal stamp, and no HIP certification. Further enforcement action was taken for ATV not displaying registration, allowing illegal youthful ATV operation and juveniles without helmets.
CO Matt Miller (Silver Bay) checked grouse hunters and ATV riders in the Finland area. River anglers are out searching for salmon with limited success. The weekend saw the end of the stream trout and lake trout seasons, with continued windy conditions giving anglers a challenge on Lake Superior. Fall colors have the woods full of people pursuing their interests. Enforcement action was taken for ATV and angling violations.
CO Kylan Hill (Tofte) reports attending annual training at Camp Ripley during the week. The pink salmon run is still going strong with stringers of fish being checked on various tributaries. One angler was cited for not having a trout stamp. He admitted that he realized in early August that he forgot to purchase a stamp. He told Hill that his laziness got in the way and he still hadn't purchased one. Hill and U.S. Forest Service Officer Belmore took to their ATVs over the weekend, coming into contact with numerous riders and small-game hunters. Almost every violation detected was for driving a motor vehicle or ATV with an open container of alcohol. One of the open-container drivers was also cited for ATV violations after Hill observed that their 7-year-old passenger did not have a helmet or seatbelt on.
CO Don Murray (Two Harbors) worked small-game and waterfowl-hunting activity this week. Several ATV riders were encountered out enjoying the trails and enjoying the autumn colors, which are nearing their peak. Enforcement action was taken for licensing and registration violations.
District 7 - Grand Rapids area
CO Vinny Brown (Northome) checked anglers and grouse hunters and conducted follow up of ongoing investigations. Wildlife-related calls were responded to, as were trespassing complaints. Training was attended at Camp Ripley.
CO Jayson Hansen (Bigfork) patrolled state parks and checked anglers, waterfowl hunters, boaters, ATV riders, and big-game and waterfowl hunters. Numerous game and fish-related questions were answered. He also responded to wildlife-related complaints.
CO Mike Fairbanks (Deer River) reports limited success for waterfowl hunters with the local birds moving out of the area and northern birds yet to move through. Grouse-hunting conditions continue to improve, and ATV users have been capitalizing on the beautiful autumn season. Calls were fielded regarding hunting complaints, an injured bald eagle, and road-killed deer.
CO Thomas Sutherland (Grand Rapids) worked waterfowl activities over the past week with plenty of ducks still in the area. Enforcement action was taken for not having the proper stamps to hunt waterfowl and not having enough life jackets on a watercraft. Sutherland also gave out road-killed deer permits and ATV permits for partially disabled hunters.
CO Brian Holt (Grand Rapids) worked angling and recreational vehicle activity during the previous week. Time was also spent working boating safety and attending training at Camp Ripley. Enforcement action involved angling license violations.
CO Jimmy Van Asch (Pengilly) reports working waterfowl- and small-game-hunting, ATV, and angling enforcement activities. Waterfowl and grouse hunters experienced moderate success this past week. Several questions regarding waterfowl and angling regulations were fielded and answered as well.
CO Taylor Hochstein (Hill City) continued to focus on small-game hunting and ATV activity. Grouse hunting continues to be good and is expected to get better as more leaves fall from the trees and shrubs. Enforcement action was taken for grouse- and woodcock-hunting violations. Several cases were worked on where people abandoned property and/or dumped garbage in the woods.
CO Jake Willis (Brookston) instructed at in-service training at Camp Ripley this week for Division officers from around the state. Willis also gave a law and ethics talk at a firearms safety class in Floodwood. Small-game hunting and angling activity were also monitored.
CO Andy Schmidt (Duluth West) worked small-game hunters and waterfowl hunters during the week. Leaf cover is still heavy but some birds were seen in the bag. He attended in-service training at Camp Ripley and assisted Pine County with a search for a missing hunter in the Nemadji State Forest.
CO Kipp Duncan (Duluth East) and COC Dallas Cornell assisted with a locating a lost small-game hunter in the Nemadji State Forest. They checked shoreline anglers. They patrolled the area checking waterfowl and small-game hunters, and conducted ATV enforcement. Cornell attended training in Arden Hills while Duncan attended annual training at Camp Ripley.
CO Ben Karon (Pine City) spent his time working at in-service training at Camp Ripley this week.
CO Mikeena Mattson (Willow River) worked small-game-, waterfowl-, archery deer and bear-hunting activity this week. People enjoying the ATV trails were contacted. Various hunting related complaints were investigated. Training was completed at Camp Ripley.
CO Tony Elwell (Cloquet) assisted the Pine County Sherriff's Office with a missing hunter in the Nemadji State Forest. The hunter was found safe. Elwell also patrolled the station for waterfowl-hunting activity throughout the station. Elwell observed that blue-winged teal numbers have increased, whereas wood duck numbers have dropped throughout the week. Hunter success was location-specific, with quick limits in some areas. Enforcement action was taken for various waterfowl-hunting violations.