DNR Report: Officers trap 3 cubs after homeowner shoots mother bear
Minnesota Department of Natural Resources report for the week of July 5.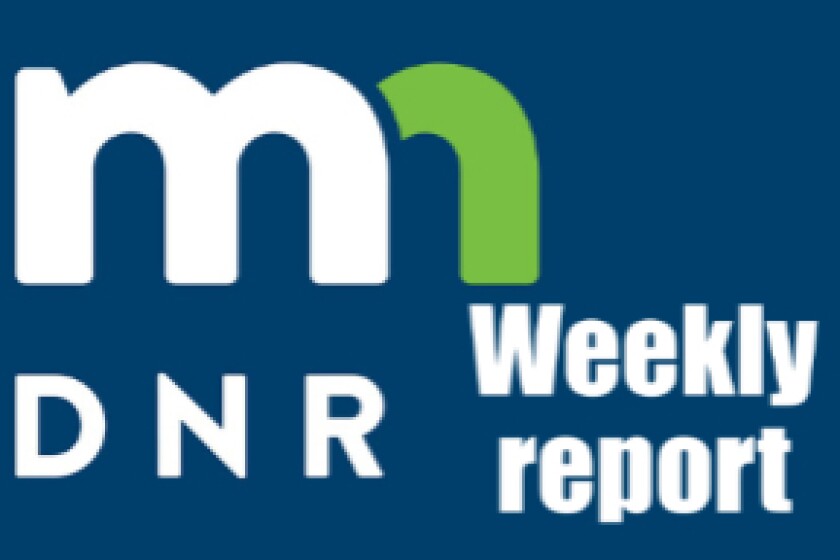 We are part of The Trust Project.
District 5 — Eveleth area
Conservation officer Darrin Kittelson (International Falls 1) reports fishing and boating safety enforcement on the Rainy Lake and Rainy River was the main emphasis of the work activity for the week. The water levels on Rainy Lake and Rainy River are slowly receding but still remain high, so people are reminded to use caution and respect the no-wake zone ordinances that are still in effect.
CO Curtis Simonson (International Falls 2) spent the past week working Rainy Lake and area rivers. Fishing reports were good throughout the week. Nuisance-animal complaints were handled throughout the week as well. Enforcement action was taken for various boat safety equipment violations, failing to validate a sturgeon tag and possessing illegal-length walleyes.
CO John Slatinski IV (Ray) reports nice weather for the holiday made for good boating conditions and many groups were contacted making the best of it. Compliance with boating rules was high overall. Angling reports have been mixed with conditions and hot spots being inconsistent.
Boat wakes continue to be a threat to some areas and structures as the water recedes. Be mindful and take ownership for your boat operations. An investigation into illegal garbage dumping at a campground facility was completed with the responsible parties contacted.
CO Troy Fondie (Orr) reports monitoring angling and boating activities over the week. Holiday weekend traffic was down considerably from previous years. Numerous bear issues were dealt with. Beavers continue to cause problems. Area forest roads were checked. Equipment work was completed.
CO Aaron Larson (Tower) worked primarily angling and ATV enforcement. Larson spent time on various lakes throughout the weekend. Anglers found moderate success on most lakes.
Violations included failure to possess a throwable floatation device on a watercraft; failure to have a fire extinguisher on a watercraft; taking fish without a license; no angling license in possession; failure to purchase a state park pass; failure to display watercraft registration and numbers; operating an ATV on a state highway; and taking a walleye overlimit.
Larson also spent time fielding calls about overflowing public water accesses, bear problems and injured animals.
CO Marc Johnson (Hibbing) primarily worked ATV and boating/angling enforcement. Time was also spent following up on calls and planning for an upcoming training. Violations encountered included expired boat registration; careless driving; blocking a public access; and unlawful use of license plates.
CO Shane Zavodnik (Virginia) spent time patrolling area lakes and ATV routes during the busy holiday weekend. Zavodnik assisted the State Patrol with a driving complaint involving a suspect car nearly crashing into multiple vehicles during the event. Zavodnik was able to get the vehicle safely stopped after it nearly rear-ended the vehicle in front of it. The suspect was found to be heavily intoxicated and was taken into custody thereafter.
Multiple boating registration, boating safety and ATV violations were encountered during the course of the week.
CO Duke Broughten (Aurora) spent the week monitoring fishing, boating, and ATV activity. Anglers reported limited success this week. Boating and ATV activity increased over the holiday weekend, but activity still appeared lower than past years. Broughten also fielded calls regarding injured animals, Minnesota residency requirements, and commercial minnow harvesters.
District 6 — Two Harbors area
CO Sean Williams (Ely 1) reports he fielded several nuisance-bear complaints in the Ely area and Boundary Waters Canoe Area Wilderness. Angling and fishing activity were high, as expected, for the Fourth of July weekend. Violations included angling without a license; no lifesaving device on board a watercraft; and fail to display valid registration.
CO John Velsvaag (Ely 2) checked anglers this past week. Fishing has slowed down on several lakes and calls keep coming in about northern pike regulations. Velsvaag also followed up on calls about minnow and crayfish traps and had several calls about nuisance animals.
CO Thomas Wahlstrom (Grand Marais) worked the busy holiday weekend checking anglers, boaters and ATV riders. Enforcement action was taken for angling and watercraft violations.
CO Mary Manning (Hovland) led a work detail patrolling BWCAW lakes with other officers. She checked anglers, boaters and ATV operators during the holiday weekend.
Manning also took calls of illegal camping on Lake Superior's shores, questions on road conditions and cars stuck on snowmobile trails. Travelers are advised to get a paper map or download one from the DNR before venturing onto "roads" that mapping apps might send them down. Also, if it doesn't appear well-traveled, there is probably a very good reason for that!
CO Kylan Hill (Tofte) reports seeing numerous state record mosquitoes on the wing, probably leading to a quieter than usual week leading up to the Fourth of July holiday. BWCAW-goers reported an onslaught of bugs but were positive about the successful smallmouth bass and walleye bite.
On that note, Hill was happy to hear that the fishing was excellent on many local lakes, with near-limits being seen in livewells. Recreational boaters were worked and a few personal watercraft issues were ironed out, mostly dealing with juveniles. One boat captain was cited for operating a pontoon with three riders under the age of 10 not wearing personal flotation devices. One of the kids was a baby. Hill was told that it was much safer to be strapped to the chest of the adult, even though the adult was not wearing a personal flotation device, either.
ATV traffic is beginning to pick up with only a few headlight violations encountered. Other various watercraft registration and navigational light violations were documented.
CO Don Murray (Two Harbors) worked angling and boating activity during the week. Many boaters were out enjoying the holiday weekend, but activity was down compared to past years with overall law compliance being very good. Enforcement action was taken for a public waters violation.
District 7 — Grand Rapids area
CO Vinny Brown (Northome) spent the week checking anglers on area lakes. Two people were found in possession of a walleye overlimit on Island Lake. The pair was also found with an extra line in the water. Enforcement action was taken for both violations.
The Fourth of July weekend was spent patrolling lakes by boat and monitoring ATV activity. Boat safety violations were addressed as well as ATV violations. Enforcement action was taken for insufficient life jackets; ATV helmet violations; open alcohol containers on ATVs on public roadways; and taking fish without a license.
CO Jayson Hansen (Bigfork) patrolled state parks and checked anglers, boaters and ATV riders. Numerous game and fish-related questions were answered. He also responded to wildlife-related complaints.
CO Brian Holt (Grand Rapids) worked boating safety and checked anglers during the past week. Time was also spent on recreational vehicle activity and assisting with a youth boating safety class in Grand Rapids. Holt worked a busy Fourth of July weekend in the Grand Rapids area. Enforcement activity involved ATV, boating safety and angling violations.
CO Thomas Sutherland (Grand Rapids) worked a busy and long Fourth of July weekend with many anglers and recreational boaters on area lakes. Sutherland took enforcement action for boats that were overloaded; didn't have enough life jackets on board; ATVs with expired registration; youth under 18 with no helmets; and for angling without a license in possession.
CO Jimmy Van Asch (Pengilly) reports working a busy holiday weekend. Several angling, boating, and ATV contacts were made despite subpar weather. Enforcement action was taken for angling with extra lines, no angling license, insufficient number of personal flotation devices on board, and several watercraft-registration violations.
CO Taylor Hochstein (Hill City) focused efforts primarily on boating and fishing activity. Area ATV trails are very wet and muddy due to recent rain storms. Hochstein followed up on several boating and ATV complaints. Enforcement action was taken for violations including angling without a license; extra lines; ATVs on state highways; and juveniles not wearing approved helmets on ATVs.
CO Jacob Willis (Brookston) saw a fair amount of ATV activity and a lot of boats on the water and in transport. There was good compliance with aquatic invasive species laws on boats being transported. Enforcement action was taken for allowing unlawful juvenile operation of an ATV; expired registration; no ATV safety training; no helmet on an ATV; improper amount of personal flotation devices; and improper display of boat registration.
CO Andy Schmidt (Duluth West) handled a call where a homeowner shot an adult sow bear. He assisted DNR Wildlife with trapping three cubs and delivering them to Wild and Free in Garrison. Schmidt attended a lake association meeting and worked boating and fishing activity over the holiday weekend.
CO Kipp Duncan (Duluth East) spent time working boating and fishing enforcement on area lakes. Time was also spent educating boaters on invasive species regulations at area accesses. Duncan assisted CO Schmidt with relocating three bear cubs he trapped because their mother was killed. One day was spent cleaning the patrol vehicle and picking up a new one in the metro area.
Lake Superior Marine Unit
CO Matt Miller (Lake Superior Marine Unit) worked a boat and water safety detail on Lake Minnetonka. Many boats were on the water celebrating the holiday weekend following morning rain. Unfortunate repeated violations were found for children under 10 not wearing a personal flotation device. Juvenile personal watercraft violations were also common as parents sent their kids out to ride without much supervision. Enforcement action was taken for watercraft and angling violations.