DNR Report: Multiple bear-related complaints but complaints expected to drop off soon
Minnesota Department of Natural Resources report for the week of Aug. 15.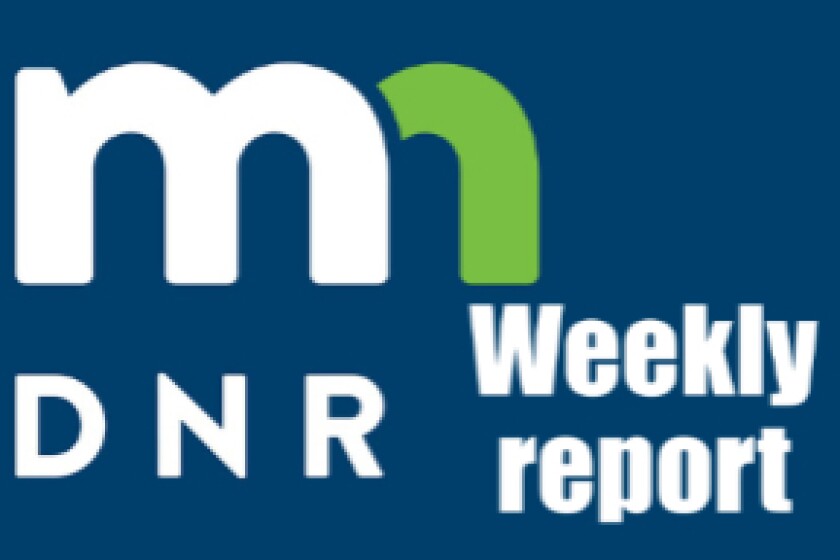 We are part of The Trust Project.
District 5 - Eveleth area
CO Darrin Kittelson (International Falls #1) reports fishing and boating continue to be the main focuses of the work activity. Bear baiting started this weekend so work is starting to shift from the water to the woods. An invasive species check station was worked at the U.S. Customs Port of Entry in International Falls over the weekend. Enforcement action for the week included insufficient number of PFDs onboard watercraft, burning prohibited materials, and invasive species violations.
CO Curtis Simonson (International Falls #2) reports working Rainy Lake and the Rainy River this past week. Fishing reports remain good on both the lake and river. With the bear baiting opening up this past weekend, bear-bait registration was monitored and AIS work was conducted at the U.S. Port of Entry in International Falls.
CO John Slatinski IV (Ray) reports invasive species compliance was monitored, along with boating and angling activity. Drain plugs left in bilge drains of watercraft was a common violation observed. Questions on upcoming hunting seasons and bear baiting were fielded. The rest of the week was spent at training.
CO Troy Fondie (Orr) reports monitoring angling and boating over the week. Area forest roads were checked and public access sites monitored. Equipment work and administrative tasks were completed. Time was spent returning phone calls.
CO Aaron Larson (Tower) worked primarily angling, ATV, and bear baiting. He began several investigations on complaints of violations on Lake Vermilion. He also spent time checking ATV trails and people placing bear baits as well.
CO Marc Johnson (Hibbing) primarily worked ATV and boating/angling enforcement. Bear baiting began over the weekend and multiple bait sites were checked. Time was also spent presenting at a firearms safety class in Hibbing and assisting local law enforcement agencies on a variety of calls. Violations encountered included angling with extra lines, taking fish without a license, expired registration, and driving after revocation.
CO Shane Zavodnik (Virginia) spent time helping out at the CO Academy with boating operations throughout the week. He also spent time working a detail in the Duluth area. Violations encountered include illegal-length walleyes and bass, angling without a license, and boating safety and registration violations.
CO Duke Broughten (Aurora) spent the week monitoring fishing and ATV activity. Broughten fielded calls regarding injured animals and waterfowl regulations. He also assisted local law enforcement in a search for a lost child. The child was located a short distance from her home in good health.
District 6 - Two Harbors area
CO Sean Williams (Ely #1) reports fishing in the Ely area was very good over the weekend. Bear-baiting activity was low and only a few baits were placed. Ample wild food meant that a lot of bear sign was seen but no baits checked had been visited by bears.
CO John Velsvaag (Ely #2) checked anglers and bear-baiting activity this past week. He also did some AIS work near several lakes. Velsvaag received several calls about ATVs operating illegally on Highway 169 and Highway 1 near Ely and questions about the statewide northern pike regulations.
CO Thomas Wahlstrom (Grand Marais) spent time checking bear-bait stations, anglers and ATV activity. Time was spent on area trout lakes and he continued to investigate a trapping complaint.
CO Anthony Bermel (Babbitt) worked ATV, angling, boating, and bear-baiting enforcement activities and patrolled in the BWCAW. Law compliance was better this week. Enforcement action was taken for minnow-trapping violations.
CO Kylan Hill (Tofte) reports the fall hunting seasons are upon us with the bear-baiting season starting over the weekend. Numerous phone calls and questions were answered and the first few baits were checked with no violations observed. A few stream trout anglers were contacted chasing brook trout. ATV riders were monitored and a stop was conducted for no headlights. ORV issues were addressed. Hill assisted the Cook County Sheriff's Office, EMS, and Rescue with numerous calls throughout the week.
CO Don Murray (Two Harbors) worked angling activity and answered questions on the upcoming bear season. Murray also worked on preparations for upcoming youth safety classes and Division training items.
District 7 - Grand Rapids area
CO Vinny Brown (Northome) checked anglers and conducted boat safety checks. Wildlife-related calls were taken and questions were answered about bear baiting. Brown assisted with conducting aquatic invasive species checks at the International Falls border crossing. Enforcement action was taken for invasive species violations, boat safety violations, and no fishing licenses in possession.
CO Jayson Hansen (Bigfork) patrolled state parks and checked anglers, boaters and ATV riders. Numerous game and fish-related questions were answered. He also responded to wildlife-related complaints.
CO Mike Fairbanks (Deer River) checked anglers, monitored bear baiting and worked an AIS detail this week. Enforcement action was taken for license issues and failure to remove drain plugs from watercraft.
CO Thomas Sutherland (Grand Rapids) worked angling activity with some of the walleye action picking up, especially during the lower-light hours of the day. Enforcement action was taken for failing to transfer a boat title, angling without a license and angling without a license in possession. Sutherland once again dealt with multiple bear-related complaints of the bruins doing damage to bird feeders, garbage cans and even one that wandered inside a garage. With the upcoming bear-baiting and hunting season, complaints should tail off in the near future.
CO Jimmy Van Asch (Pengilly) worked angling, boating, ATV, AIS, and big-game enforcement throughout the surrounding areas. Bear-baiting activity was monitored, as well. Enforcement action was taken for several angling, boating, and AIS violations.
CO Taylor Hochstein (Hill City) continued to focus on fishing, boating, and ATV activity. Several questions were answered regarding the upcoming bear-hunting season. Bear hunters in the area are anticipating a good season with several reported sightings and trail camera pictures lately.
CO Jacob Willis (Brookston) checked angling and ATV activity this week. Anglers were out enjoying the weather and compliance was good overall. Wetland, public waters, and illegal burning cases were also handled. Enforcement action was taken for burning prohibited materials, failure to obtain a burning permit, no license in possession and insufficient PFDs on a watercraft.
CO Kipp Duncan (Duluth East) spent time at Camp Ripley assisting with training at the Academy during the week. A trespass complaint was investigated and will require more follow-up investigation. Duncan participated in a neighborhood kid event as a speaker. Other enforcement work throughout the week included fishing and boating enforcement and working ATV-complaint locations.
CO Ben Karon (Pine City) spent time this week answering many phone calls and dealing with miscellaneous wildlife-related complaints. Litter/Dumping complaints were investigated. Trespassing, ATV and early bear-baiting calls were handled. Time was spent on Lake Superior and the St. Louis River on patrol for extra enforcement during the Blues Festival in Duluth.
Lake Superior Marine Unit
CO Matt Miller (Silver Bay) instructed at the DNR Academy all week.