DNR Report: Leave fawns alone and be aware of bears
Minnesota Department of Natural Resources report for the week of June 13.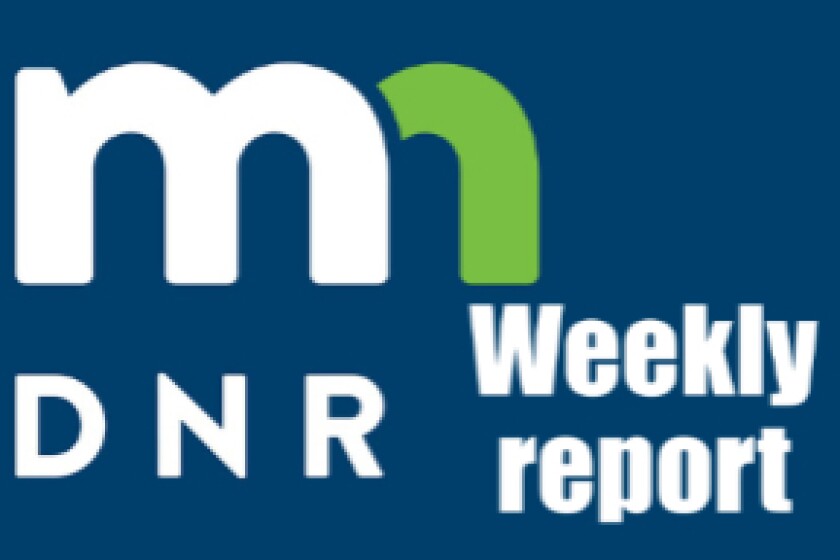 We are part of The Trust Project.
District 5 - Eveleth area
CO Darrin Kittelson (International Falls #1) reports continuing to assist the Koochiching County Sheriff's Office with flood relief efforts on Rainy Lake. A youth firearms safety class in Littlefork was held at which 18 area youth received their certification. Other training was attended and miscellaneous animal-related complaints were handled. People are reminded that the no wake zone was continued and extended out to 500 feet from shoreline on Rainy Lake. Please be respectful and careful.
CO Curtis Simonson (International Falls #2) reports spending time this past week checking anglers on Rainy Lake and the Rainy River. Simonson also assisted with a firearms safety class and completed equipment maintenance.
CO John Slatinski IV (Ray) reports fishing reports have become less enthusiastic, and the biting insect population has exploded. Head nets have become the new fashion statement. Water levels are beginning to recede, which is going to expose new hazards on waterways that people have been fortunate to miss. Rock markers have not been installed on all the traditionally marked locations due to water levels. Boat wakes continue to be a common complaint. Whitetail fawns and black bears are beginning to make more appearances in residential areas. Remove all food sources to avoid black bear conflicts. Leave fawns alone as the mother is not far away, and has not abandoned her baby.
CO Troy Fondie (Orr) reports monitoring angling, boating, and ATV activities. Commercial bait trapping activities were checked. Public access sites and area forest roads were visited. Fishing remains slow. Border lakes remain flooded. Equipment work continues. Administrative tasks were completed.
CO Aaron Larson (Tower) worked primarily angling and ATV enforcement throughout the week. He also took several calls regarding bears. The water remains fairly high on Lake Vermilion.
CO Marc Johnson (Hibbing) primarily worked ATV and angling activity. Violations encountered included allowing illegal ATV operation, expired boat/ATV registration, and no angling license in possession. Nuisance-bear reports continue to be fielded and people are reminded to remove/hide food sources (such as bird feeders and garbage cans) to deter bears from coming onto their property.
CO Shane Zavodnik (Virginia) spent time working in the Boundary Waters over the weekend. Most anglers found success targeting walleyes and panfish throughout the area. Due to heavy rainfall this spring, Zavodnik reports an abundance of mosquitos throughout the region, with many campers commenting how thick the bugs have been. Zavodnik took enforcement action in regards to a number of watercraft and angling violations encountered throughout the week.
District 6 - Two Harbors area
CO Sean Williams (Ely #1) reports he patrolled areas within the BWCA over the week. He found some campsites half submerged and portages that resembled narrow rivers due to continued spring flooding in the Lac La Croix area. Angling success was good and the reduction in permits at the Moose River North entry point was noticeable with a number of groups found on lakes being much lower. Violations included angling without a license in possession and failure to display current registration.
CO John Velsvaag (Ely #2) checked anglers this past week. Fishing was pretty good and the more stable weather seemed to help anglers getting fish. Velsvaag also attended training in Bemidji and took several calls about bears.
CO Mary Manning (Hovland) patrolled area lakes and accesses. Manning also attended training, handled equipment maintenance and took a call regarding concerns over commercial netting of fish. She also took a report of a bear refusing to leave a meal at a bird feeder, which is normal bear behavior this early in the season.
CO Anthony Bermel (Babbitt) attended training in Bemidji. Twenty youths were certified in ATV safety in Babbitt. Thanks to the volunteers for their assistance. Time was spent patrolling in the BWCAW. The fish were biting pretty well, as were the bugs. Enforcement action was taken for fishing without a license, no PFD, expired canoe registration, failure to transfer watercraft ownership, cans in the BWCAW, and burning prohibited materials.
CO Kylan Hill (Tofte) reports anglers and boaters were dodging an onslaught mosquitos and blackflies throughout the week. Walleye success was not the best, but muskies were hungry on Crescent Lake. A citation was issued after Hill found an unattended campfire. With high fire danger once again, it is important people are more careful with their fires. Other violations addressed were failure to display watercraft registration, failure to transfer watercraft title, and failure to remove a boat plug. Hill attended a Cook County Coalition of Lake Associations meeting at the Cook County Community Center in Grand Marais.
CO Don Murray (Two harbors) worked boating and ATV activity during the week. Several ATV trails are still closed in the area from water washouts and trail repairs. Murray responded with Lake County deputies to an overdue-canoeist call in the BWCAW. The person was located safely on an area portage on their way back to a parking area.
District 7 - Grand Rapids area
CO Vinny Brown (Northome) checked anglers, enforced aquatic invasive species laws, and responded to various animal-related calls. Brown responded to a brush fire that started as a result of a smoldering stump. The fire was contained with the help of people in the area who noticed the fire from their boat. Local and Forest Service firefighters responded and put out any remaining embers inside the perimeter. Enforcement action was taken for failure to control a permit fire. Other violations encountered were failure to remove the drain plug from a boat, parking in an area at a public access closed to parking, and failure to drain water-related boat equipment.
CO Jayson Hansen (Bigfork) patrolled state parks and checked anglers, boaters and ATV operators. Numerous game and fish-related questions were answered. He also responded to wildlife-related complaints.
CO Mike Fairbanks (Deer River) checked anglers, monitored OHV activity and responded to nuisance-animal complaints. Angler success continues to be great. Enforcement action was taken for license issues and OHV registration issues.
CO Thomas Sutherland (Grand Rapids) worked anglers in the area, with the walleye bite heating up in the area. Enforcement action was taken for angling without a license and having expired registration on a watercraft. Sutherland also gave two youth ATV safety class presentations.
CO Brian Holt (Grand Rapids) focused on boating safety and angling activity during the last week. Time was also spent monitoring AIS compliance in the area and working a detail in the BWCA. Holt attended training and took miscellaneous wildlife-related complaints. Enforcement activity involved angling violations.
CO Taylor Hochstein (Hill City) continued to focus primarily on fishing, boating, and ATV activity. A good panfish and walleye bite was reported from most anglers. ATV trails are in good shape but are very dusty in areas. Violations addressed included angling without a license, ATV's on state highways, and youth passengers not wearing helmets.
CO Jacob Willis (Brookston) patrolled for ATV and angling activity in the station and followed up with ongoing TIP calls. Administrative details and regulatory questions were fielded. Enforcement action was taken for failure to display registration and operating an ATV without headlights illuminated.
CO Andy Schmidt (Duluth West) focused on angling and boating activity during the week. ATV complaints continue and time was spent working trailheads and problem areas. He investigated a complaint of a person who picked up a fawn and was keeping it at his residence. The fawn was recovered and delivered to a rehab facility. Please leave fawns where they are and do not remove them from their habitat.
Lake Superior Marine Unit
CO Matt Miller (Lake Superior Marine Unit) checked boaters and anglers on Lake Superior. ATV use is high, with many violations for speed and riding in the traffic lanes of highways. Summer activity is beginning along the North Shore with plenty of traffic, new boaters, and park visitors. Enforcement action was taken for ATV and boating violations.