DNR Report: Investigating a human-caused fire inside the BWCAW
Minnesota Department of Natural Resources report for the week of Aug. 8.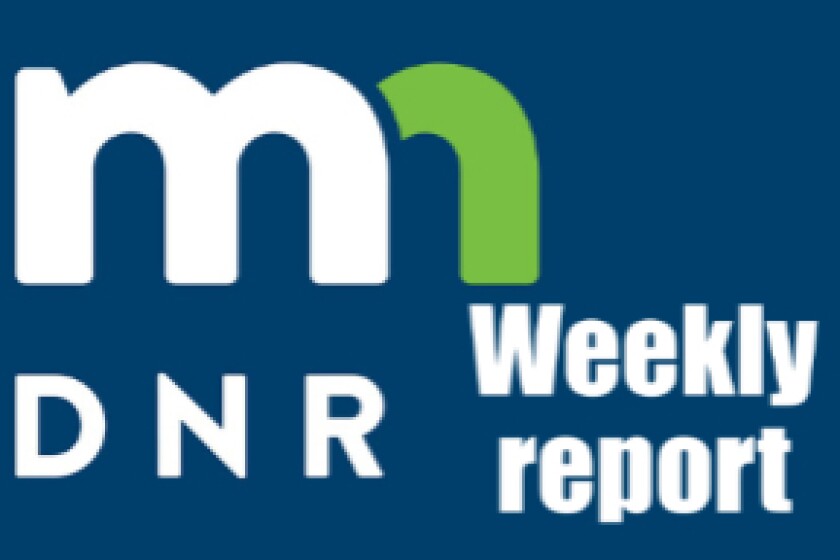 We are part of The Trust Project.
District 5 - Eveleth area
CO Darrin Kittelson (International Falls #1) worked fishing and boating enforcement on the Rainy River and Rainy Lake. Kittelson also attended meetings in regards to upcoming Academy training at Camp Ripley. Questions were fielded about a recent boating accident on Rainy Lake.
CO Curtis Simonson (International Falls #2) reports checking anglers on Rainy Lake and the Rainy River. Anglers reported fishing was good. Time was spent monitoring ATV traffic on forest roads and area trails, along with working in the BWCA for a few days. Enforcement action taken this past week consisted of fishing with extra lines, failure to display registration and not having enough PFDs.
CO John Slatinski IV (Ray) reports the rain held off for a successful National Night Out event in International Falls. There was a good turnout and many questions were answered on a variety of topics. Angling and boating activity continue to be strong with the fish bite slowing a bit this past week. That aside, there was enough success to provide fish for meals. Dodging storm cells on the water continued to be a common topic among campers, anglers, and boaters.
CO Troy Fondie (Orr) reports monitoring angling and boating over the week. Area forest roads were checked and public access sites monitored. Equipment work and administrative tasks were completed.
CO Aaron Larson (Tower) worked ATV, OHM, and angling enforcement. Larson took and investigated state park violations, shoreline violations, and wildlife-related calls.
CO Marc Johnson (Hibbing) primarily worked ATV and boating/angling enforcement. Time was also spent speaking at a youth police academy in Hibbing and assisting local law enforcement agencies search for a missing person. A National Night Out event was attended and multiple calls were followed up on.
CO Shane Zavodnik (Virginia) spent time working on a background investigation for the CO hiring process. He also spent time getting equipment ready for the boating operation week at the CO Academy.
CO Duke Broughten (Aurora) spent the week monitoring fishing and ATV activity. Few anglers were found on area lakes. Anglers encountered reported limited success. ATV activity remained high this week. Broughten also fielded calls regarding boat registration and safety education requirements.
District 6 - Two Harbors area
CO Sean Williams (Ely #1) assisted the U.S. Forest Service with investigating a human-caused fire inside the BWCA. It occurred outside of a designated campsite after a campfire ignited a compressed butane cylinder and started a bank of the Little Indian Sioux River on fire. Wilderness visitors reported the fire and had it mostly extinguished by the time a fire crew could get to it. After an investigation and several interviews, a suspect was identified and cited.
CO Mary Manning (Hovland) worked Lake Superior and Agate Bay, providing security for the Tall Ships event and checking boaters and anglers. Manning also spent time patrolling in Grand Marais and assisting Cook County deputies. Numerous reports of bears behaving like bears were received, primarily in the BWCA where campers have left food packs unattended or failed to properly hang them. Like Yogi, bears learn quickly to wait and watch from the woods for a chance to get the goodies. A bear-proof food container is one way to thwart them.
CO Anthony Bermel (Babbitt) attended a planning meeting for the current CO Academy's upcoming fishing week. He also attended Babbitt's National Night Out event. A detail was worked for the Tall Ships event in Two Harbors. Station lakes and ATV trails were patrolled, as were lakes in the Silver Bay station. One angler attempted to use someone else's fishing license, but it quickly unraveled for her when she forgot it at the cabin and had a hard time answering basic questions like middle name, date of birth, and address. Enforcement action included several instances of fishing without licenses and trout stamps, extra lines, insufficient PFDs, expired watercraft registration, litter, and providing a false name.
CO Kylan Hill (Tofte) reports focusing his time on boating safety and angling enforcement throughout the week. Time was spent amongst the tall ships at the Festival of Sail in Two Harbors. Hill also patrolled the Grand Marais Harbor during Fisherman's Picnic, contacting anglers and boaters. Limits of lake trout were seen and the violations were few and far between. Hill spoke with WTIP this week about how the nuisance-bear activity in the station has been nonexistent with the abundance of berries, but that statement came back to haunt him as a bear complaint came in the next day. BWCA compliance has also been great as Hill bumped into some people entering and exiting the Wilderness. Hill began patrolling the area for ATV and bear-hunter activity as the bear-baiting opener is fast approaching.
CO Don Murray (Two Harbors) worked boating and angling activity at the start of the week. Lake trout fishing continued to be good on Lake Superior. Blueberry crops were starting to be harvested and wild rice beds are starting to be monitored for the upcoming harvest.
District 7 - Grand Rapids area
CO Jayson Hansen (Bigfork) patrolled state parks and checked anglers, boaters and ATV riders. Numerous game and fish-related questions were answered. He also responded to wildlife-related complaints.
CO Mike Fairbanks (Deer River) checked anglers, monitored OHV activity and responded to nuisance-animal complaints. Fairbanks and his K9 partner Si also gave a demonstration and talk at the Minnesota Trappers Association convention. Enforcement action was taken for license issues.
CO Brian Holt (Grand Rapids) checked angling and recreational vehicle activity. Time was also spent following up on open cases. Holt took several complaints involving public waters, small-game and boating violations.
CO Thomas Sutherland (Grand Rapids) worked ATV and angling activities this past week, with fishing slowing down on area lakes as usual for the month of August. Sutherland again took multiple bear-related complaints in the area, with many bears looking for a bird feeder snack.
CO Taylor Hochstein (Hill City) fielded several calls on nuisance and injured animals. Time was spent assisting with the Officer Water Survival training for the conservation officer candidates in Staples. ATV and angling activity was also monitored. Violations included children under 18 on an ATV not wearing a helmet and registration issues.
CO Jacob Willis (Brookston) worked on Lake Superior for the Tall Ships event in Agate Bay. The weather for the Parade of Sail was perfect, with glass-calm water the entire day. Willis also assisted DNR Wildlife in evaluating a bear with cubs that was behaving strangely. It was determined to most likely be heat-related, and the bear eventually went back into the woods with her cubs. Willis also began investigating a location with unlawful wetland fill and shoreline work.
CO Andy Schmidt (Duluth West) worked anglers and boaters on area lakes and rivers. The fishing has been tough but the weather has been great for boating and tubing. He assisted with the tall ships event in Two Harbors and worked the Parade of Sail as the ships entered the harbor. Nuisance-animal complaints have been coming in quite regularly and ATV complaints handled throughout the week.
CO Kipp Duncan (Duluth East) checked several anglers throughout the week. Time was spent working from watercraft as well as on foot at area shore-fishing locations. ATV activity is picking up around the area and complaints are coming in of youth operation and ATV trespass. Duncan spent time assisting with training new conservation officers during the week.
CO Ben Karon (Pine City) spent time this week conducting ATV patrols in the area. Online trainings were completed and anglers were checked. He took part in a game farm inspection and spent time answering questions and talking with community members at the Pine County Fair during the week.
Lake Superior Marine Unit
CO Matt Miller (Lake Superior Marine Unit) checked ATVs, boats, and anglers during a busy week along the North Shore. A water safety and security detail was worked for the Tall Ships event in Two Harbors. Miller patrolled state parks along the shore during the week and received a TIP involving an injured deer. Enforcement action was taken for boating and ATV violations.