DNR Report: Grouse hunters report mixed success
Minnesota Department of Natural Resources report for the week of Sept. 19.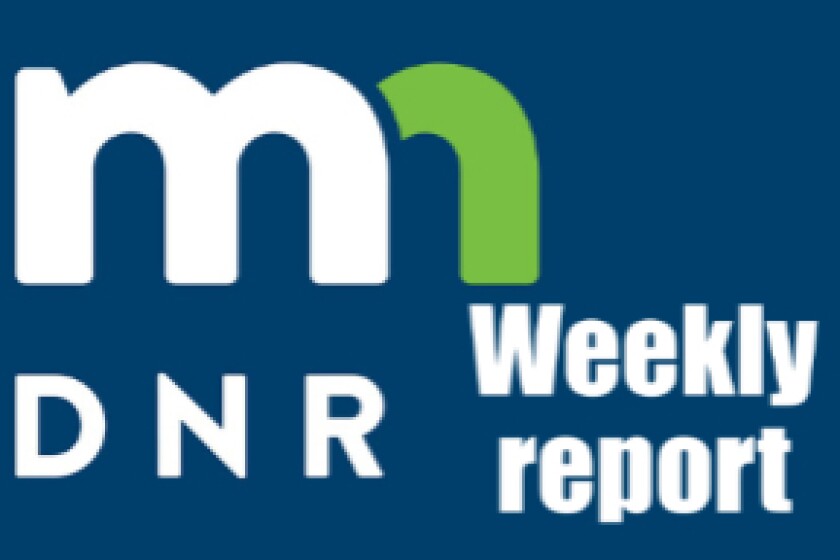 We are part of The Trust Project.
District 5 - Eveleth area
CO Darrin Kittelson (International Falls #1) reports spending most of the week at Camp Ripley for annual emergency vehicle operation instructing. Animal-related complaints and small-game-hunting opener took place as well.
CO Curtis Simonson (International Falls #2) reports attending the Fur Takers of America Trappers College in Indiana this past week.
CO John Slatinski IV (Ray) reports fall activities are now getting into full swing with a plethora of opportunities to spend time outdoors available. Anglers are providing mixed reports of success with multispecies creels observed. Early season goose hunters have been finding success and increasing numbers of geese have been observed in the area. Grouse hunters were contacted with most reporting few birds in the bag due to heavy vegetation in the woods. ATV use has increased as the weather cools, although insect numbers are still high as well. Several calls about miscellaneous wildlife-related complaints and uncommon species for the area were fielded. Training was also attended at Camp Ripley.
CO Troy Fondie (Orr) reports monitoring area lakes and public access sites. Area forest roads were checked and ATV use were monitored. Two inches inches of rain fell locally. Fishing activities and boating continue. Small-game and waterfowl hunting were checked. Equipment work and administrative tasks rounded out the week.
CO Aaron Larson (Tower) spent most of his time in training during the week. He also spent time checking grouse hunters, who had mixed success over the weekend. Violations were related to transporting loaded firearms.
CO Marc Johnson (Hibbing) primarily worked ATV and fishing activity. The small-game and archery deer seasons opened over the weekend, but overall less activity than expected was observed. In addition, time was spent training at Camp Ripley, presenting at a firearms safety class in Hibbing, and checking areas throughout the station known for illegal timber harvest.
CO Shane Zavodnik (Virginia) spent time following up on multiple complaints and assisting with EVOC training over the week. Heavy vegetation and warm weather led to a slow opening weekend of small-game season, and the last weekend of early goose season led to low numbers of geese being harvested. Zavodnik continues to compete various investigations and administrative work.
CO Duke Broughten (Aurora) spent the week monitoring fishing, ATV, and hunting activity. Fall anglers and goose hunters reported moderate success. Few hunters were observed over the small-game and archery deer-hunting opener. Broughten fielded calls regarding waterfowl-hunting regulations. Class 1 and Class 2 ATV operators/owners are reminded people under 18 are required to wear an approved helmet. If the child is too small to wear a helmet, the child will need to wait to be a passenger on the ATV.
District 6 - Two Harbors area
CO Sean Williams (Ely #1) reports the Ely area had a very well attended small-game opener over the weekend. Although a huge number of hunters were contacted in the woods and on the trails and forest roads, only a handful of hunters reported any success. Most blamed the still-green and very dense ground cover for the slow beginning of the season.
CO John Velsvaag (Ely #2) checked grouse hunters and anglers this past week. He also followed up on several complaints and fielded multiple questions on archery hunting and the firearms deer season.
CO Thomas Wahlstrom (Grand Marais) worked the small-game opener with area officers. Time was spent checking small-game hunters and anglers on area lakes. Enforcement action was taken for hunting and ATV violations.
CO Mary Manning (Hovland) checked campers in state forest campgrounds and responded to a report of abandoned gear at a park campground. Manning checked anglers and followed up on reports of illegally taken brook trout. She also found an overlimit of lake trout. Grouse hunters checked had good success and compliance was generally good. Manning did take calls of hunters littering, trespassing and shooting toward cabins on posted property. ATV operators were also checked and compliance was generally good. One group of Class 2 ATV drivers received tickets and warnings from Manning, which they apparently didn't heed as they were stopped again the following day and cited by a neighboring officer.
CO Anthony Bermel (Babbitt) reports spending the early part of the week on a BWCAW patrol with CO Lawler. Great weather was experienced, with plenty of people out enjoying the wilderness. Enforcement action included no PFDs, cans and glass in the BWCAW, and no license in possession. Later in the week, training began with COC Jesse Drown. A busy small-game opener was worked. ATV activity was also high. Enforcement action was taken for transporting a loaded firearm in a motor vehicle, small amount of marijuana and drug paraphernalia, expired canoe registration, no helmet on an ATV passenger under 18, and equipment stored/abandoned on state forest land.
CO Matt Miller (Silver Bay) checked bear and grouse hunters as fall began to arrive. A few salmon are showing up in the tributaries, and anglers are starting to target them. Assistance was given to state parks with camping in non-designated areas and illegal fires. Enforcement action was taken for ATV and state park violations.
CO Kylan Hill (Tofte) reports contacting a lot of hunters during the small-game opener over the weekend. Compliance was fantastic, with the only violations being no license in possession and transporting a fully dressed bird. A lot of young-of-the-year birds were harvested and even quite a few spruce grouse. ATV riders were abundant, with numerous violations detected. One group was contacted on Friday by CO Mary Manning and enforcement action was taken. On Saturday, Hill contacted the same group of riders and all of them received additional citations for violations and one was even arrested for DUI. Continued investigation was done on a public waters violation. Hill also found a paddle boarder in possession of controlled substances after Hill observed their contraband on the dashboard of their truck in the parking lot.
CO Don Murray (Two Harbors) worked a soggy small-game and deer archery opener. A few birds were seen by hunters but poor weather no doubt impacted the success rate for the season opener. Murray assisted volunteer instructors with helping 28 new students earn their ATV safety certificates.
District 7 - Grand Rapids area
CO Vinny Brown (Northome) worked the small-game opener and saw a decent number of grouse hunters in the woods. Most hunters reported seeing birds but say hunting is difficult with the ground foliage and leaves still on trees. Brown also spent time enforcing bear-hunting, ATV, fishing, and AIS laws. Enforcement action was taken for possession of an overlimit of walleyes, violating aquatic invasive species laws, transporting loaded firearms, and grouse hunting with no small-game license. An individual was caught in the act of dumping chicken carcasses on public land. The carcasses were picked up and disposed of properly by the individual.
CO Jayson Hansen (Bigfork) patrolled state parks and checked anglers, boaters, ATV riders and big-game and waterfowl hunters. Numerous game and fish-related questions were answered. He also responded to wildlife-related complaints.
CO Mike Fairbanks (Deer River) spent the week field training CO Hudson Ledeen. Bair-baiting stations continue to be monitored, fishing success remains high, and lots of foliage still on the trees created a slow opening weekend for the small-game hunting season. Enforcement action was taken for ATV and angling violations.
CO Thomas Sutherland (Grand Rapids) worked the small-game and archery deer opener over the past weekend, with many small-game hunters in the woods. Limited success was had with all of the leaves still on the trees. Enforcement action was taken for dirt bikes operating down the center of a roadway, failing to transfer a title, operating a motor vehicle in the road right-of-way without a valid driver's license, and careless operation. Sutherland also arrested an individual who had a warrant.
CO Brian Holt (Grand Rapids) checked recreational vehicles and anglers throughout the previous week. Time was also spent working grouse and archery deer hunters on the opening weekend. Holt worked TIP complaints and monitored goose hunting. Enforcement action involved ATV violations.
CO Jimmy Van Asch (Pengilly) focused enforcement efforts on big-game, small-game, ATV, and angling activities. Several grouse hunters were contacted over the opening weekend. They reported minimal success, likely due to the abundance of thick foliage cover. Enforcement action was taken for several hunting and ATV violations.
CO Taylor Hochstein (Hill City) patrolled the area and worked a mix of small-game hunting, ATV-riding, and fishing activity. Grouse-hunting success varied, but was good overall considering there is still thick leaf cover in the woods. Time was also spent at Camp Ripley attending required training.
CO Jacob Willis (Brookston) saw a little bit of small-game-hunting activity despite the rainy weather. ATV activity was still hefty throughout the district. A trapping complaint was handled in Meadowlands and a deer-hunting violation was investigated after the hunter self-reported. Enforcement action was taken for a juvenile without a helmet on an ATV, allowing unlawful juvenile operation of an ATV, and failure to display registration.
CO Kipp Duncan (Duluth East) and COC Dallas Cornell spent the beginning of the week preparing for CO Academy graduation at Camp Ripley. Cornell and 17 other officers graduated from the Academy on Sept. 13. Cornell and Duncan spent the rest of the week investigating multiple deer baits. They spent time checking small-game hunters over the weekend, as well as doing ATV enforcement and checking anglers. A follow-up investigation was done on a bear-bait complaint.
CO Tony Elwell (Cloquet) conducted patrols for ATV and OHM activity throughout the station, and worked the small-game and archery deer opener. ATV and OHM registration and safety violations were handled.
CO Mikeena Mattson (Willow River) completed emergency vehicle operation course training this week. Time was also spent time patrolling for hunting activity. Archery deer and small-game hunters were found enjoying opening weekend. Enforcement action was taken for transporting a loaded firearm in a motor vehicle.
CO Ben Karon (Pine City) spent time at Camp Ripley for training. Bear- and archery deer-hunting cases were worked. Small-game hunters were checked. Solid waste/dumping complaints were investigated.