DNR Report: Did you know you need to have a personal floation device on a stand-up paddle board?
Minnesota Department of Natural Resources report for the week of Aug. 1.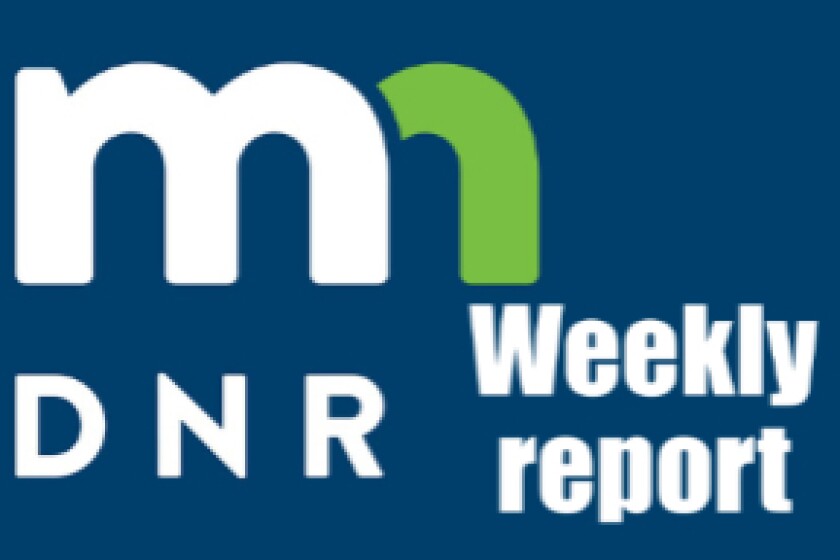 We are part of The Trust Project.
District 5 - Eveleth area
CO Curtis Simonson (International Falls #2) reports spending the week working Rainy Lake and the Rainy River. ATV activity was monitored throughout the area and nuisance-animal calls were handled. AIS work was conducted throughout the week at area landings and highways. Enforcement action was taken for angling without licenses, allowing illegal operation of juveniles riding ATVs and for failing to remove drain plugs while transporting boats.
CO John Slatinski IV (Ray) monitored angling, boating, and ATV activities. Anglers have been reporting more favorable outcomes, although persistent threats of rainstorms have kept many close to their places of lodging. Cooler nights already have people thinking of upcoming seasons, with bear hunters starting to scout and ready hunting areas. Animal-related complaints were addressed. A discussion was had with one individual about how the act of feeding wild animals, such as birds and deer, can lead to the presence of predatory animals in areas they traditionally would not be accustomed to occupying on a regular basis.
CO Troy Fondie (Orr) reports monitoring angling and boating over the week. Area forest roads were checked and public access sites monitored. Equipment work and administrative tasks were completed.
CO Shane Zavodnik (Virginia) spent time working on a background for the upcoming conservation officer hiring process. He also spent time working a detail in the Duluth area. Various watercraft registration and boating safety violations were encountered throughout the shift. Zavodnik also spoke to approximately 20 students attending the ATV safety field day at the Gilbert OHV Park.
CO Marc Johnson (Hibbing) primarily worked ATV and boating/angling activity. Time was also spent speaking at an ATV safety class in Gilbert and assisting local law enforcement agencies on a variety of calls. Calls and questions were fielded regarding fishing regulations, nuisance animals, and various permits.
CO Aaron Larson (Tower) worked primarily angling and ATV enforcement. Larson assisted other agencies with various calls and took a complaint in Lake Vermilion State Park regarding litter/abandoned property.
CO Duke Broughten (Aurora) spent the week monitoring fishing and ATV activity. Anglers reported limited success this week. Cooler July weather appeared to limit recreational boating activity. Broughten also spent time checking compliance with AIS laws.
District 6 - Two Harbors area
CO Sean Williams (Ely #1) patrolled areas of the BWCAW by canoe over the week. Fishing reports were generally poor, with some success reported on Crooked Lake early in the week. Violations included failure to display current registration and angling without a license in possession.
CO Thomas Wahlstrom (Grand Marais) spent time in the BWCAW checking anglers. Time was also spent working remote area trout lakes, monitoring ATV activity, responding to wildlife-related complaints and assisting the county with calls.
CO Mary Manning (Hovland) checked anglers and boaters on area lakes and accesses. She also checked ATV riders, followed up on a report of camping violations in a state park, handled equipment repairs and took another call of a car driver failing to recognize their vehicle didn't belong on the forest road they were stuck on. Manning took a report of a juvenile eagle hanging upside down in a tree, tangled up by a talon. When she arrived on scene the eagle was sitting on a branch, free and looking slightly embarrassed by the experience.
CO Anthony Bermel (Babbitt) worked a busy week of fishing and recreational vehicle enforcement. Time was also spent on abandoned and illegally stored watercraft along various station lakes. Enforcement action was taken for off-highway motorcycle violations, no PFDs, numerous watercraft with expired registration, cans in the BWCAW, underage alcohol violations, and storage/abandonment of watercraft on state land.
CO Kylan Hill (Tofte) reports taking a canoe trip into the BWCAW with other officers. The Wilderness was very busy with contacts made with people from all over the United States. The fishing bite was so-so with a few pike seen on the stringer. No license in possession was a common violation and U.S. Forest Service Officer Ed Belmore addressed issues with no BWCAW permit in possession. There were berries galore, which makes Hill wonder how the upcoming bear-baiting and subsequent hunting season will go.
CO Don Murray (Two Harbors) worked angling and boating activity during the week. Some anglers were finding fish on Lake Superior as calmer wind conditions made fishing easier. Murray took calls of nuisance-beaver activity and a report of illegal structures being built in public waters.
District 7 - Grand Rapids area
CO Vinny Brown (Northome) took wildlife-related calls, checked anglers, and monitored OHV activities. Several bear-hunting questions were answered as hunters prepare for the approaching bear season. Enforcement action was taken for parking in the closed area of a public access and allowing passengers under 18 to ride on an ATV without helmets.
CO Jayson Hansen (Bigfork) patrolled state parks and checked anglers, boaters and ATV riders. Numerous game and fish-related questions were answered. He also responded to wildlife-related complaints.
CO Mike Fairbanks (Deer River) checked anglers, monitored OHV activity, answered bear-baiting questions and responded to nuisance-animal complaints. Fairbanks and his K9 partner Si also attended area events and provided meet and greets and demos. Enforcement action was taken for illegal OHV operation by a juvenile, insufficient PFDs and license issues.
CO Jacob Willis (Brookston) worked ATV and angling activity and boating safety enforcement. The warm weather brought out a lot of boaters and ATV riders. Overall compliance with regulations was good. A still-frequent violation found is the lack of PFDs on board standup paddle boards. Statute requires that a wearable PFD be on board these craft. Willis also responded to a small-airplane incident in northern Pine County. He provided regulatory assistance for the pilot being arrested for operating the aircraft while intoxicated.
CO Kipp Duncan (Duluth East) continued to work boating and fishing enforcement on area lakes. Water recreation around the Duluth area was busy throughout the week. ATV trespass and illegal youth operation were investigated. Duncan also worked a couple water-level complaints involving possible illegal manipulation of lake levels.
CO Bret Grundmeier (Hinckley) dealt with violations of illegal burning and worked on trespassing and timber theft investigations. Assistance was also provided for homeowners who were having problems with bears damaging property and struggling with wild animals hanging around the house and killing chickens. Lakes continued to be busy with boaters enjoying the lakes during the hot weather.
CO Ben Karon (Pine City) participated in an invasive species checkpoint in the Isle area. Time was spent patrolling for ATV and off-road vehicle activity. Boaters and anglers were checked on local lakes. Other cases continue to be investigated.