DNR Report: Deer harvest numbers lower than normal
Minnesota Department of Natural Resources report for the week of Nov. 14.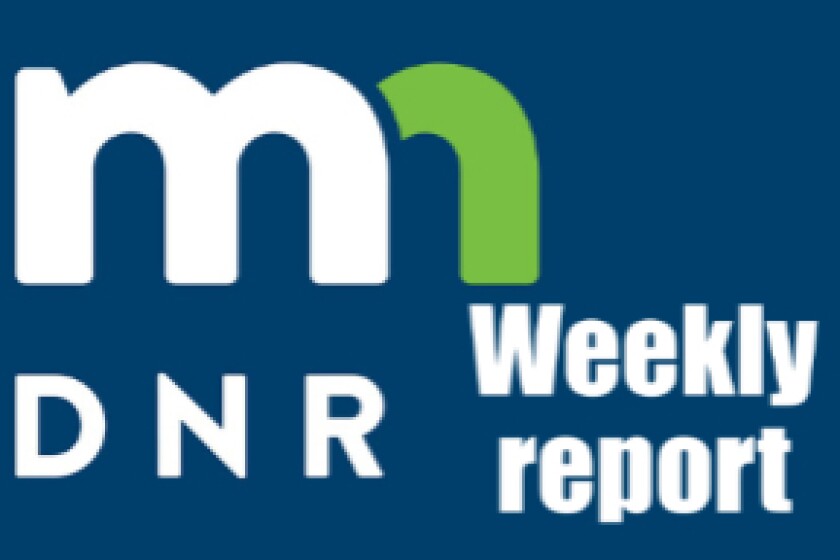 We are part of The Trust Project.
District 5 - Eveleth area
CO Darrin Kittelson (International Falls #1) reports the second weekend of the deer season was much like the first: Slow. The first major winter storm of the year could be a contributing factor as people weren't willing to venture out in the wind and cold. However, some people did, and some continue to not be able to follow the rules. Enforcement action was taken for illegal party hunting, borrowing and lending licenses, hunting over bait, transporting a loaded firearm, operating an ATV during closed hours, shooting a big-game animal from road right-of-way, and allowing illegal juvenile ATV operation.
CO Curtis Simonson (International Falls #2) reports spending time this past week checking deer hunters and patrolling for ATV activity. Enforcement action taken was for transporting loaded firearms, illegal party hunting and hunting with the aid of bait.
CO John Slatinski IV (Ray) reports deer hunting was the main focus this past week. Many hunters were contacted, with most concerned about the lack of deer and perceived abundance of predators. Reports were consistently negative, with pockets of success. The forecasted winter storm caused some people to leave hunting camps early to avoid being caught in difficult conditions like the previous year. Area lakes and rivers are beginning to succumb to the grip of Jack Frost with several locking up with ice over the last two nights, making waterfowl hunting options limited.
CO Troy Fondie (Orr) reports the week was filled with listening to complaining about the lack of deer and high wolf numbers. Deer-hunting activity remains nonexistent. Few hunters were found afield. Equipment work is ongoing. Administrative tasks continue. Local waterways have begun to freeze as the last days of waterfowl hunting approach.
CO Aaron Larson (Tower) worked primarily deer-hunting enforcement. Time was spent checking deer hunters and deer camps. Hunters seem to be seeing a below-average number of deer, yet have bagged a few across the area. Larson investigated illegal deer-hunting activity and violations relating to deer hunting. Larson encountered violations such as transporting loaded firearms, failing to validate tags, litter, the use of motor vehicle on trails, and wetlands violations. A reminder to watch for trail signs including bike, snowmobile, and ATV trails that do not allow for other motor vehicle use.
CO Marc Johnson (Hibbing) continued working the firearms deer season. There was a steep decline in hunting activity due to rain, snow, and cold weather that moved through the area during the week and weekend. Time was also spent investigating a wetlands-violation complaint and fielding various calls. Violations encountered included trespassing, operating a motor vehicle on a closed trail, allowing illegal use of an ATV, and placing fill in a wetland.
CO Shane Zavodnik (Virginia) and COC Fontes spent time conducting big-game enforcement. Trespassing concerns were also investigated. A traffic stop was initiated on a vehicle due to an egregious driving offense. During the stop, a loaded firearm was observed in plain view. The driver was found to have a canceled-inimical to public safety driver's license status, and was also found to be a convicted felon who was prohibited from possessing a firearm. An arrest and enforcement action followed suit.
CO Duke Broughten (Aurora) spent the week monitoring deer hunting, trapping and ATV activity. Few deer hunters were observed in the field this week. Deer-hunting success is very low. Broughten received a call from an individual who was surprised by a bear while he was picking cranberries. The individual was concerned people might not be aware of this bear activity. The individual was advised it is not uncommon to find bears near berries. Broughten also fielded calls regarding trespass, injured animals, and hunting regulations.
District 6 - Two Harbors area
CO Sean Williams (Ely #1) reports deer-hunting pressure continued to be high throughout the week – right up the point the area received heavy freezing rain followed by snow and much lower temperatures. Hunters were initially hopeful that the presence of snow and colder weather would improve hunting success, but after several days many hunters reported no deer sign in the area of the Echo Trail and by the end of the weekend most hunters had given up and left the trail.
CO John Velsvaag (Ely #2) checked deer hunters and anglers this past week. Hunting was slow. Several people were not having too much luck fishing either. Velsvaag had several calls about possible illegal deer hunting.
CO Thomas Wahlstrom (Grand Marais) checked firearms deer hunters and a few small-game hunters. Harvest numbers remain low in the Cook County area. He responded to big-game-hunting and trespassing complaints.
CO Mary Manning (Hovland) reports another slow week for deer hunters. She took a report of hunter harassment by an area landowner and a person with questions on the legality of food plots that include vegetables. Manning also located a pile of trash and household furniture dumped on an area WMA. Anyone with information is asked to call.
CO Anthony Bermel (Babbitt) worked predominately deer-hunting activity throughout the week. Overall hunter numbers seemed lower than typical, and harvest continues to be low. Enforcement action included discharging a firearm from a roadway at a deer, possession of an open bottle, and failure to display watercraft registration. Additional investigations are ongoing.
CO Matt Miller (Silver Bay) checked deer and grouse hunters as the weather changed towards winter. Deer hunters experienced a very slow first week of the season, and lakes are starting to lock up with ice. Questions were fielded about dumping of animal carcasses, beaver damage, ATV use, and access on state and federal land. Enforcement action was taken for ATV and small-game violations.
CO Kylan Hill (Tofte) reports a slow week of deer hunting. Success was very low, especially with the poor weather. Hill was pleased to find no violations throughout the week.
CO Don Murray (Two Harbors) worked deer-season activity along the North Shore this week. Hunting success improved with cooler weather and better hunting conditions. Ice has begun to form on area lakes but is unsafe for any travel at this time. Enforcement action was taken for trespass and ATV-operation violations.
District 7 - Grand Rapids area
CO Vinny Brown (Northome) reports seeing an increased number of deer moving and being harvested in the second week of deer hunting. A report was received that an individual shot a deer from a farm field without permission. Brown investigated the complaint and located the suspect and found the deer at the suspect's residence. Two individuals were cited for agricultural trespass, lend/borrow a deer license, and shooting a big-game animal from a motor vehicle. The deer and firearm were seized.
CO Jayson Hansen (Bigfork) patrolled state parks and checked anglers, big-game hunters and ATV riders. Numerous game and fish-related questions were answered. He also responded to wildlife-related complaints.
CO Mike Fairbanks (Deer River) worked TIP complaints, checked hunters, and monitored OHV activity. Success was slow for area deer hunters. Enforcement action was taken for license issues, operation of an ATV during closed hours, litter, and failure to register deer.
CO Thomas Sutherland (Grand Rapids) and COC Roemeling worked a busy second week of the firearms deer season. A lot of hunters were observed in the field, but the deer harvest numbers appeared low. Enforcement action was taken for transporting loaded firearms and illegally transporting deer. Questions were fielded regarding CWD testing and carcass-movement restrictions.
CO Brian Holt (Grand Rapids) received littering complaints involving deer hunters discarding deer carcasses in random places such as public accesses, trailheads, public and private lands. Time was also spent checking deer hunters and monitoring recreational vehicle activity. Holt took several injured-animal complaints and followed up on open cases. Enforcement activity involved hunting license violations, no blaze orange and ATV violations.
CO Taylor Hochstein (Hill City) continued to focus on deer-hunting activity. As the season goes on success rates have improved, but are still low overall. Most hunters contacted in the field were in good spirits and seemed to be enjoying themselves, but said they had been seeing very few deer. Violations included transporting loaded firearms and insufficient blaze orange clothing.
CO Jacob Willis (Brookston) worked deer-hunting activity this past week. Many hunters were afield and success was decent. TIP calls were fielded and an investigation was started over a property dispute. Enforcement action was taken for unlawful party hunting, untagged big-game animal, and failure to validate a site tag.
CO Andy Schmidt (Duluth West) finished the second weekend of the deer season with investigations involving hunting over bait, trespass and party hunting violations. Weather conditions stabilized a bit into the weekend and deer seem to be moving, based on the number of harvested deer seen. Schmidt also received calls involving nuisance animals, deer-dumping complaints and off-hour ATV use.
CO Kipp Duncan (Duluth East) spent the week working deer-hunting enforcement throughout the district. Several work details with neighboring officers were completed involving a variety of illegal deer-hunting activities. Some of the violations involved hunting deer over bait, illegal party hunting, night deer shining, and trespass. Duncan also met with many honest and ethical hunters throughout the week enjoying their hunting traditions.
CO Tony Elwell (Cloquet) worked firearms deer hunters this past week, and investigated deer-hunting related tips and calls. A few duck hunters were also checked during the week. Various deer-hunting violations were dealt with.
CO Ben Karon (Pine City) spent time this week working deer-hunting activity. Many calls were taken and questions answered. Common violations were for trespassing. Please read the regulation books and legally post your land. There has been a lot of garbage left/thrown out in the Chengwatana State Forest. If you are caught littering, you will be cited. Enforcement action was taken for other big-game violations.