DNR officers report ideal snowmobiling conditions, 'cavalier attitude' toward safe riding practices
Minnesota Department of Natural Resources report for the week of Feb. 7.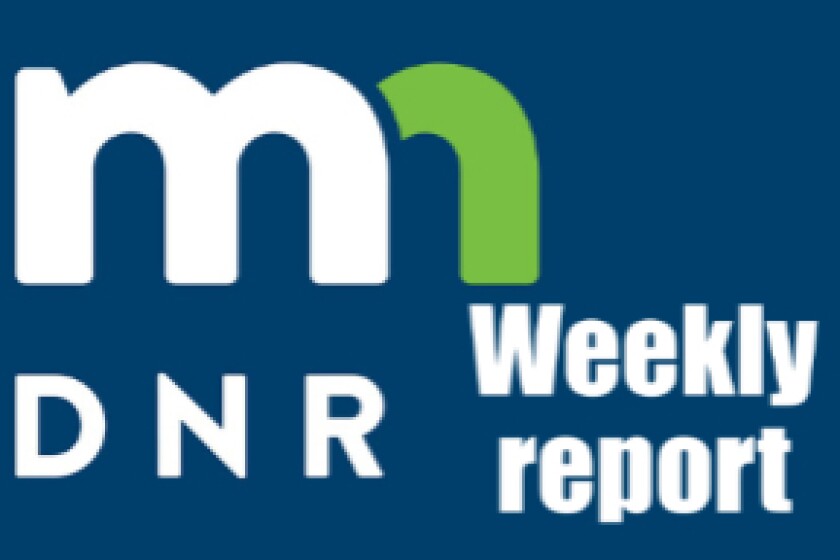 District 5 — Eveleth area
Conservation Officer Darrin Kittelson (International Falls 1) reports snowmobile activity in the area is picking up with the recent snowfall. Trails are in great shape but lake surfaces remain rough. Ice fishing has been slow on Rainy Lake, but it hasn't stopped people from getting outdoors to enjoy the hopes of catching a fish or two. Enforcement action was taken for excessive snowmobile speed and snowmobile-registration issues.
CO John Slatinski IV (Ray) spent time monitoring snowmobile, angling, and spearing activity. With cold weather and increasing ice thickness, spearing activity has slowed down considerably. Anglers have started to spread out along the ice road on Kabetogama Lake with a few fish being picked up. Snowmobile-trespass complaint areas continue to be focus areas.
CO Troy Fondie (Orr) reports monitoring area lakes and related snowmobile activity. Area forest roads continue to be checked, as do timber sales. Equipment work is ongoing. Administrative tasks were completed.
CO Aaron Larson (Tower) worked primarily snowmobile and angling enforcement. Larson spent time checking anglers and people enjoying the snowmobile trails in both the Tower and Cook stations. Trail conditions are great across both areas.
CO Marc Johnson (Hibbing) primarily worked snowmobile enforcement and angling activity. Fishing activity has been slow and anglers reported having minimal success. Violations encountered included operating a motor vehicle on a snowmobile trail, snowmobile speed, and various registration issues.
CO Shane Zavodnik (Virginia) reports snowmobile trails are the best they've been in quite some time, and riders are out enjoying the great conditions. The majority of time was spent patrolling the trails and monitoring for safe speeds. Zavodnik took enforcement action in regards to snowmobile operators traveling too fast on the trails. He wants to remind operators to stay in their lane of traffic.
Time was also spent investigating a deer-hunting case from the previous firearms deer-hunting season. Enforcement action was taken for multiple license violations.
District 6 — Two Harbors area
CO Sean Williams (Ely 1) reports that fishing activity continued to slow over the week and weekend. Although some success was seen on several lakes, overall most reports were poor. Snowmobiling activity was high over the weekend and trail conditions were good, although falling snow made for low visibility.
Violations included angling without a license in possession, failure to display current snowmobile registration, and no state trail sticker.
CO John Velsvaag (Ely 2) checked anglers and snowmobilers this past week. Slush continues to be a problem on many area lakes. Velsvaag found several spots with litter from fish houses. Velsvaag took several calls about the pike regulations.
CO Thomas Wahlstrom (Grand Marais) spent time in the Boundary Waters Canoe Area Wilderness checking anglers on remote trout lakes. He attended a meeting at Camp Ripley to prepare for the firearms training for the upcoming CO Academy. Enforcement action was taken for angling and snowmobile violations.
CO Mary Manning (Hovland) checked area anglers, fish houses and snowmobile operators. She followed up on snowmobile complaints and of a dog off-leash in the state park that was harassing skiers. Dog owners are reminded there is no "free run zone" in the state parks. Dogs must be leashed at all times for the safety of other park visitors, deer and the dogs themselves.
CO Anthony Bermel (Babbitt) worked primarily snowmobile and angling enforcement throughout the week. Limited success was observed for anglers. Enforcement action was taken for expired snowmobile registrations, no snowmobile trail sticker, failure to transfer ownership, and possession of marijuana and drug paraphernalia.
CO David Schottenbauer (Silver Bay) continued checking anglers on area lakes this week. Snowmobile activity was very high as well with Schottenbauer finding many lost snowmobile riders in the woods.
CO Kylan Hill (Tofte) reports hitting the snowmobile trails and lakes throughout the week. High snowmobile traffic was seen on Friday, with the snowstorm slowing things down on Saturday. Hill received numerous reports of loud exhausts and operators cutting corners on the trail. In one instance, Hill had to come to a complete stop on a corner to avoid being hit. The operator was stopped and enforcement action was taken for careless operation and a few registration issues to boot. Please slow down and stay on your side of the trail.
Fishing appears to be so-so and a few anglers were spoken to about shelter licenses. Continued work was done on a background investigation.
District 7 — Grand Rapids area
CO Vinny Brown (Northome) checked anglers and enforced snowmobile activities. Enforcement action was taken for no fishing licenses in possession and possession of an illegal-length northern pike.
CO Jayson Hansen (Bigfork) patrolled state parks, and checked anglers, snowmobile activity and small-game hunters. Numerous game and fish-related questions were answered. He also responded to wildlife-related complaints and assisted other agencies.
CO Mike Fairbanks (Deer River) checked anglers and patrolled the area snowmobile trails. Trails are in great condition and angler success was good. Enforcement action was taken for license issues and snowmobile-registration issues.
CO Brian Holt (Grand Rapids) worked ice fishing and snowmobiling activity during the previous week. Time was also spent following up on a trapping complaint and checking fish houses. Enforcement action involved fish house violations.
CO Jimmy Van Asch (Pengilly) reports working angling, dark house spearing and snowmobile activity. Area snowmobile trails are in good condition with the help of additional snowfall over the weekend. Mobility on the ice continues to hinder ice anglers' success rates.
CO Taylor Hochstein (Hill City) continued to monitor area snowmobile trails and ice fishing activity. Trails remain in great shape and they saw a lot of traffic over the last week. Violations included both snowmobile and ATV registration issues, angling without a license, extra lines and no trout stamp.
CO Jacob Willis (Brookston) patrolled snowmobile trails throughout the district. Registration issues still abound — expired, no registration and improper display. One of the most common violations is putting the year sticker on and nothing else (and usually not in the correct location). This would be similar to driving your car without license plates and just putting the tabs sticker on the bumper. Make sure you review your regulations for legal display of registration.
CO Andy Schmidt (Duluth West) spent much of the week working snowmobile activity in the area. Lots of activity and trails have been in great shape, but more snow would help as corners are getting a little skinny and icy. Registration violations were numerous, along with altered exhaust systems. Nuisance-animal complaints were handled and a vehicle on a snowmobile trail was investigated.
CO Kipp Duncan (Duluth East) prepared reports and a case file for the county attorney's office. He worked off his snowmobile checking area lakes and trails. Anglers were checked on area lakes and many contacts with snowmobilers were made throughout the week. Calls of loud snowmobiles and trespass were investigated.
CO Jeff Humphrey (Cromwell) worked snowmobile trail enforcement and checked area lakes for angling activity. Humphrey assisted with a snowmobile work detail with other district officers. Trail conditions varied from poor to good. Humphrey investigated a trespass complaint involving an angler. Various angling and snowmobile violations were encountered.
Lake Superior Marine Unit
CO Keith Olson (Lake Superior Marine Unit) followed up on equipment maintenance items in Grand Rapids, and checked area snowmobile trails and angling in the Duluth and Two Harbors areas. Along with CO Schmidt, enforcement action was taken for a motor vehicle on a snowmobile trail. Several injured-deer complaints were followed up on. Fishing has remained slow, but the area snowmobile trails have been active and busy.
CO Matt Miller (Lake Superior Marine Unit) checked ice anglers on near waters of Lake Superior where coho salmon, brook trout and round whitefish were biting.
Snowmobiles were worked on the North Shore State Trail. Snowmobile operators seemed to have quite a cavalier attitude to following trail signs and general safe riding practices. Each of them, when contacted, blamed other riders for trail problems. Enforcement action taken for angling and snowmobile violations.
The tournament on Island Lake has been moved to Feb. 19.