Minnesota DNR report: Remember to check the fishing regulations for the lake you are fishing on
Minnesota Department of Natural Resources report for the week of May 23, 2022.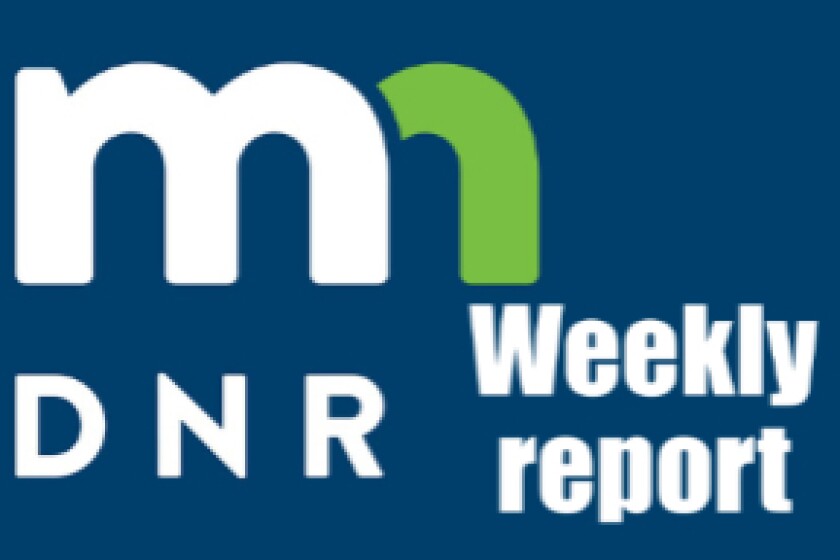 We are part of The Trust Project.
District 5 - Eveleth area
CO Darrin Kittelson (International Falls #1) reports area lakes (Rainy, Kabetogama, Namakan, Crane, and Sandpoint lakes) are at record-high flood levels and are expected to continue to rise for another week. People are reminded that a "no-wake" ordnance is in place within 300 feet of the shore. The wake and wash can cause significant property damage, so please be respectful near the shorelines. Enforcement action taken for the week included no current fishing license, failure to have a boat currently registered, fishing for sturgeon in a closed season, and failure to remove the drain plug of a boat while transporting.
CO Curtis Simonson (International Falls #2) reports working Rainy Lake, Rainy River and the Bigfork River this past week. Nuisance-beaver permits were issued and ATV traffic was monitored.
CO John Slatinski IV (Ray) reports most activity in the area has surrounded the ongoing flooding. As the water has continued to rise people have stepped up to assist friends and neighbors. Although the rise has slowed in some areas, others are still expected to see additional increases for extended periods of time. Angling activity has been lower than usual for the time of the year, but those people who have made it out have reported success. If venturing out on area waterways watch for debris and be respectful of susceptible shoreline. Slow down and watch your wake.
CO Troy Fondie (Orr) reports high water and flooding has greatly reduced boating and angling activity. Some access sites are underwater, as are campsites. Significant debris can be found in border lakes. Sandbagging efforts are ongoing. Wolf-related problems continue. Equipment work was completed as was administrative reporting. Those travelling north for Memorial Day weekend should call ahead to find the latest conditions on area lakes and access site availability due to the ongoing flood.
CO Aaron Larson (Tower) worked primarily angling enforcement. Larson spent time in the BWCA enforcing angling, BWCA regulations, and boat and water laws.
CO Marc Johnson (Hibbing) primarily worked angling activity and ATV/OHM enforcement. Time was also spent investigating complaints of a possible wetland/shoreline violation and trap tampering. Maintenance was completed on station equipment and a meeting was attended at Camp Ripley.
CO Shane Zavodnik (Virginia) spent time following up on multiple litter complaints. He also attended the Hibbing firearms safety day and gave a law and ethics talk to approximately 20 students. The weekend was spent working a special detail on the St. Louis River in the Duluth area.
CO Duke Broughten (Aurora) spent the week monitoring fishing, boating, and ATV activity. Fishing success appeared to vary from lake to lake. High water continues to limit lake access and has been creating many hazards on the water. ATV activity remained low this week. Many ATV trails are still closed due to flooding damage. Broughten also fielded calls regarding nuisance animals and trespass.
District 6 - Two Harbors area
CO Sean Williams (Ely #1) reports colder weather and wind dominated the week. Snow fell over the weekend but fortunately no accumulation was found. Angling success continued to be fair but the number of anglers found went down as the week continued. Violations included angling with no license in possession and burning without a permit.
CO John Velsvaag (Ely #2) worked anglers and AIS enforcement on station lakes. Velsvaag also attended the funeral for retired CO Sid Lawrence.
CO Thomas Wahlstrom (Grand Marais) checked anglers on lakes along the U.S./Canada border. He spent time working seasonal fishing closures. Enforcement action was taken for angling violations.
CO Mary Manning (Hovland) checked shore anglers and steelhead anglers. Rain has eased, but many forest roads remained closed or badly damaged and travelers are urged to check with local forestry offices or officers before venturing on remote roads, and advised to heed the "road closed" signs. Manning also checked ATV operators and boaters, took a complaint of trespass and handled equipment-maintenance issues.
CO Anthony Bermel (Babbitt) checked anglers on station lakes, worked a minnow-trapping case, and conducted an extended BWCAW patrol with CO Larson focusing on trout lakes. Activity was high nearer entry points and was sparse farther in. Numerous anglers checked were having success with lake trout. Enforcement action was plentiful this week, with citations issued for angling without a license, possessing trout without a trout stamp, illegal-length northern pike, no name and address on minnow traps, failure to check minnow traps, insufficient PFDs, expired watercraft registration, cans and glass in the BWCAW, possession of marijuana, and litter.
CO Kylan Hill (Tofte) reports checking anglers and monitoring AIS activity throughout the week. Equipment maintenance was also completed.
CO Don Murray (Two Harbors) worked boating, angling, and ATV activity during the week. Water levels in the area remain high, making river fishing difficult on most streams. Spring closures are still on for many ATV trails and recent storms have washed out culverts, making some county roads and Forest Service roads impassable. Please be cautious when traveling remote roadways and trails at this time.
District 7 - Grand Rapids area
CO Vinny Brown (Northome) conducted boat safety checks, checked anglers, and monitored ATV activity. Wildlife-related calls were handled, including complaints of bears coming into yards, looking for foods. With bears beginning to roam around in search of food, people are reminded not to leave anything out that bears may see as a potential food source, including bird feeders. While patrolling Lake Winnibigoshish, Brown checked a group of five anglers who had their five-person limit of walleyes but were also found in possession of additional walleyes, resulting in an overlimit. The fish were seized and enforcement action was taken on all five anglers for possession of walleye overlimits. Enforcement action was also taken this week for violations of transporting live fish, failure to drain water-related equipment, and possession of slot walleyes.
CO Jayson Hansen (Bigfork) patrolled state parks and checked anglers, boaters, ATV riders, and small-game hunters. Numerous game and fish-related questions were answered. He also responded to wildlife-related complaints.
CO Mike Fairbanks (Deer River) checked anglers, monitored OHV activity, responded to nuisance-animal complaints and taught an ATV safety class. Fairbanks and his K9 partner Si also attended monthly training and provided a demonstration for area youth. Enforcement action was taken for license issues, illegal-length fish, insufficient PFDs and watercraft-registration issues.
CO Brian Holt (Grand Rapids) checked boaters, anglers and ATV riders throughout the previous week. Time was also spent monitoring AIS compliance in the area. Holt worked on open cases and followed up on a burning complaint. Enforcement action involved angling licenses, keeping bass out of season and burning violations.
CO Thomas Sutherland (Grand Rapids) had a busy first full week of the open walleye/northern pike season. Enforcement action was taken for angling in a closed area, angling with extra lines, operating an unregistered watercraft and a couple of overlimit cases where too many sunfish were possessed. As a reminder, if angling the Pokegama, Little and Big Jay Gould lakes chain, the sunfish limit is five daily.
CO Taylor Hochstein (Hill City) spent most of the week monitoring fishing and boating activity. Panfish success continues to improve as the water temperatures rise. Most of the ATV trails and forest roads are now open bringing more ATVs to the area.
CO Jimmy Van Asch (Pengilly) continued to focus enforcement efforts on angling, boating, AIS, and ATV activities. Anglers welcomed calmer waters over the weekend, but they had to endure the cold front that went through the area. Enforcement action was taken for angling with extra lines, illegal-length walleyes, illegal-length northern pike, no angling license in possession, and several boating violations.
CO Jacob Willis (Brookston) handled equipment maintenance this week and fielded TIP calls regarding angling activity. Multiple regulatory calls were handled regarding border water regulations. Willis also assisted the State Patrol in locating a drunk driver who had been called into 911. That driver was subsequently arrested by MSP for driving while intoxicated.
CO Kipp Duncan (Duluth East) continued to working fishing and boating enforcement on area lakes. Anglers were also talked with at area public access about invasive species regulations. Evening shore fishing has been good on a few of the area lakes. ATV activity continues to increase throughout the Duluth area. Follow up on trapping issues was dealt with during the week and Duncan assisted with maritime security for the USS Minneapolis-Saint Paul Navy ship that was moored in the Duluth Harbor all week.
CO Jeff Humphrey (Cromwell) responded to calls and complaints regarding trespassing, wolf depredation, off-highway vehicle use and nuisance animals. Humphrey patrolled area lakes and worked AIS enforcement at water accesses. Time was also spent working off-highway vehicle enforcement in the area. He assisted at an ATV class in Tamarack.
Lake Superior Marine Unit
CO Keith Olson (Lake Superior Marine Unit) worked Lake Superior checking anglers and boaters in the Duluth to Knife River area. He also took part in a special detail in the Duluth Harbor in relation to the visit and commissioning of the Navy vessel the USS Minneapolis-St. Paul. Fishing overall was slow, but many anglers reported large balls of bait fish on their graphs. Enforcement action was taken for registration and equipment related issues.