Deep-snow winters have held Northeastern deer herd down
Stretch of tough winters has been worst in 50 years for parts of Arrowhead region.
We are part of The Trust Project.
Across much of Minnesota, whitetail deer populations have been stable or rising in recent years, with hunters shooting about the same number of deer and opportunities for doe permits common, even increasing.
"We're seeing increased deer numbers and increased opportunity to shoot more deer this year across much of the state," said Dave Olfelt, director of the Game and Fish Division of the Minnesota Department of Natural Resources.
Olfelt said hunters, if the weather is dry and mild for opening weekend, should come close to the annual goal of 200,000 deer harvested as set by the DNR's long-term deer management plan.
But across much of Northeastern Minnesota — namely from Duluth north — deer numbers have been low for several years, with hunters bagging fewer deer as fewer or no doe permits are issued in many management areas.
A string of deep-snow winters — five of the past eight and now three in a row — have combined to hold deer numbers down, says Tom Rusch, Tower area wildlife manager for the DNR. While hunters in areas south and west of Duluth may wonder what all the fuss is about, Rusch says Northeastern Minnesota's Arrowhead region hasn't seen a run of this many deep-snow winters since the 1960s and 70s — back when Minnesota deer numbers were so low the state canceled the season entirely in 1971.
The DNR's winter severity index awards a point for every day with more than 15 inches of snow on the ground and/or below-zero temperatures. Last winter many Arrowhead region deer saw two feet or more on the ground much of the winter. Deep snow is especially tough on whitetails, which aren't native to this region but moved in after extensive logging and fires a century ago. While moose, with longer legs, are built for deep snow, deer struggle to wade through snow banks to look for food and to escape wolves.
Not only do more deer die outright in deep-snow winters, starving or eaten by wolves, but the does that survive are in poor shape. Instead of having two fawns they may have only one, or none at all. And when that happens repeatedly in one decade, the region's deer population doesn't have a chance to recover.
"Five of the last eight winters have been more severe than average, as measured by the DNR winter severity index in Tower. As a result, fawn production has been lower than it would have been with mild winters, crippling population recovery across our area,'' Rusch said.
While much of the state saw a moderate winter (even Duluth received little snow after January) this past winter was tough on the far Northeastern deer herd, with 15-30 inches of snow from late December through early March, Rusch added. Worse, a late-winter crust increased wolf predation and stressed pregnant does into April. Studies show about 10% of deer die during a normal winter, and mortality goes up as the snow piles up.
Deep snow on the ground in late winter, when deer are weakest, is the worst.
"Deer hunters see a lot of snow in winter and they say 'great snowmobiling.' But it's not great for the deer up here,'' Rusch said. "I think a lot of people don't realize how much snow we've had up here the last few years."
Chris Balzer, DNR wildlife manager in the Cloquet-Duluth area, said there's a wide variation in deer numbers between agricultural areas and heavily forested parts of his work area. Moreover, there's a dividing line between areas that have been hard hit by deep snow winters in recent years and those just to the south and west that have had average winters.
"Most of the deer permit areas in the Cloquet area carry the same bag limit designations as last year. Based on that, I expect the overall area-wide harvest to be similar to last year,'' Balzer said. But "there is a wide variation in deer numbers across the area. We have had back-to-back tough winters north of Duluth and in the far-eastern portion of Carlton County that is impacted by lake-effect snow. These deep-snow winters impact deer survival and fawn production so hunters may find lower deer numbers in some of these areas, especially in large blocks of heavily forested land."
Deer numbers near private agricultural land, cities and rural developed areas tend to be higher, Balzer noted, and that's why deer numbers in southern Carlton and in Pine County are flourishing.
Agricultural land: Better nutrition over more months
Deer were never meant to be a deep-forest animal. They like transition areas — a mix of woods and open habitat — and they especially thrive in agricultural areas where the food sources have more nutrition. It's not hard to see the difference between aspen twigs and corn or alfalfa. Areas that have both woods and agricultural lands usually have the highest deer numbers.
Moreover, that nutrition is available later into fall and earlier in spring in agricultural areas out of the snowiest parts of the Northland. In deep-forested areas the deer by mid-October already are eating mostly browse because there isn't much left for green food in the woods. But in ag areas, deer are still able to find green forage in hayfields along with crop residue in corn and soybean fields, Balzer noted.
"That extra month or so of good feeding opportunities really helps them through the winter,'' he said. "They also get a boost in the spring as the fields are the first to melt and green up while the deer living deep in the forest again have to rely on browse longer."
Wolves matter, but not as much as snow and food
While many hunters are quick to blame wolves for the deer demise in the Arrowhead, Rusch reminds them that the region had record-high deer numbers, and record-high deer harvests, in the early 2000s during record-high wolf populations. Wolf numbers have been fairly stable in recent years. And wolf numbers generally trail deer numbers: More deer equals more wolves; fewer deer equals fewer wolves.
Northeastern Minnesota had its highest-ever deer harvests in the early 2000s, peaking in 2004 when there were so many deer hunters could get bonus permits to shoot extra does. But there were just as many wolves then as there are now "and probably more wolves then, because they had more deer to eat,'' Rusch added.
But few hunters complained of wolves then because there were more deer. Why the explosion in deer numbers in the 2000s? From 1998 to 2010 there was only one winter with a winter severity index greater than 150 (anything above 80 is considered hard on deer) resulting in a deer population increase even with high wolf numbers. Since 2008, there have been five deep snow winters over 150 at Tower, resulting in a declining deer population. Deer at the northern edge of their range can survive wolves, but they can't thrive with both wolves and deep snow, Rusch notes.
"Winter and habitat drive the deer population up here, wolves follow it from there,'' Rusch said. "Look over at Thief River Falls. They have just as many wolves as we do. But they have habitat, they have agriculture, and they haven't had the winters like we've had. And they have a lot more deer."
Still, Rusch notes, wolves do have a more visible impact when deer numbers are down because there are fewer deer to start with. The deep snow also gives wolves an edge, further reducing deer numbers when they are already low.
In a (good) rut, bucks should be chasing does
There's some good news for buck hunters with the deer season opener again overlapping with what appears will be peak rutting time for whitetails. That means deer will be moving more than usual and that at least some bucks will be letting their guard down as they chase does to mate.
"The opening weekend of the 2020 firearms season should catch the chasing phase of the rut as bucks seek out receptive does,'' Rusch said. "Breeding activity generally peaks in mid-November when the annual rutting season transitions into the reproductive phase and deer movement typically slows down."
Nobody wants to hear that their usual deer woods, or worse yet their deer camp, is stuck in an area where deer numbers are being held down year after year. But if that's happening to you, it might be time to make a move.
Rusch and Balzer both said deer populations are highly variable across even his area of the Arrowhead, and they change even more, namely increase, as you head west and south. Scouting in advance to find pockets of deer, and then hunting there, will pay off. If you are mobile and able to change locations, you can still find areas with good deer numbers in the Arrowhead region.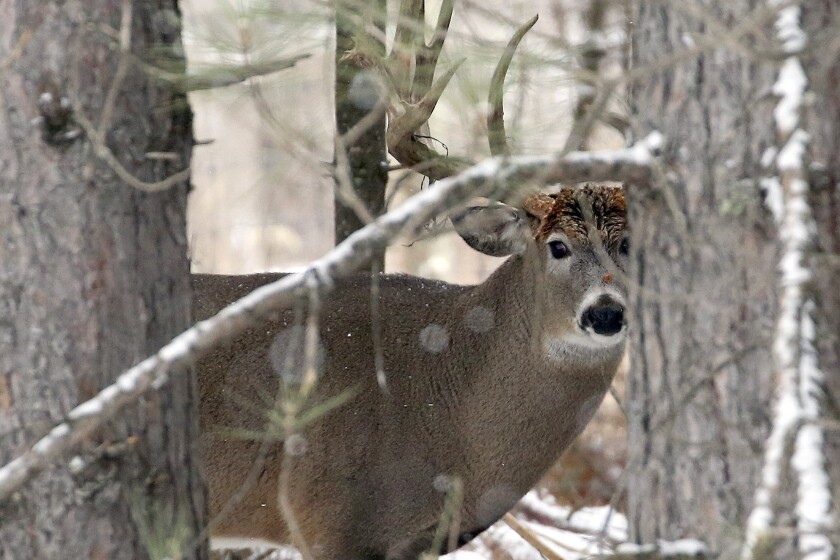 3
/
4:
A massive whitetail buck's antlers are half hidden behind a pine tree. Minnesota's 2020 firearms deer season opens Nov. 7 and, in Northeastern reaches of the state, runs for 16 straight days. ( News Tribune / file )
4
/
4:
Deer react to a person takng thier photograph while feeding in an open area. Across most of Minnesota, more antlerless permits were available for hunters this year due to increasing deer numbers. But in Northeastern Minnesota, where a string of deep-snow winters have redued deer numbrs, more areas are bucks-only with no doe permits. ( News Tribune / file )