Northland native Gordon MacQuarrie's outdoor writing gains new life
MacQuarrie died in 1956, but a new book, a museum exhibit and a pilgrimage weekend are keeping his legacy alive.
BARNES, WIS. — Just a few miles from his beloved cabin on Middle Eau Claire Lake, and fittingly housed in a converted tavern once called the Northwoods Tap, sits the world's largest Gordon MacQuarrie exhibit.
It may be the world's only Gordon MacQuarrie exhibit.
MacQuarrie, if you don't know, was the first rockstar outdoor writer in the Northland and the nation. He started at the Superior Evening Telegram and became the first full-time outdoor writer at a major U.S. newspaper when he moved to the Milwaukee Journal. He was also a regular writer for national magazines like Outdoor Life, Field & Stream and Sports Afield.
Under a window in the little Barnes Area Historical Society museum, MacQuarrie's last typewriter sits, an old Underwood that still looks functional. There's a yellowing piece of paper still in the roller with a half-written story allegedly left behind by MacQuarrie when he died of a heart attack in 1956. The story was going to be titled "Here Come the Biologists." We'll never know how it ended.
More than 60 years after MacQuarrie spun his last yarn, a small but loyal group of followers visits the museum which opened in 2016, to pay the writer homage. The museum, about 60 miles southeast of Duluth, has a room devoted to MacQuarrie where fans can see his wooden duck boat, his old cork and wooden decoys, his smoking pipe, his bamboo fly rod and a Shakespeare open face casting reel that MacQuarrie fished with. There are photos and books and quotes and old outboard motors and an inkling of just how powerful a voice MacQuarrie was in the world of outdoor sports and conservation, not just in Wisconsin but nationwide, a writer who captured the outdoor soul of a nation for the first half of the 20th century and whose work remains eminently readable today.
"We had a guy come up from Mississippi, he was 74, a Vietnam veteran, who got a subscription to an outdoor magazine as a kid and never forgot MacQuarrie's stories... He said reading MacQuarrie's stories again helped him get back to normal when he came home from Vietnam,'' said Larry Bergman, treasurer of the Barnes Area Historical Association and proprietor of the MacQuarrie collection. "He didn't even know about the museum exhibit at first.... He just drove up here to see the country that MacQuarrie wrote about, 50 years later. His writing still holds that kind of power on some people."
Dave Evenson is one of those people. A retired Wisconsin Department of Natural Resources wildlife manager who now lives in Cumberland, Wis., Evenson discovered MacQuarrie's writing "late in life, not that long ago,'' he said. "But I just dove in. He's a master at telling stories."
MacQuarrie's writing style was folksy, homespun, some critics might even say schlocky. It was obviously based in fact — the ducks were shot and the fish were caught and only someone who has hunted bluebills in the snow could describe it as MacQuarrie did. But the stories were also loaded with additional material, from exaggerated Finnish accents to exaggerated disputes and circumstances and reputations of outdoor grandeur. But it worked. It still does. The stories were short, based on the simple "me and Joe went fishing'' formula common in his day. But with MacQuarrie you learned more about Joe and the fish than you could possibly have expected. It's a writing style that wouldn't fly today in newspapers or most magazines; reporters wouldn't be given the leeway. And the language may be too dated for some readers. But for people who yearn for a simpler, less developed, less complicated day, it's perfect.
"He was so self-deprecating. He never wrote a story where he was the hero. It was always someone else,'' Bergman noted. Often, the fish or the ducks were the heroes.
MacQuarrie combined a knack for humor with a deeply emotional attachment to the outdoors and added a conservation ethic — a rare trifecta most writers can hope for but rarely achieve. And he had a nose for news: His coverage of the 1940 Armistice Day blizzard and its deadly toll on duck hunters is a masterpiece.
"The way he writes is so vivid, so descriptive, I feel like I know where he was, like I was there with him,'' Evenson said, speaking in the present tense as if MacQuarrie was still writing.
Evenson has spent a good deal of his retirement tracking down not just MacQuarrie stories but also tracing MacQuarrie's footsteps. Like MacQuarrie, Evenson knows well the back roads, rivers and lakes of Northwestern Wisconsin, and he's been able to find most of MacQuarrie's spots that were given only private nicknames in the stories.
"Dave has found most of them by himself. He leads our tours,'' Bergman said, referring to the increasingly popular MacQuarrie Pilgrimage weekend, set for September. More than two dozen people came last year to follow Evenson and hear trivia and stories while walking the same ground MacQuarrie did.
Perhaps Evenson's most enduring work was finding MacQuarrie's Milwaukee Journal columns, now in an electronic library, and reviving some of the stories that hadn't seen daylight in 60, 70 even 80 years. Evenson at first pushed the newspaper to publish the stories, but officials at what is now the Journal-Sentinel said the book would never sell. They eventually gave Evenson and the Barnes Area Historical Association permission to use what they saw fit, no charge.
So Evenson last year published "Right Off The Reel," a collection of 85 MacQuarrie newspaper columns by the same name. More than 800 copies have been sold so far.
"This book is introducing MacQuarrie to a whole new audience... We're hoping younger people we see this and get interested,'' Bergman said. "But for us MacQuarrie fans, this is huge. Most people have never seen these stories; we weren't alive when they were published in the newspaper and they haven't been published again until Dave got going."
Evenson hopes to finish his next book, "Dogs, Drink and Drivel'' with dozens more MacQuarrie newspaper columns, later this year.
Superior native
MacQuarrie was born in 1900 and raised in Superior. He spent two years at the Superior State Teachers College (now UWS) and then graduated from the University of Wisconsin at Madison in 1924 with a degree in journalism. He came home to work for the Superior Evening Telegram where he was a reporter, city editor and eventually managing editor and outdoor writer.
MacQuarrie was a traditional newsman first, but also dabbled in outdoor writing in his hometown, including selling some stories to larger papers and magazines. Evenson said he's searched for early MacQuarrie outdoor stories from the Telegram days but hasn't found many with MacQuarrie's name.
"They really didn't have many bylines back then. The style was just to have the newspaper name if it was a local story and not give credit to the specific writer," Evenson said. "There are some, when you read it, you know, that's MacQuarrie. But with others, it's hard to know for sure."
MacQuarrie jumped to the Milwaukee Journal in 1936 where he remained the full-time outdoors sports editor until his death in 1956. He wrote two popular columns in Milwaukee, Right off the Reel and Jack Pine Joe, in addition to covering the various outdoors issues of the day. But his most famous work always centered around his hunting and fishing exploits in northwestern Wisconsin — namely Douglas, Bayfield and Burnett counties.
His absolute favorite things to do, and favorite things to write about, were duck hunting on local lakes and river fishing on the Bois Brule. Many of his stories focused on his outdoor exploits with his real-life father-in-law, Superior auto dealer Al Peck (Hizzoner in most stories) and their fictitious club called the Old Duck Hunters Association, Inc.
Some favorite Gordon MacQuarrie prose
"Have you thus sat on a snowy day and squinted through the white curtain at those mail-carrying bluebills? Until you have courted bluebills in the snow, you have not tasted of the purer delights of waterfowling. Fat mallards over a sunny marsh are fine. Planing, twisting teal in early-season days are sporty. There is pleasure of many sorts in the harvest of autumn over the ducking grounds; but the Old Duck Hunters are extremely partial to the bitter last days, those stormy days when the wild, free things of duck shooting are abroad in the very wind with the storm." From "Stories of the Old Duck Hunters"
"The man kneeling in autumn leaves dressing his first partridge should know that he is of the select, that he has entered that Valhalla of sport where the best is hard to get, and the getting the best part of it." From "Native Son"
"I left long before daylight, alone but not lonely." From "Nothing To Do For Three Weeks"
"Then the little 'slaps' of playful six-inchers give way to businesslike 'ker-plunks' as more powerful tails hit the surface. A street of water during the midday, seemingly as empty as a deserted city, becomes an avenue of fish life, with its inhabitants eager for the evening hatch — and maybe the angler's fly." From "Trout Town"
"That river — that Brule — sweeping for 66 miles from the heart of Douglas County, Wisconsin, to Lake Superior. I've already said too much about it … I must be cautious, but it is hard to even think of it without accompanying rhapsody. But maybe it's not a bad thing to fall in love with a river." From "That River … The Brule"
"There is something about rain … A night in summer when the clouds can swell no more and shrink from threatening battlements to ragged shreds over Wisconsin, I often get up from my chair, go to the big closet, and speculate over the implements of trout fishing there. " From "Upon The Earth Below"
"I split maple and Norway pine chunks for the fireplace and kitchen range. This is work fit for any king. You see the piles grow, and indeed the man who splits his own wood warms himself twice." From "Nothing To Do For Three Weeks"
Gordon MacQuarrie exhibit at the Barnes Area Historical Association museum
Located at 4545 Bayfield County Highway N at Lake Road at the east end of Barnes. Free, but donations accepted. It's open Fridays and Saturdays through September from 10 a.m. to 3 p.m., and by appointment. Contact Steve Lynch, president, at 425-318-0851.
Third annual Gordon MacQuarrie Pilgrimage Weekend
Sept. 6-7
Guided tours of locations that served as the setting for Gordon MacQuarrie's most famous stories. There's both a pontoon boat tour of the Eau Claire lakes chain and a road tour of different sites, including MacQuarrie's cabin and his favorite fishing holes and hunting spots. There's also a tour of the MacQuarrie exhibit at the Barnes Area Historical Association museum, an evening campfire with MacQuarrie stories and a Saturday night banquet featuring Dan Small, host of the popular Outdoor Wisconsin television show. Cost is $160 for each tour, including the banquet and campfire. There's also a limited number of spots open on a Brule River canoe tour of MacQuarrie fishing holes set for Sept. 8. Cost is $85. For more information or a registration form go to BAHAmuseum.org or contact Larry Bergman at larrybergman@yahoo.com.
Join the Old Duck Hunters Association Circle
The Old Duck Hunters Association was the name of the fictitious club to which MacQuarrie belonged to with his closest hunting partners, including his father-in-law, Al Peck, whom MacQuarrie referred to as "Hizzoner." Now you can join the Old Duck Hunters Association Circle (there are already more than 180 members from 12 states and Canada) run by the Barnes Area Historical Association. All proceeds go to the Barnes museum. You get a membership card, certificate and a free subscription to an electronic newsletter in addition to private tours of the museum and discounts to other events. Membership is $25 annually or $500 for a lifetime membership. For more information or to join contact Lu Peet, 51850 State Highway 27, Barnes, WI, 51850 or email lupeet@gmail.com.
MacQuarrie's famed "Old Duck Hunters" stories were originally published in various outdoor magazines including Outdoor Life, Field & Stream and Sports Afield. They were posthumously gathered into book form in three anthologies: "Stories of the Old Duck Hunters & Other Drivel," "More Stories of the Old Duck Hunters," and "Last Stories of the Old Duck Hunters." The first of these was originally published in 1967 by Stackpole Publishing, New York but all are now out of print. These are the stories that most MacQuarrie readers are familiar with. They are still fairly readily available on the used book market.
"MacQuarrie Miscellany" is another collection of magazine articles published posthumously and also out of print, as are "Fly Fishing with MacQuarrie" and the "Gordon MacQuarrie Sporting Treasury."
In 2003 Wisconsin outdoor writer and wildlife photographer Keith Crowley wrote the first and only comprehensive biography, "Gordon MacQuarrie: The Story of an Old Duck Hunter." Wisconsin Historical Society Press. The book has recently has received a second printing, published by the University of Wisconsin Press. The book is available at Aamazon.com
The latest book of MacQuarrie's works was published in 2018 by the Barnes Area Historical Association, compiled by retired DNR wildlife manager and MacQuarrie fanatic Dave Evenson of Cumberland, Wis. "Right off the Reel,'' is a collection of MacQuarrie's Right off the Reel columns at the Milwaukee Journal from 1936 to 1956. The book is available for $21 (including shipping) from bahamuseum.org and at amazon.com. Most of these columns have not been reprinted since they first appeared in the newspaper. Proceeds of the book benefit the Barnes Area Historical Association.
Coming fall, 2019, another effort by Dave Evenson, "Dogs, Drink & Drivel" will be stories that focus on MacQuarrie's dogs and dog training wisdom. It also includes some of MacQuarrie's best drinking stories and chapters on life at Eau Claire Lakes, stories on Superior native and World War II hero Richard Bong along with stories on some of MacQuarrie's trips to Alaska, Alabama, Florida, Ontario, South Dakota and more. Another chapter will focus on MacQuarrie's conservation pieces including his interaction with Aldo Leopold. The book also will be available through the Barnes Area Historical Association at www.bahamuseum.org .
First writer inducted into the Wisconsin Conservation Hall of Fame, 2003.

Named one of the 100 Distinguished Alumni of the University of Wisconsin-Superior, 1993.

Inducted into the National Freshwater Fishing Hall of Fame, 1998.

The University of Wisconsin renamed a Douglas County wetlands the Gordon MacQuarrie Memorial Wetlands, 2000.

Awarded the Council of Wisconsin Writers Ellis/Henderson Outdoor Writing Award.

The MacQuarrie Foundation became part of the Wisconsin Academy of Arts, Sciences and Letters. The academy annually awards the Gordon MacQuarrie Award in his memory for "distinguished contribution to and achievement in environmental communication."
1
/
7:
Gordon MacQuarrie around 1950. Photo courtesy of Keith R. Crowley
2
/
7:
Gordon MacQuarrie's cabin on Middle Eau Claire Lake in Bayfield County around 1942. Photo courtesy of Keith R. Crowley
3
/
7:
Two of Gordon MacQuarrie's decoys on display in the Barnes museum. In "Stories of the Old Duck Hunter" MacQuarrie wrote of bringing so many decoys on hunts that they had to tow them in a skiff. "Fifty is our minimum," he wrote. Steve Kuchera / skuchera@duluthnews.com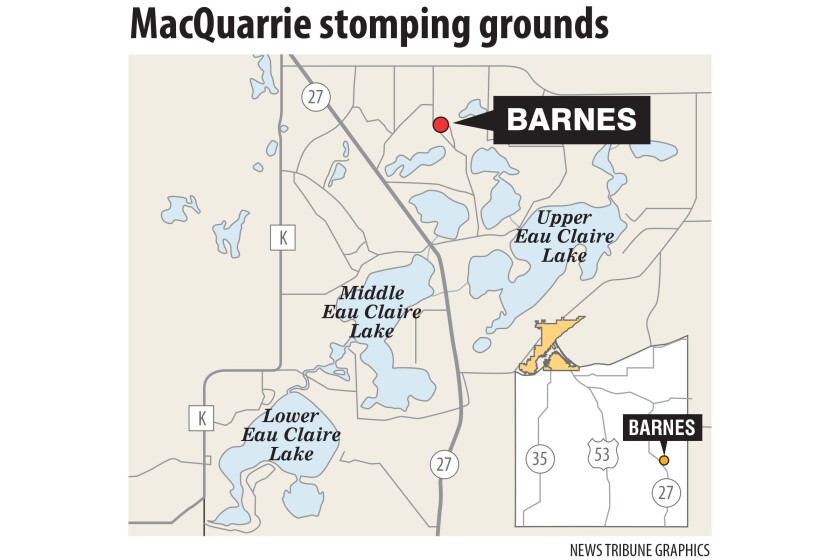 5
/
7:
A duck boat used on Gordon MacQuarrie on display at the Barnes museum. Steve Kuchera / skuchera@duluthnews.com
6
/
7:
A sheet of paper with the beginning of a Gordon MacQuarrie column sits in an Underwood typewriter in the Barnes museum. Steve Kuchera / skuchera@duluthnews.com
7
/
7:
The Wisconsin Academy of Sciences, Arts and Letters awards the Gordon MacQuarrie Award "distinguished contribution to and achievement in environmental communication." This medal is on display at the Barnes museum. Steve Kuchera / skuchera@duluthnews.com