Northland native Bria Schurke shares tales of adventures around the globe
While canoeing from Mongolia to eastern Russia with a friend, Bria Schurke traveled through the habitat of Siberian tigers, polar bears and "their version of a grizzly bear."...
While canoeing from Mongolia to eastern Russia with a friend, Bria Schurke traveled through the habitat of Siberian tigers, polar bears and "their version of a grizzly bear."
"We knew this before we started, so when we were in Ulaanbaatar, we tried to get a rifle and a license. They were like, 'We're not going to give two Americans a gun as they're going into Russia, no way.' So the only thing we could get was a handheld spritz bottle for pepper spray for dogs. Great. So that's all we had," the Duluth resident said, laughing at the memory.
They managed to avoid animal encounters, with the exception of a bear checking out their food during the last night, by storing their food away from them when they camped, she said. Her 2,900-kilometer canoe expedition across Mongolia and eastern Russia in 2013 will be the subject of her talk to the Duluth Explorers Club at 7 p.m. Feb. 1 at Vikre Distillery in Duluth.
Schurke is no stranger to exploring the wilds of the world after a childhood of family expeditions on other continents.
"I remember when I was really little, the age when you first start to write, and the question was, 'What's your hobby?' It was adventure and that was it. Just adventure," said Schurke, whose jobs have included guiding expeditions. "I think I'm lucky in having grown up with a unique idea of what that means and what everyone is ultimately capable of. All of us are way more capable than we think we are and I think, in maybe some altruistic way of thinking about our job as an outdoor guide, we're professional limit-pushers. We show people what they can do, challenging them in good ways, mentally and emotionally and physically."
In an interview last week that began on the topic of dogsledding in Greenland, Schurke easily moved on to stories about women in Rwanda, Mongolian summer festivals, a former Siberian Gulag prison camp and skiing in northern Minnesota. At age 32, she has lived what she describes as a "transient, seasonal lifestyle" in the decade since she graduated from St. Olaf College, splitting her time between working in international public health and outdoor recreation. She returned to northern Minnesota in September to pursue her master's degree in the College of St. Scholastica's physician assistant program.
Going on expeditions is something she learned as the daughter of Paul Schurke, who completed a historic dogsled trip to the North Pole with explorer Will Steger and has completed several more polar expeditions since. Her parents operate the Wintergreen dogsledding and winter attire business in Ely. Although her father is known for his expeditions, she said her mother Susan Schurke is equally as adventurous.
"Before I was 8, we'd gone to Siberia six times. I went to the North Pole with my mom, who was pregnant with my brother, when I was 6. ... She was able to talk her way all the way to the final flight that picked my dad up. I have memories of rafting in Siberia when I was 4, picking mushrooms and salmon fishing with the reindeer hunters," Bria Schurke said.
Outdoor adventure
Continuing to do expeditions as an adult was always part of her plan growing up. In addition to helping with Wintergreen in Ely, Schurke works as a mountaineering instructor with the National Outdoor Leadership School, teaching courses in Alaska, Idaho and Wyoming.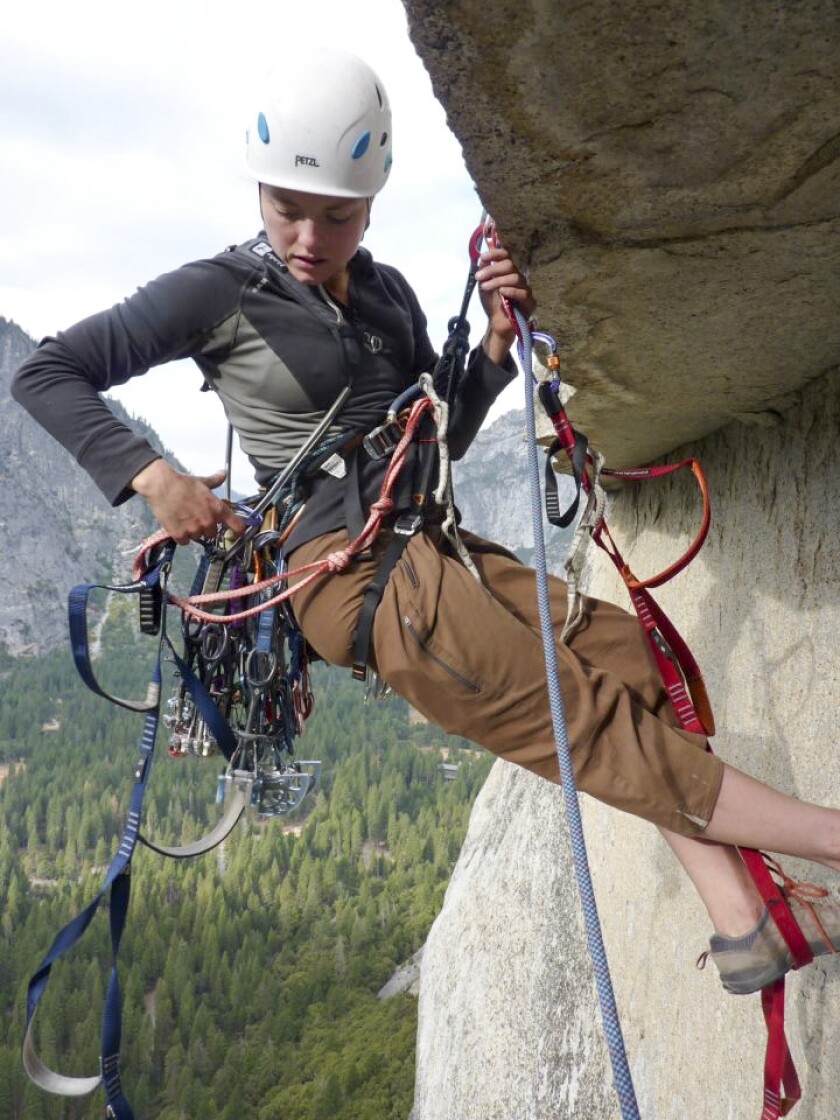 As an instructor, she said she enjoys helping people pursue their goals and wants to support them in feeling a sense of accomplishment. There's also a sense of pride in getting out there as a woman, she said.
"It's pretty awesome that we can take students who may have never camped before on a 30-, 35-day expedition mountaineering in Alaska ... and by the end, they have the skill set to navigate through good decision-making and risk management," she said. "We can change lives by just taking people camping."
Those outdoor skills can translate to the professional world. Dealing with 35 sled dogs and 10 people at 45 below zero or dropping gear while rock climbing teaches the ability to quickly and clearly think through a situation while staying calm, she said.
She said she's been itching to do another expedition. Her last expedition was in 2013, when a friend asked if she wanted to canoe across Mongolia while she was working at a maternity clinic in Somalia. She had all of her mountaineering and winter camping gear with her - "I think I was the first person in Somalia with a 30-below sleeping bag and a life jacket" - and once they met in Ulaanbaatar, Mongolia, they rented a taxi to take them to their starting location.
"We just showed up and picked this river and started canoeing northeast. Went all the way across Mongolia and it's these beautiful, deep canyons," she said. "Then there's camels everywhere that you're dodging and horses and yaks. ... At first, you're like, 'Wow, look at this,' trying to take pictures. By Day Three, you're like, "All right, we've got, like, 3,000 miles to cover. You need to get out of the way."
Buying a one-way plane ticket and just showing up doesn't work every time, she said, noting it's good to have some fear going into a situation and find a balance between having a plan and not planning everything.
"I think you need to feel somewhat in control and know what a contingency plan is and make sure you've taken measures to have the skills you need to make safe decisions. You can't always be fully prepared, either. That's part of the adventure. If I am fearful, like seriously fearful, that means I've made a wrong decision," she said.
An adventure doesn't need to involve international travel. Schurke is a fan of "microadventures" right in her backyard of northern Minnesota, she said, pointing out that she cross-country skied 9 miles near Grand Marais with five friends two days earlier.
"I'll take anything as long as we're outside. It's where you're just yourself. You're out there and it's beautiful and you can have great conversations if you're with friends. You can disconnect from things that are maybe less important back in this world," she said.
A need at home
Schurke enjoys traveling, but working in public health to help mothers and children gives her a reason to be in a given location, she said.
Her experiences have provided a reality check; she chooses to work with people and in regions facing hardships, but is well aware that she has a safety net to fall back on.
"The majority of this country is dealing with serious and real stress and they have nothing to fall back on and they don't choose to be in these hardships. I think we glorify how hard medical school is and we glorify all these ultimate wilderness challenges, but we're choosing to be there, and I think we're not giving enough credit to people who are really living, right now in Duluth, without a roof over their heads," she said.
Schurke said her views of international work have evolved as she has spent time overseas - it's not pessimism about working with other cultures, she said, but a sense that she has more to offer where she grew up.
"I'm from northern Minnesota, I can speak very basic Swahili. I can't contribute to (other) cultures ... as much as I could maybe contribute to northern Minnesota, a place I do love and care a lot about and I think it cares equally about me," she said. "I think the thing that I find is a need in our culture."
She said she may be able to use her global health skills in the future, with an organization abroad that values cultural understanding. But she also notes that there's a growing need for medical professionals in rural northern Minnesota, which is the focus of St. Scholastica's physician assistant program.
"If the newer generations don't come home, I don't know what's going to happen with our smaller communities throughout the United States," she said. "There's a very scary and growing gap in health care professionals and being available and filling in new roles and finding specialists."
Online
Learn more about the Duluth Explorers Club at duluthclimbers.org/duluth-explorers-club .
1
/
4:
Bria Schurke paddles north on the Chuluut River of Mongolia, heading toward Lake Baikal. Bria Schurke photo
2
/
4:
Bria Schurke gets ready to attempt a 500-foot-long high line over Lake Superior in September 2016. Bria Schurke photo
3
/
4:
Bria Schurke talks about her global adventures recently at the Snooty Fox Tea Shop in Duluth. Schurke is speaking to the Duluth Explorers Club on Feb. 1. (Clint Austin / caustin@duluthnews.com)
4
/
4:
Bria Schurke talks about her global adventures recently at the Snooty Fox Tea Shop in Duluth. Schurke is speaking to the Duluth Explorers Club next week. (Clint Austin / caustin@duluthnews.com)