Golf: Mellin goes the distance to win Arrowhead Invitational
Mike Locker was the senior champion.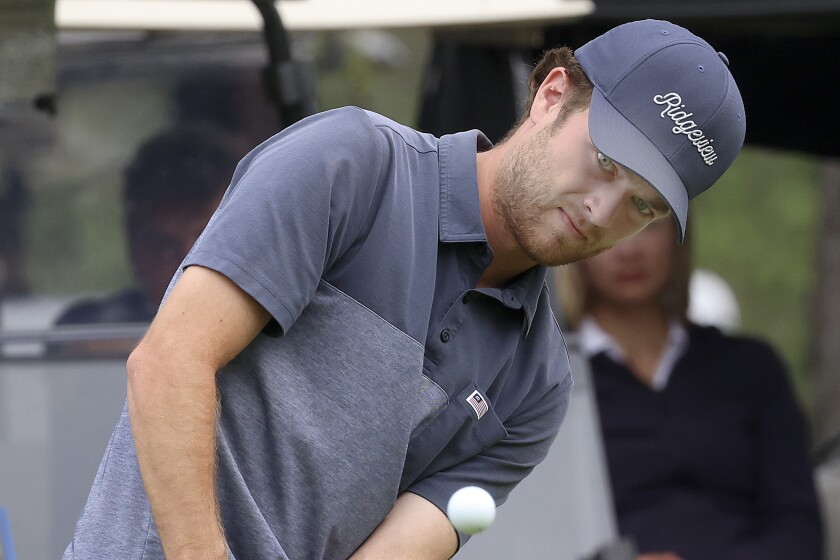 We are part of The Trust Project.
DULUTH — Matt Mellin's first Arrowhead Invitational championship was an all-smiles affair, a 7-and-6 rout. Sunday, Mellin got number two, but he had to put in a full day's work and then some.
The 2018 champion went the distance with Joel Johnson of Hugo, Minnesota, but earned his second career championship with a 1-up victory on Sunday at Ridgeview Country Club.
"I made a lot of putts. Anything that had to go, went, and it doesn't always work that way," Mellin said.
Mellin birdied the par-3 eighth hole to take a 1-up lead but Johnson erased it by drilling an excellent wedge to within two feet for a birdie on No. 11. The pair was deadlocked through the next five holes before Mellin gained a decisive edge on the 17th.
Almost as if to underline the tension building in the 96th annual championship match and the senior championship being played along with it, winds were picking up and skies darkening ahead of an approaching storm. After multiple pauses to gauge the gusty conditions, Johnson's tee shot on the 165-yard par 3 sailed long and to the right.
"I hit the wrong club because I thought it was mostly right to left. I didn't mind missing a little long because there's a little backstop there but it for it to go that far was shocking. I picked the wrong club, but that's golf," Johnson said.
Mellin is a lefty, so his natural ball flight went into the wind. His ball landed close to the pin and rolled a bit, leading to a two-putt par.
Johnson executed a flop shot out of the rough to give himself a par putt, but it didn't fall, and Mellin took the lead in the match with his par.
The miss was part of a hard-luck theme for Johnson, who just couldn't get a birdie putt to drop down the stretch. He lipped out at 12 and also missed putts that would have won the hole on 14, 15 and 16.
Needing to win the 18th hole to extend the match, he rolled a 50-footer that missed by an inch on the low side of the hole.
Johnson said he thought he'd made it. "One percent more power and it would have went in," he lamented.
Mellin, a past champion, playing on his home course in his hometown, felt the love from an armada of carts following the final group. Also, Taylor Sundbom of Hermantown, the 2021 champion, served as Mellin's caddie during the event. Sundbom couldn't defend his title, as he is pursuing professional tournaments on the PGA Tour Canada.
"It's special. Every cart on the course was out watching us," he said. "It was pretty special to have everyone out there."
Mellin was the sixth seed in the 32-man match play bracket. He knocked out No. 2 seed Joey Cummings in the semifinals on Sunday morning, while Peterson dismissed No. 17 Ryan Peterson.
Locker gets his day in the sun
Mike Locker picked a good weekend to get hot.
The Ridgeview Country Club member earned himself the Arrowhead Invitational senior title, holding off defending champion Gary Carlson for what he called his first trip to the "winner's circle."
"I know I can compete but I've never been on that stage with these guys," Locker said.
Compete he did. Locker found himself playing with a lead down the stretch against defending champion Gary Carlson.
Carlson fought his way back into the match, draining a gutsy putt on 17 to keep things going to the final hole, but Carlson couldn't get the edge at the last, allowing Locker to claim the 1-up win.
"I've been playing the best golf that I could play, and making a lot of putts, so I knew if I could be on the green and have a chance at it I was more than likely going to make the putt. I made the right putts at the right time," Locker said.