Fishing guides, charter boats back to work
As COVID-19 restrictions ease, guides and charter captains are eager to get customers out fishing.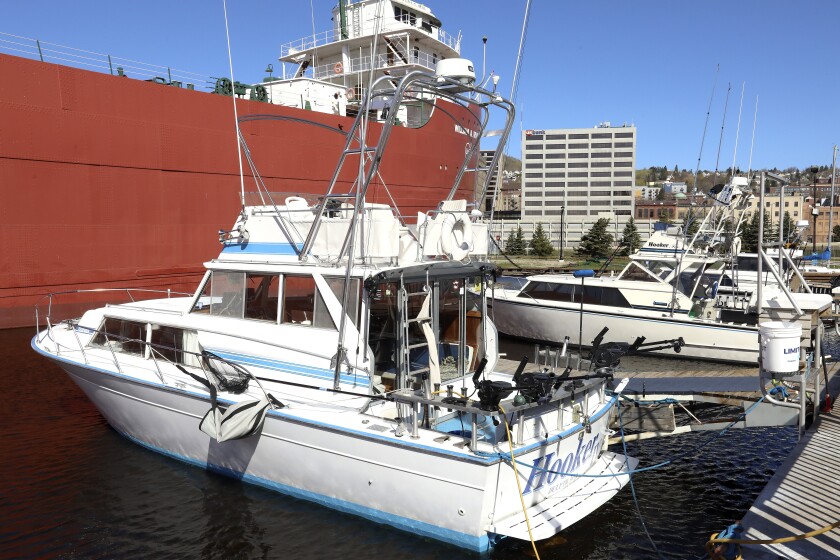 They will be carrying fewer people out on the lakes, but fishing guides and charter boats are now legally allowed back on Minnesota waters under the state's gradually relaxing COVID-19 restrictions.
That's good news for the Duluth's fleet of charter boats, despite the reduced passenger load and even though they will likely have to reduce their rates. Minnesota guides got the state's go-ahead on Monday; Wisconsin's got their OK last week when the state's stay-at-home rules were struck down in court .
Peter Dahl, owner of Happy Hooker Charters in Duluth, said his company has moved three boats into their summer berths in Minnesota Slip and is ready for business. He said Minnesota rules appear to allow him to bring only two customers at a time. In Wisconsin, up to six passengers, the usual limit, are allowed.
"We're already getting some bookings, but now the weather (east winds) has us down,'' Dahl said. "Being limited to two isn't great. But we just want to get some business coming in."
Jeff Sundin, a successful Grand Rapids-area guide, said he's already booking trips under the new rules: No more than two guests in the boat and extra precautions along the way. For Sundin, that includes customers driving in their own vehicles to the lake; customers have their own bait bucket; all fishing gear is disinfected before each trip; and customers are provided soap and towels to use. He's also questioning customers, before they arrive, to determine if they have any symptoms.
Sundin says he still hasn't rebooked all the lost dates from cancellations that occurred during the height of COVID-19 restrictions. He's still trying to fill 20 trip dates that were canceled.
"The rate of cancels is slowing, but (they are) still occurring,'' he said.
Sundin said he fully appreciates the risk of spreading COVID-19 as more businesses open.
"I have an elderly mother myself. She's a stroke victim who has been forced to live with me because the assisted living residence we found for her is under quarantine and will not allow us to move her in,'' he noted. "Thinking of her protection has heightened my awareness of safety protocols."