UMD athletics: Decision to delay retirement was a no-brainer for Bulldogs' Stromme
Karen Stromme will take over as interim athletic director at Minnesota Duluth next month after Josh Berlo leaves to head the athletic department at Denver. Stromme and her husband, Gary Holquist, were just days away from retiring from UMD when Stromme was asked to lead the Bulldogs during this time of transition.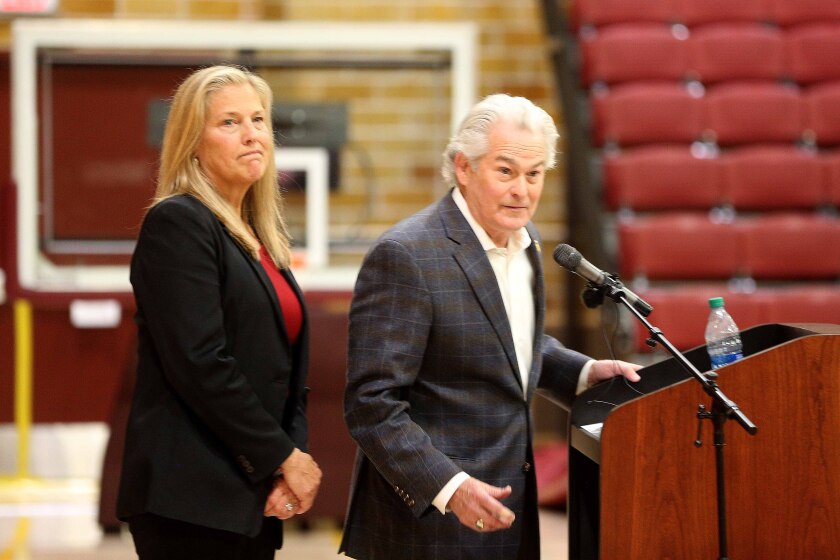 DULUTH — When asked by chancellor Lendley Black to delay her retirement and serve as interim athletic director starting next month, University of Minnesota Duluth senior associate athletic director Karen Stromme said she felt a profound sense of responsibility to stay and help the Bulldogs.
The same was true for her husband, UMD athletics senior development officer Gary Holquist. Both were just days away from retiring when news broke that athletic director Josh Berlo was leaving the Bulldogs to take over as vice chancellor for athletics at the University of Denver.
Stromme said Black — who himself has delayed his retirement while the university searches for an interim president — reached out to her shortly after. It didn't feel right anymore to leave UMD at that moment, Stromme said.
"Gary and I had a discussion — and I know it sounds a little corny — but we really are a team," said Stromme, who along with Holquist coached basketball before moving into an administration role. "We have worked together for a combined 75 years at UMD. We both looked at each other and just went, 'It's time to stay and help.'"
Berlo's last day at UMD is July 8, and his first with the Pioneers is July 15.
This will be Stromme's second stint as interim athletic director after holding that title from in the winter and spring of 2013 — in between AD/football coach Bob Neilson's departure to become the head football coach at Western Illinois and the hiring of Berlo.
Stromme, 62, has been with the Bulldogs for 39 years. She's a 1978 graduate of Duluth Central High School and spent 21 seasons as the women's basketball coach before becoming a full-time administrator at UMD. She's the Bulldogs all-time winningest basketball coach with 440 wins and just 184 losses.
Holquist, 65, has been at UMD for 36 years, including 12 seasons as an assistant coach and 14 as the head coach of the men's basketball team.
"People who feel deeply about a place don't just walk away. How could we walk away?" Stromme said. "Every day I've come to work, I'm happy and joyful. We've got great people and it's an awesome place."
An advisory committee was formed earlier this month to begin searching for a new athletic director right away. That committee, which includes Stromme, will make a recommendation to University of Minnesota president Joan Gabel and to either Black or the interim UMD chancellor, if that person is in place at the time.
Gabel has said previously she hoped to have an interim chancellor for UMD named by the end of June.
From the column: "Strong universities help build great cities, towns, and regions. UMD remains strong, and I am so very proud to have been part of its history."
Dave McMillan, a retired utility executive, resigned from the Board of Regents this week to pursue the University of Minnesota Duluth's interim chancellor job.
Staff are accepting nominations for the school's interim head through June 3.
Stromme said the messaging she and her colleagues have received from Gabel and Black is UMD is in a position to move quickly on hiring a new athletic director.
In the meantime, Stromme said her goal as interim AD is to continue the day-to-day operations — summer is budget season — and have everything in place and ready so the new director can hit the ground running in the fall.
"The way that Josh operates in the day-to-day business, as the senior woman administrator, you're in on those discussions," Stromme said. "And even though I haven't been carrying them out, I have an awareness of them, know what's on the plate, how we do things and how we're operating.
"I think it's realistic to hope by the fall, he or she would walk into a well-functioning athletic department."