College football: Longtime UMD assistant Steger nearly back to 100% after summer health scare
Steger, the dean of UMD football coaches, said just being around the Bulldogs helped in his recovery after having a brain tumor removed in July.
We are part of The Trust Project.
DULUTH — Longtime Minnesota Duluth assistant football coach John Steger was only about five days removed from shoulder surgery when he was working a UMD football camp.
Steger came home the next day and started having headaches, to the point where his wife, Barb, told him he should go to the emergency room.
Steger had a CT scan done at Essentia Health in Duluth and the results were alarming.
"The doctor came into the emergency room and said, 'We're going to send you to the Twin Cities. You've got a brain bleed and we don't do the surgery here in Duluth that you need,'" Steger recalled. "OK. Then my wife asked, 'Well, what's causing the brain bleed? And the doctor said, 'You have a mass or a tumor that's sitting on top of your pituitary gland and we need to get that out as soon as possible.'"
The ambulance ride on Interstate 35 from Duluth to Abbott Northwestern in Minneapolis never felt so long.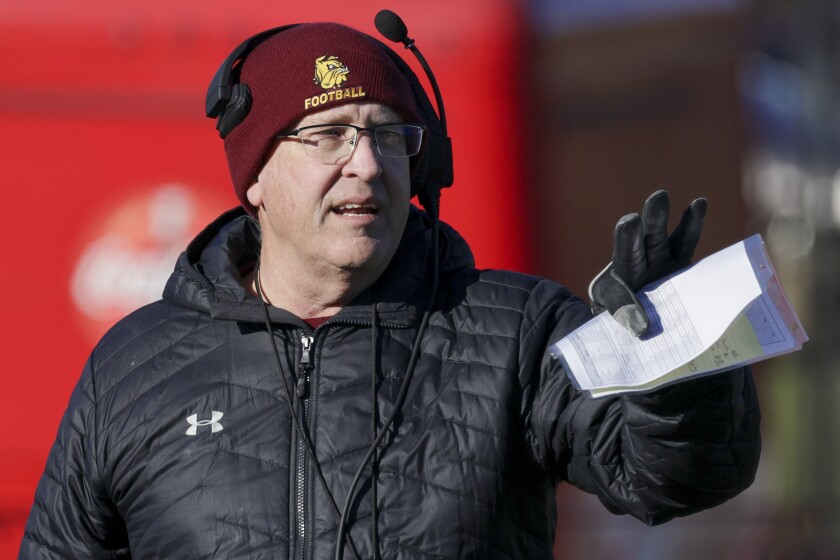 "Let's just say that was the longest two and a half hours of my life," Steger said, able to laugh about it now. "You didn't know what was going to happen, and then once I got down there, the neurosurgeon calmed things down a bit. He said, 'Hey, I've done these. You're actually lucky.'"
Lucky, in terms that the tumor had not grown any bigger and that they found it before it could have wrapped itself around the optic nerve in his eye.
"If it had grown around that, that would have been really tough," Steger said.
Steger had surgery July 18 and had it removed. He was in intensive care for a week before returning to Duluth.
"Obviously it puts a lot of things in perspective," Steger said. "Thank goodness it wasn't cancerous."
Steger, 59, had to miss the start of fall camp but returned in time for the Bulldogs' season opener Sept. 1 at Malosky Stadium.
Steger is now close to 100% going into UMD's regular-season finale at 1 p.m. Saturday at Northern State in Aberdeen, South Dakota.
Steger thanked UMD football coach Curt Wiese, administrators Karen Stromme and Gary Holquist and the entire UMD athletic staff for their help in the early stages of his recovery.
"It just shows you how good those people are. They took care of me," Steger said. "August was the first time I hadn't been to two-a-days in over 30 years, so it was really odd, and I was really kind of restricted on what I could do.
"I was able to get back part time. Curt got me a golf cart and I was able to go out and watch practice, and I did that late August into early September and have kind of just worked my way back into it … I'm pretty close to being full time now."
Among those early restrictions on Steger was yelling.
Anyone who knows Steger knows that restriction would be a challenge. He's intense. Incredibly intense when it comes to football and making sure players are following their assignments and knowing what they should be doing.
"One of the restrictions was you couldn't raise your voice, and that's tough as a football coach," Steger said. "So I knew it was going to be tough to coach, but (defensive coordinator) Trey Dill and Jason Balts, those guys on the defensive side, they really took over for me and did a great job."
Steger was quick to credit his wife for keeping him in check during his recovery.
The Steger home in Duluth's Lincoln Park neighborhood, just off Skyline Parkway, has been like the Bulldogs Bed and Breakfast over the years, with young coaches like Wiese, and Phil Longo, now the offensive coordinator at North Carolina, having stayed there early in their tenures until they got settled.
"My wife, Barb, she's been my rock," Steger said. "She's really handled the whole thing and taken care of me and made sure I don't overdo it because I think as football coaches that's something we really want to do usually. She's been able to kind of keep me on the straight and narrow, and I think it's really helped the way that I feel because I feel really good right now."
Steger played linebacker at Loras College in his hometown of Dubuque, Iowa, where he co-captained the Duhawks as a senior in 1984. He began his college coaching career at Sul Ross State University in 1988.
After four seasons in Alpine, Texas, Steger returned to the Upper Midwest, serving as defensive coordinator at Wisconsin-Eau Claire. In his final year, the Blugolds topped the Wisconsin Intercollegiate Athletic Conference in total defense, rushing defense and scoring defense.
Steger followed Eau Claire coach Bob Nielson to UMD in 1999. Other than a two-year stint as linebacker and special teams coordinator at Southern Illinois in 2009-10, Steger has been in Duluth ever since, serving as defensive coordinator for 18 years before getting promoted to associate head coach in February 2019.
"John has been a staple of our staff for 20 years, so we're excited to have him back," Wiese said. "I know our team missed him and the guys missed him.
"Practice was a lot different without him. Stegs brings a presence to our staff and to our team that very few other coaches ever have. We had a scary summer with him and we're excited that he's back and healthy and back to normal.
"He's intense and he's good and our guys respect him for it."
Yes they do.
"As a team, I know we really look up to coach Steger for leadership and his ability to push us to our limits," said linebacker Brady Herbst, a 2020 Superior High School graduate. "He had to take it easy when he first came back. He really had to try to keep himself from really getting engaged with us."
No, Steger isn't one to take it easy. And if you screw up, don't think he won't see it.
"No, not at all," Herbst said. "He sees everything. You never get away it (a missed assignment). Never. Ever."
Talk to any UMD football players over the years, particularly defensive ones, and yes, they'll tell you stories about Steger yelling at them, but they'll also tell you how much they loved the guy and appreciated his knowledge and what he tried to teach them.
When it comes to defense, the word "genius" has been used in describing him.
"I think I could go to him with any question about any offense in the league, and he'd have the answer for it," Herbst said. "It makes a big difference having him back. From a coaching aspect, he's definitely one of a kind."
Steger had the voice restriction lifted about a month ago and didn't waste any time using it.
"I tried to make up for lost time," Steger said, drawing a laugh before getting more serious. "But that really made me feel like I was back to my normal self."
When Steger said he's not quite 100% back, in terms of his role on the football team, he is talking about special teams. Steger still does his work with the linebackers but has a lighter load when it comes to special teams, a unit he normally oversees. This year he has just been working with the punt-return unit.
In terms of not being back to 100% health, Steger has to take pills to help keep his hormones at the correct levels as the pituitary gland that makes and produces hormones was affected. The tumor, which was a little more than an inch in diameter, sat right on top of his pituitary gland.
"Outside of that, I pretty much have a clean bill of health," Steger said. "I'll tell you what, just for my mental health, I needed that first couple weeks back at practice.
"I've always said as a coach, it doesn't matter how your day is going or what's going on outside of football, when you step on that practice field, you forget about everything else. You're just worried about the young men you're working with and getting better. That was really good for me to just be around those guys. We have such energy in our group and I think that really helped me. I think that really helped me in my recovery process and made it quicker."
MINNESOTA DULUTH AT NORTHERN STATE
What: NSIC North Division football game; regular-season finale
When: 1 p.m. Saturday
Where: Dacotah Bank Stadium, Aberdeen, South Dakota
Records: UMD 7-3, Northern State 6-4
Aberdeen forecast: partly cloudy with a high of 21 and 7 mph wind
Internet: nsicnetwork.com/umdbulldogs
Radio: KDAL 610 AM & 103.9 FM
Fast fact: Northern State is 5-0 at home this season. That includes a 23-22 victory over Minnesota State-Mankato Sept. 17 and a 42-21 victory over Winona State Oct. 8. Mankato and Winona are ranked nationally in the NCAA Division II Top 25 and are third and fifth, respectively, in the latest Super Region Four rankings.
MINNESOTA DULUTH AT NORTHERN STATE
National rankings: Neither team is ranked nationally but Minnesota Duluth is ranked ninth in this week's NCAA Division II Super Region Four rankings.
Series: Minnesota Duluth leads 25-13, with the Bulldogs' last loss coming in 2016 when they fell on the road 39-19. UMD won a 49-35 shootout in last year's regular-season finale in Duluth as the Bulldogs rallied from 15 points down when quarterback Garrett Olson threw for 226 yards with three touchdowns and no interceptions. His top target was Armani Carmickle, who hauled in eight passes for 184 yards and two touchdowns. Senior running back Cazz Martin didn't score a touchdown but did rush 27 times for a career-best 191 yards as UMD amassed 537 yards of offense compared to 475 for the Wolves.
Coaches: Curt Wiese is 87-21 in nine seasons at UMD; Mike Schmidt is 13-8 in his second season at Northern State.
Outlook: UMD is coming off a 34-24 victory over Augustana in Sioux Falls, South Dakota, that keeps the Bulldogs' NCAA playoff hopes alive as freshman quarterback Kyle Walljasper threw for a career-high 207 yards and four touchdowns. UMD has responded well in all facets following a 41-16 loss Oct. 22 at Bemidji State. The Bulldogs have only given up 15 rushing yards combined over the last two weeks, as Augustana only mustered 32 rushing yards last week and Minot State, which UMD trounced 51-7 Oct. 29 in the Bulldogs' home finale, was held to negative-17. UMD also had 12 quarterback sacks, six in each of those games, while holding those opponents to a combined 4-for-26 on third downs. The Bulldogs are averaging 3.8 quarterback sacks per game despite myriad injuries on defense, in particular, inside linebacker.
"I think it shows the depth of the program right now," longtime UMD defensive assistant coach John Steger said. "We've played well the last couple weeks, and hopefully, we can do it again this week. We've had to be creative with the injuries, moving guys around, but it's a testament to how hard these guys have worked. That was a really gritty performance last week."
If UMD had a glaring statistical deficiency, similar to last year, it's in penalties. UMD coach Curt Wiese likes his players to be aggressive, but the Bulldogs have been flagged 70 times for 598 yards this season compared to only 39 times for 339 yards for the opposition.
Northern State is coming off a 24-14 loss at Bemidji State as the Beavers jumped ahead 24-0 before the Wolves scored 14 unanswered in the fourth quarter.
Quarterback Brandon Alt was 24-for-34 passing for 320 yards and three touchdowns to lead the Beavers.
Northern State quarterback Will Madler, meanwhile, was just 8-for-24 passing for 71 yards, with one touchdown to three interceptions.
UMD will try to use its pass rush to frustrate Northern State for the second straight week but the Wolves have proven to be a different team at home this season in going 5-0.
— Jon Nowacki, Duluth News Tribune